Jeep Jam 2017 Specials

Redeemable:

Monday, May 15, 2017 - Sunday, May 21, 2017
Jeep Jam
When: May 17, 2017 to May 21, 2017

Where:
Aaron Bessant Park Amphitheater
600 Pier Park Drive,
Panama City Beach, FL 32413

Event Website: www.JeepinBeachJam.com

Ticket Price: Free general admission, but with Jeep registration costs

Seahaven Beach Resort offers three unique properties directly on Panama City Beach, located one mile from Aaron Bessant Park! Be sure to check out our featured properties Origin at Seahaven, Seahaven Beach Hotel, and The Reef. Lodging & Ticket packages are available to make sure you can comfortably keep Jammin' after the events!

Join in on the Jeep-based, family oriented fun at this five day event! Some of the events will include things such as playgrounds to drive your Jeep through, live music and vendors, and a grand finale with parade! Most activities will take place at Aaron Bessant Park, but some events are spread throughout Panama City Beach to make room for cruising!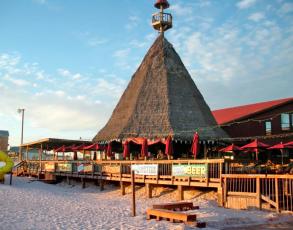 Seahaven Beach Resorts -

Offering 3 distinct accommodation choices and one of the beach's most famous restaurants, it's no wonder Seahaven Beach Resorts is THE place to vacation on Panama City Beach. Conveniently located to all the hot spots, including Frank Brown Park, Gulf World and Pier Park, Seahaven Beach Resorts puts you in the middle of all the action while offering great choices for relaxation. When it's time to hit the beach, Seahaven Beach Resorts boasts over a quarter mile of private beach. Perfect for sinking your toes in the sand, or hitting the surf with great activities like wave runners and parasailing!

Lights, Camera, Action! New for 2014 are Gulfside Movies! A chance for the whole family to sit back on the Seahaven Pool Deck and take in an evening flick - free! Kids love to float in the pool while watching their favorite films. And parents will love to sit back on the deck and enjoy the sound of the surf or take in the action on the screen.

Kids are KING at Seahaven! During the Summer season, a Kids Club is hosted by the Seahaven Beach Resorts mascot, Finley... the coolest Shark on the Beach! They will enjoy different activities each day, both inside and out. And best of all, it's free to all guests of Seahaven Beach Resorts - no matter if you stay at The Reef Hotel, Seahaven Beach Hotel or Origin!

At Sharky's, the View is Almost as Good as the Food! On-site dining is available just steps away from the accommodations at Seahaven Beach Resorts at Sharky's Beachfront Restaurant and Tiki Bar. Locals will tell you, the freshest seafood is at Sharky's with its own unique southern flavor. And for great drinks, you can't beat an ice-cold draft, frozen specialty or mixed favorite while you enjoy another awesome sunset on Panama City Beach. When staying at Seahaven Beach Resorts, kids eat free at Sharky's! Plus, catch all the sports action right here! After all, just because you're on vacation, doesn't mean your favorite team is!

For any size need or budget, Seahaven Beach Resorts offers two gulf front hotels - The Reef Hotel and Seahaven Beach Hotel - and a beautiful condominium - Origin - directly across the street from the "World's Most Beautiful Beaches."

For more information on rates and room choices, please visit SeahavenBeach.com, or contact a Vacation Specialist at 1-888-607-0006.
Learn More
Visit Website