Private Group Jet Ski Dolphin Tours 2016!

Redeemable:

Friday, Apr 1, 2016 - Saturday, Oct 15, 2016
Book your PRIVATE TOUR of Shell Island for your group of 14 or more guests (2 guests per Jet Ski max)
Want a more intimate excursion for your family, sports team church group or corporate event? This tour
is what you've been looking for, a chance for you and your guests to tour Shell Island and visit Dolphins around the Island as well as enjoy over an hour on your own without the guide, just your group!!
No other company offers this type of tour or at this great price!*** $110 plus tax per jet Ski***
No phony $30 off coupons required! Newest Fleet in the area! No rider fee! No fuel charges!!
Snorkel masks available for rental. Call 850-541-6879 to reserve. Family owned and operated
" WE SEE MORE DOLPHINS MORE OFTEN!"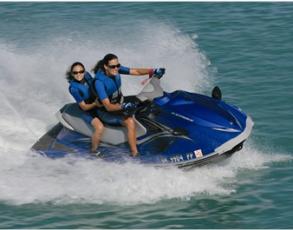 The only "unguided Jet Ski" rentals in the Panama City Beach area, no guide required! You and a guest can captain your own Jet Ski and explore the beautiful emerald waters off the coast of Shell Island only a 7-minute cruise from our location. Bring your snorkel gear along and collect some shells from the Gulf or swim with dolphins who play off the coastline near shore. Best rates on unguided rentals. Prices are good for two guests, max combined weight on watercraft is 400lbs.

Want to make sure you see Dolphins? Enjoy a 2-hour partially guided Shell Island Dolphin Tour.


Our tours are unique from any other company in the area. The first 40 to 45 minutes is the Dolphin Tour portion, your guide (over 16 years experience in local waters) will lead you on a family friendly moderately paced cruise through St. Andrews Bay out to Shell Island, an uninhabited barrier Island off the coast of Panama City Beach. Once we locate the Dolphins you may take photos or if you choose dive right in! Your guide will instruct you on proper rules about interaction with Dolphins as they are a protected species. Once the tour portion concludes you will have approximately 1 hour and 15 minutes of free ride time without the guide or the rest of the group to explore Shell Island on your own, this is what makes us different from other area tour companies. Our tour is known as "the best deal on the Beach', this awesome excursion has a low price of $110 plus tax and is good for two guests per watercraft! Never a rider fee, or any other hidden fees! Weight limit is 400 lbs per watercraft. . We require reservations for all tours and rentals.

Book early in your stay as we book up quickly most days. Large groups are welcome. Anyone who operates a Personal Watercraft in the State of Florida between the ages of 17 and 26 must possess a boaters license from there home state or take the Florida Safe Boaters certificate test. We are licensed by the FWC to administer the test at our location. There is a $3.00 fee for the test and it is required by law. Test consists of 25 questions multiple choice with a passing score of 19 correct answers. We require that operators have Jet Ski experience . We are open 7 days a week year round. "The most fun you will have on your Panama City Beach vacation!"
Learn More
Visit Website