Andy's Flour Power Café & Bakery, with its lively staff- ers, cozy corners and quirky art-filled walls, is a standout among the great locally owned restaurants in Panama City Beach. The sight and scent of freshly baked muffins, pastries and desserts lures you in, inviting you to sit awhile at the uniquely cheerful café. Then you taste the food - a ham and cheddar omelet with fresh fruit and a buttery biscuit for breakfast, or a classic Cuban sandwich or fresh Greek salad with blackened chicken for lunch, and you immediately become a returning customer. The philosophy at Andy's Flour Power Café & Bakery is: "We don't do fancy. We do fresh, and you can't fake fresh."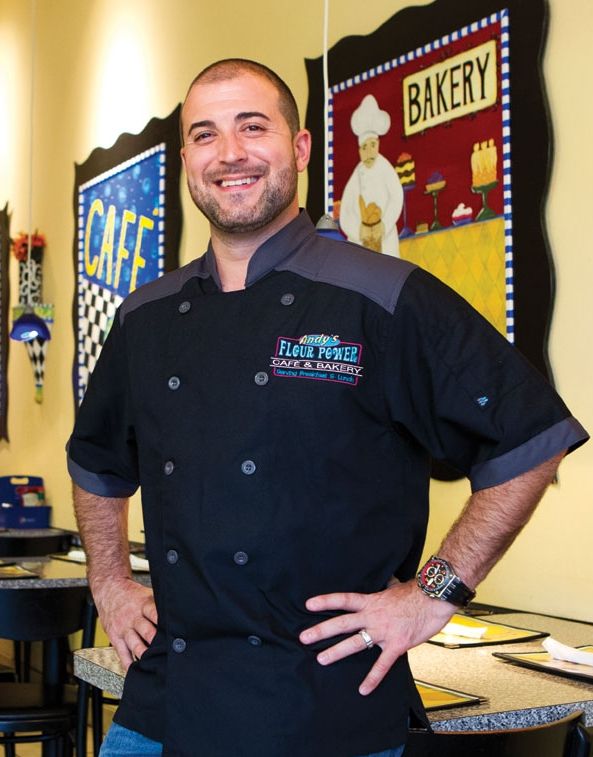 Third-generation chef John Certo practically grew up in the kitchen. Since the age of nine, the New Yorker spent his days helping his father in the gourmet food and catering business. "When my dad started the business, from the first day he said, 'You're going to work with me,' " he recalls. "And there I stood on a milk crate washing dishes or chopping vegetables, my apron literally went from the bottom of my chin down to the floor."

Certo's two grandmothers were masters in the family kitchen "One was an off-the-boat Italian who taught me authentic Italian style," he says. "The other was fifth- generation from Bay County, and she taught me about Southern recipes." He was destined to run his own restaurant someday.

Every Sunday after church, Certo's family would get together for a great meal. "I thought that was normal everyday life," he says. "I didn't know I was so lucky. That's when I noticed food brought people together."Certo has since grown into his apron and made a name for himself in the Northwest Florida culinary business. Interested in opening his own café, while visiting Panama City Beach, Certo fell in love with the area and decided the town was just the right locale. "I saw the development, the new airport coming in. I saw so much growth and potential," he says. "You get a sense of real beauty here. This is true Southern hospitality." But the real treat of the trip was meeting the woman who would become his wife, and after a two- day trip turned into a two-week trip, he knew that this is where he wanted to be.

He discovered Andy's Flour Power Café & Bakery, which had been open for about nine months, and fell in love with the place. Certo convinced original owner Andy Faoutas to sell it to him and, with his wife and a dedicated staff, has made the restaurant into one of Panama City Beach's best cafés. "My wife has been a huge inspiration for me," he says. "And the crew does their part. It's a team effort. And because there are so many tourists here who want a good local place, they end up asking the desk clerk at their hotel where to get good local food, and then end up here. The locals are loyal; we have some who come in every day for breakfast."

Located on Grand Lagoon just north of Capt. Anderson's restaurant on Thomas Drive, Andy's Flour Power Café & Bakery was named one of the Top 25 Great Breakfasts in the U.S. by Urban Spoon and received the Trip Advisor Award of Excellence for the last four years in a row. Certo was featured as one of 850 Business Magazine's 40 Under 40 in 2012 and has served as a celebrity chef at various charity events. His restaurant has been featured in Southern Living and several travel magazines.

The success of the café is all in the experience, according to Certo. Andy's is famous for its Flour Power French Toast, made from thick country French bread dipped in cinnamon and brown sugar batter, grilled until golden perfection and topped with toasted nuts, fresh strawberries and powdered sugar - ideal for a special Sunday brunch. Tasting the Cuban, with baked ham, pork loin and genoa salami with Swiss cheese, sliced kosher dill pickle and mustard, grill-pressed on Cuban bread, you'd think you were in Ybor City, home of the authentic Cuban sandwich. For those who like lighter fare, the salads - blackened chicken Caesar, spinach salad and strawberry fields - are all made from the freshest vegetables and fruit. From the bakery, pick up some fresh dinner rolls, a French baguette, assorted muffins, Danish, pastries, cakes, pies and cookies, all made on site daily. "I've always said food is only 50 percent; 25 percent is ambiance and 25 percent is service," he says. "If you do all that, you've created an experience and they want to come back and have that experience again."

It would be difficult to find another original café that takes fresh food as seriously as Andy's Flour Power Café & Bakery. Certo and his staff get a thrill out of seeing patrons visiting the café, catching up with friends, enjoying a delicious meal and returning again. But even when he's not working in his restaurant, you can still find Certo in his happy place - the kitchen-even if he's a guest in a friend's home. "Putting on a little Sinatra, cracking open a great bottle of wine and cooking; it's the best way to just enjoy family."
OPERATING HOURS
Monday - Friday Brunch 7 a.m - 11 a.m. Lunch 11 a.m. - 2 p.m.
Saturday Brunch 7 a.m. - 2 p.m.
Sunday Brunch 8 a.m. - 2 p.m.

CONTACT INFO:
3123 Thomas Dr. | (850) 230-0014