Panama City Beach - Sterling Resorts joined with chefs from Hammerhead Fred's (and the returning Runaway Island Beach Bar & Grill), along with representatives from the Republic National Distributing Company (who brought along wine and beer for sampling) to host a free Winter Resident Chef Demonstration at Laketown Wharf.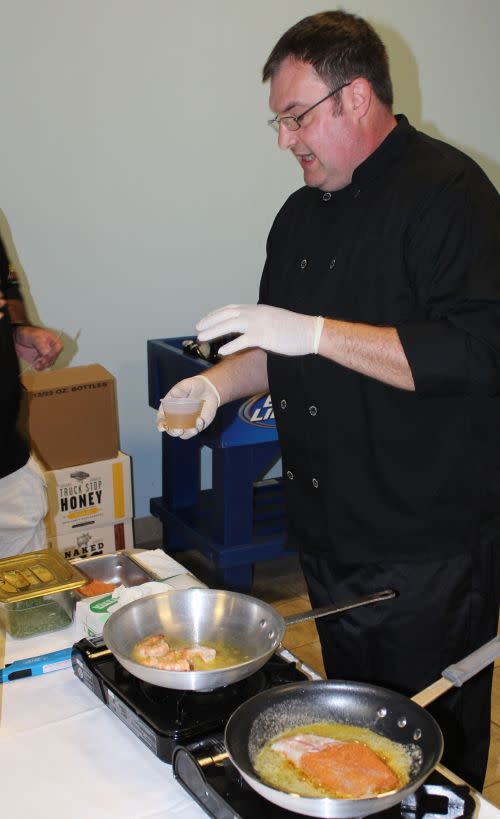 Event organizers say the crowd of 82 was about evenly split between guests staying at Laketown Wharf and other winter residents staying in Panama City Beach. While bands of rain moved through the area Monday afternoon, the "Snowbirds" seemed more than happy to learn a little bit about southern cooking (most of the audience was unfamiliar with the Cajun style of "blackened" seasoning) and to try out some new wines and beers. Guests enjoyed the prepared blackened red snapper, served with sautéed shrimp and topped with "Bayou Sauce" (a recipe was provided by restaurant owner Rob Hammer for those wishing to replicate the dish at home). Ryan Wells, of the Republic National Distributing Company, provided a Pinot Gris by Acrobat for tasting, followed by a choice of beers by the Gadsen, Alabama-based Back 40 Beer Company.

Many of the guests learned of the Chef Demonstration through flyers distributed at the Visitor Information Center (17001 Panama City Beach Pkwy, at the corner of Hwy 79), and the event garnered so much attention that some guests calling to RSVP had to be turned away. More chef demonstrations are planned throughout the winter season, and organizers say that if they continue to be so well received it will likely become a winter season tradition.

To find more events like this, be sure to check out our Event Calendar while you're in Panama City Beach, or while planning your trip to our beautiful beaches!
Upcoming Winter Resident Chef Demonstrations:

January 21, 2-4 p.m. at the Palms Conference Center (9201 Front Beach Road), RSVP to Kathy Barrs: 624-4150

January 27, 2-4 p.m. at Laketown Wharf, RSVP to Laketown Wharf Front Desk: 563-3000