Recent cold fronts have caused a significant drop in water temperatures, triggering the appetites of many predatory species throughout the bays.
One fish that seems to be eating just about everything in sight right now is the gag grouper. They can be found in water depths ranging from less than 10 feet to well over 100 feet.
Currently, many inshore structures in the bay have some fish on them (especially in the 15'-30' range) but I have found a lot of fish hanging out just off of the flats in water 10'-15' deep. These fish do not seem to be holding to any structure and many of them have been caught on jigs or plugs thrown into areas of medium depth sand. I think they're currently moving in from the Gulf and have yet to find a suitable structure to hang out on during the winter months. There are several ways to target these fish using live and artificial lures. Under certain conditions, trolling can be very productive because you can cover a lot of water and target the more aggressive fish.
Lately I have opted to use jigs due to the locations and conditions under which I have found the most fish. A slow lift and drop method of retrieval has been the ticket to get the bigger fish to eat. Plugs are good "go to" baits when targeting fish in under 15' of water. The season for gag grouper ends soon so get out there and catch a few while you can.
On the flats, the redfish have been very active along the shoreline as they feed on a variety of baitfish and crustaceans. On low negative tides, you can push pole or wade through the shallows and stalk redfish that are tailing or slowly cruising in schools. For the tailing fish, small shrimp or crab patterns are the way to go. Weedless rigged soft plastics work very well when over grass but, when fishing over sand, I prefer to use them on a jig head with an exposed hook. The colors "root beer," "new penny" and "near clear" are all great for clear, shallow water.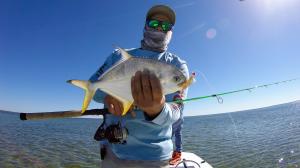 Finally, there have been good numbers of nice-sized pompano on shallow broken bottom flats near the inlets. They can be difficult to spot at first but your eyes will start to pick up on the subtle signs that one is cruising around. Like mullet, pompano will often rub themselves on the sand and you can see their tail flash. Also, they have a dark back which stands out pretty well even over grass (if it's fairly sparse). In the sand, they stick out like a sore thumb if you are looking closely. Small jigs work great for catching pompano or, if they are being extra picky, try using a live or dead shrimp on either a small jig head or a circle hook with a light weight.
Good luck!