TripAdvisor has revealed their list of the World's Best Beaches in their 2017 Travelers' Choice Awards, and Panama City Beach earned a spot in the top five. Of course, while we may be partial, we're not surprised! Panama City Beach is home to 27-miles of beautiful white sand beaches, with two beach front state parks, city parks and county parks, along with 100 public beach access points – our fans don't have any trouble finding a place to spread their beach blankets.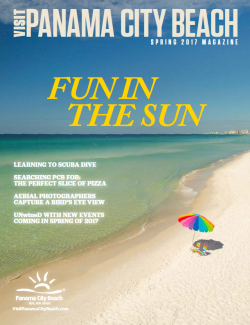 TripAdvisor determines their winners based on millions of traveler reviews and ratings for beaches gathered over a 12-month period. It's a truly non-biased, user-determined rating system that allows real people to have their voices heard… and what those voices are saying, year after year, is that Panama City Beach is one of the world's best beaches (and we thank you for that).
We'd also like to thank the folks at TripAdvisor for helping spread the word, because for about as long as they've been doing these rankings, they've been revealing to the world what a treasure we have right here in Panama City Beach, and that guidance is helping travelers have the beach vacation of their dreams.
"To inspire those planning a beach getaway, we've surfaced the world's best beaches from the millions of our traveler reviews," said Barbara Messing, chief marketing officer for TripAdvisor. "Traveling to a popular beach doesn't have to be expensive; TripAdvisor can help find the best prices for highly-rated hotels and has a variety of value options for those looking to get the most out of their money while visiting one of these amazing beach destinations."
TripAdvisor even pointed out the best month to stretch your vacation budget, picking January as PCB's perfect time for bargain hunters:
Least expensive month to go: January, when hotels are bookable on TripAdvisor for an average of $103 per night
Our best tip? Visit as often as you can! There's always something fun going on in Panama City Beach, and it's the fun – just as much as the soft, white sand and beautiful waters – that makes a beach vacation in Panama City Beach worth raving about.