An already very good bite continues to improve in the waters surrounding Panama City Beach.  Gulf water temperatures are steadily rising and migratory species are beginning to be caught along the beaches.
Reports of Spanish Mackerel being caught near the piers are a sign that spring runs are about to start. You can catch them using spoons, Got-Cha plugs or a variety of other small shiny lures.  Along the beaches, the Pompano bite has been getting better. Sand fleas or shrimp fished on the bottom in the surf are most commonly used to catch them, but anglers using small heavy jigs have also found success.
The flats are currently inundated with lots of schools of nice slot-sized Redfish.  Water clarity is good to very good in most places and, with the Redfish in the shallows, sight fishing has been fantastic.  The key when you find the school is to take your time and approach them slowly and stealthily.  If you get in a hurry, you'll have a good chance of blowing them out or only catching a few out of the school before it realizes you're there.  Soft plastic baits on a jig head are killer (the D.O.A. Shrimp works well) and so are weedless spoons – and in many cases, that includes sight casting.  The best thing to do is have a few rods already laid out with different lures.  If fish are turned off by what you're throwing, switch it up until they take a bite.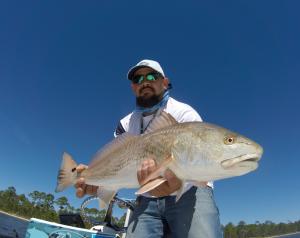 Also on the flats – in slightly deeper water – Speckled Trout are also getting thick.  I've been seeing lots of healthy specks on grass flats in about two feet of water.  Most of the fish have been near something that causes the speed of the water to increase.  These include places where water depth shallows rapidly, constriction zones where wide bodies of water narrow quickly and places like the mouths of creeks where water flows in.  Small topwater lures have been great, as have suspending plugs and jigs.
Around the bridges, the bull Redfish have still been chewing periodically throughout the day. I like to get after them early in the morning or later in the evening when traffic is less and the fish are more relaxed.  Soon, most of the food they will target will be on the surface – shrimp, crabs, and eels floating on the tide – but right now, the big fish are primarily eating Pinfish, White Trout and other bottom dwelling food sources.  They still seem to be biting better on the bottom, so jigs and jigging spoons are a good bet.  Jigs can be either hair/feather jigs or big soft plastic bodies on a weighted head.
Good luck!