When people think about spring break in Panama City Beach, their minds usually flash to scenes of a beach packed with college students -- crowds so thick that even the white sand is barely visible. Yesterday, Luke Bryan played a free concert behind Spinnaker Beach Club, and pictures (like the first one below) will circle the globe for a while, enforcing that image. So, yes, that's a heck of a crowd, and by all reports, it was a heck of a show.
However, while that picture is indeed worth 1,000 words, what gets lost in that picture is the fact that Panama City Beach has 27 miles of beach to choose from, all the time. So in the hours leading up to Luke Bryan's amazing spring break concert, I visited some of the other beaches, from the West End of PCB all the way to St. Andrews State Park on the eastern tip. By driving along Back Beach Road instead of Front Beach Road (clever names, yes?) I managed to avoid any traffic... which is pretty sweet.
Could you see yourself on any of these beaches? Because I think you'll agree that there's plenty of room for whatever you want your beach experience to be.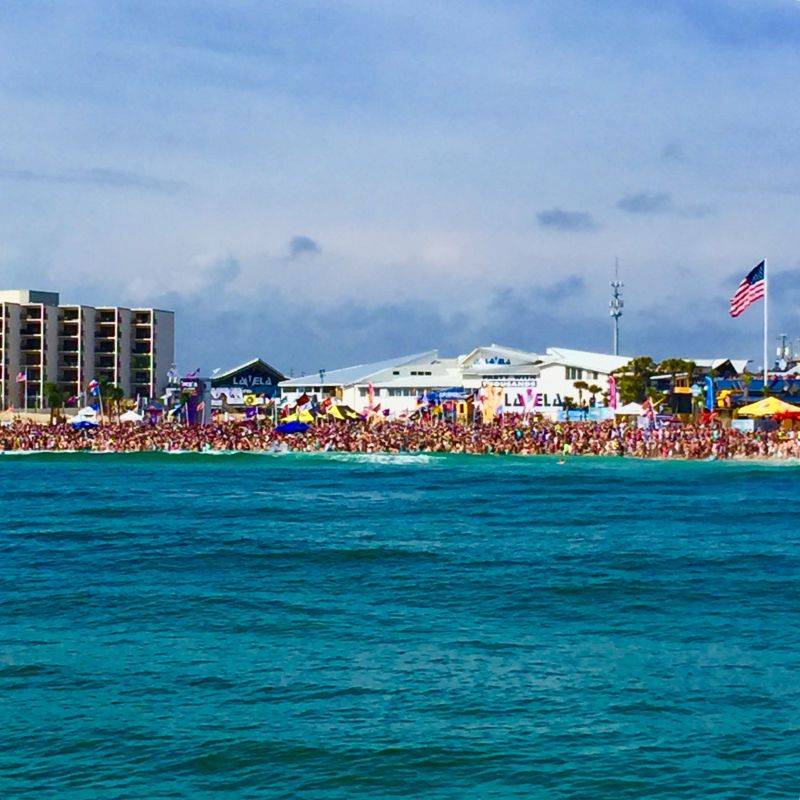 Here's the big crowd for the free Luke Bryan concert on the beach behind Spinnaker Beach Club and Club LaVela! That's a ton of folks -- the crowd of perhaps 15,000 people stretches about 150 yards wide and 30 yards deep. BUT, it's not as many as you'd think. Compare that to a football stadium, and at about 15,000 folks, it's much less than the 50,000 that might pack a college game. It's also much less than is sometimes reported... some media sources say there are 30,000, 60,000, 120,000 or even 200,000 people there! Again, compare the crowd size to a football game, and those numbers are obviously ridiculous.
OK! Enough ranting. Let's start my tour of the beach at the West End at about 1:30 (concert kicks off at 4).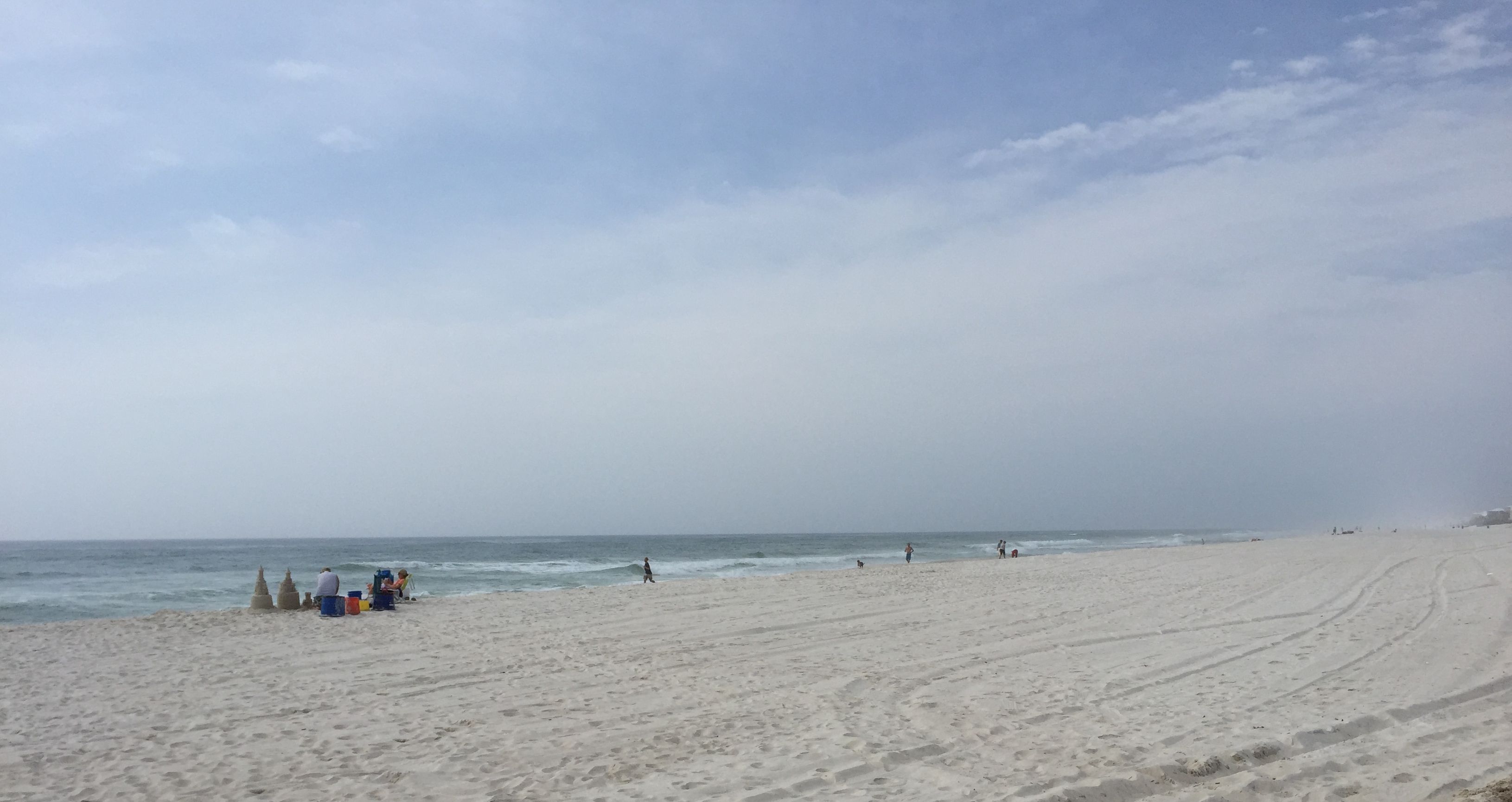 So here's the West End, in the area across Front Beach Road from popular Thomas' Donuts and the Carousel Grocery Store. I see some sand castle building going on, and some walkers, and a lot of space to spread a beach towel. Plenty of white sand to go around! 
But the West End is traditionally quiet and laid back. What will we find further down the beach, across from Pier Park (home of dining, amusements, a fishing pier, lots of parking and public beach access points)?
Wait -- First I stopped at Beach Access 64 (Did you know there are about 100 public beach access points in PCB?). I stopped here on impulse because it's near my office and there was plenty of parking available.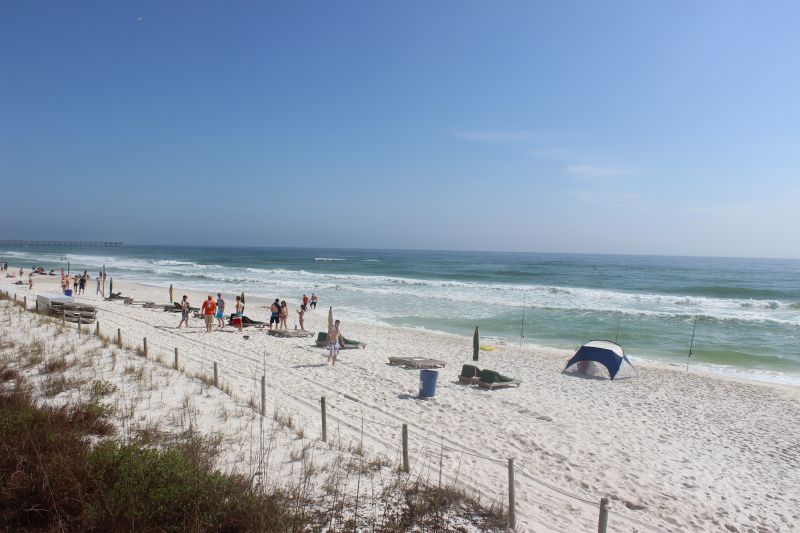 Looks nice! Plenty of fun happening, but plenty of room to stretch out, too. OK, on to the Pier Park area.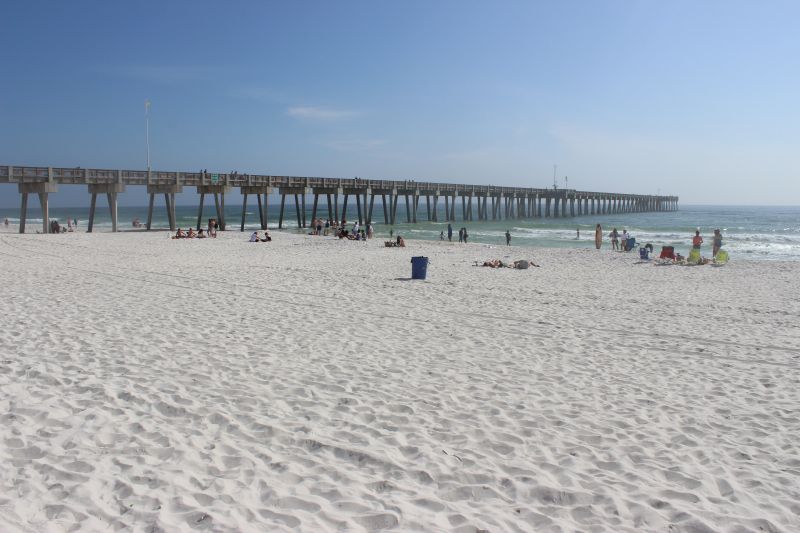 Full disclosure -- When I first got to this stretch just to the west of the city pier (which is one of the only areas in Florida that allows dogs on the beach), there was a group of fraternity brothers taking pictures down by the water. Apparently, they'd just walked to the beach from Troy, Alabama, to raise money for the Wounded Warrior project. Not the spring breakers you usually hear about. Anyway, I talked to them for a bit, then took this picture after they'd gone back up to the boardwalk.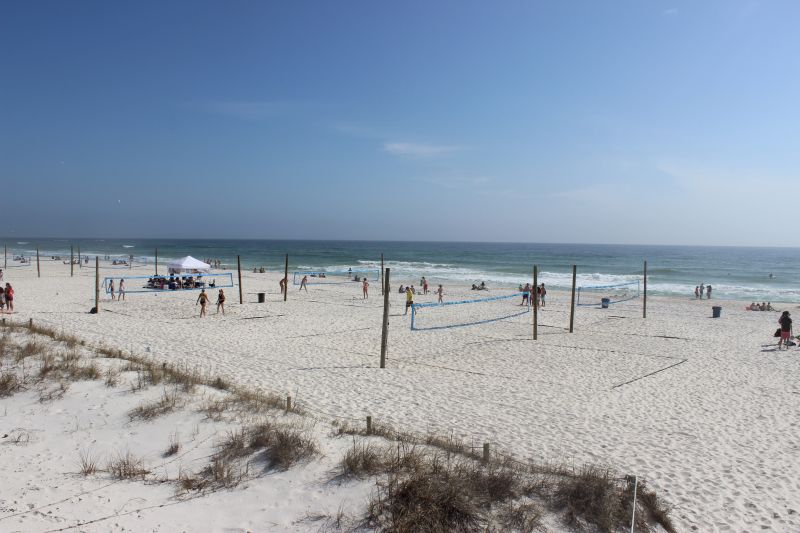 Dogs aren't allowed on the other side of the City Pier, but there are volleyball nets set up. Bring your own ball, and get a game going... no lines today! 
But did you know that there are two identical fishing piers in Panama City Beach? They're about 3 miles apart. Let's keep heading east and check out the County Pier. There's lots of parking there, too, but I took Back Beach Road to get close to my turn so I didn't risk getting stuck in traffic along Front Beach... it is spring break, after all!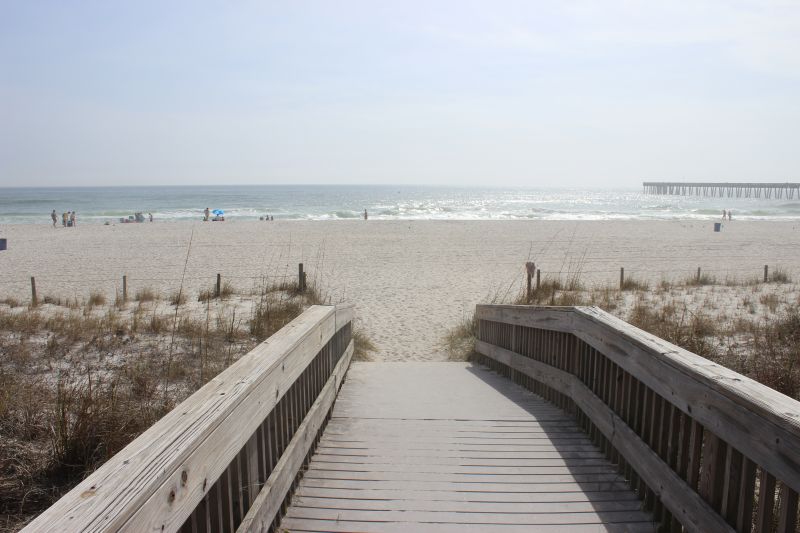 Here's the view at the County Pier. There were parking spaces right up front (I took a picture of it, but who wants to see a picture of a parking space??). Plenty of room on the beach, although traffic along Front Beach Road was getting thick. I felt smart about taking Back Beach Road instead, where the speed limit is 45-55 mph and was flowing smoothly.
I don't like to hassle with parking, so all the stops I've made so far have had plenty of public parking. Continuing that theme, I head further east, to Rick Seltzer Beach Park. There are public bathrooms and showers where you can rinse off, but I'm just visiting on business for this trip.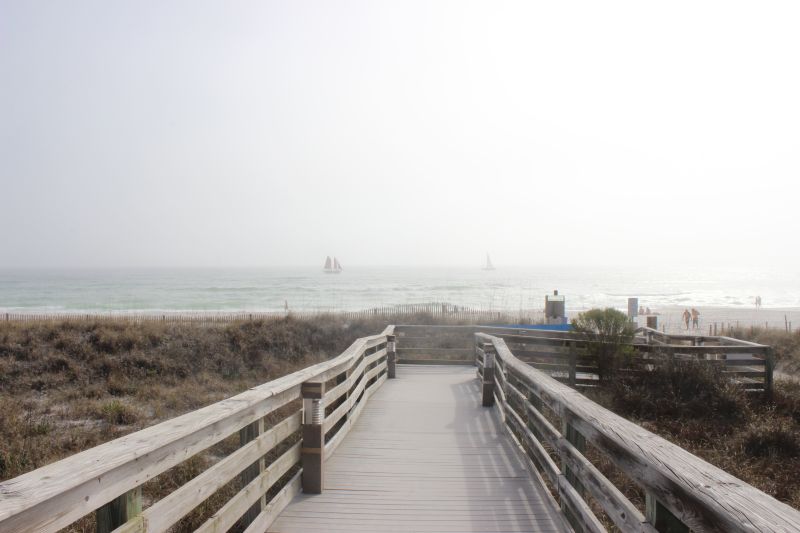 Hey look, a sailboat!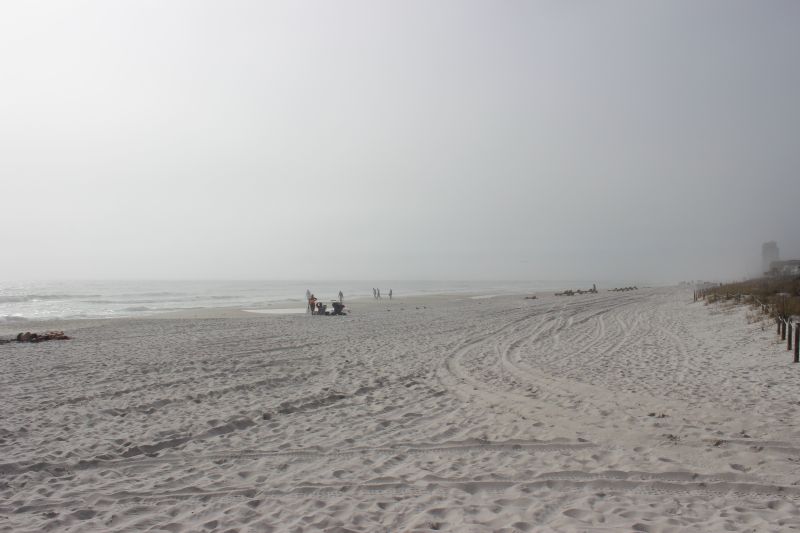 Still at Rick Seltzer Beach Park. You could walk to the Luke Bryan concert behind Spinnaker Beach Club from here pretty easily. Even though I'm here strictly on business, some guy leaving the beach gave me a high-5 as he was leaving. He probably sensed my inner coolness, despite my business slacks. 
Side note: The fog is moving in. Sometimes in the spring when the water hasn't warmed up yet but the air has, this happens with the afternoon sea breeze. There are some cool pictures you can find of this phenomenon if you Google "Cloud Tsunami."
Continuing east, my last stop was at St. Andrews State Park, one of the most popular parks in Florida, with over a mile and a half of beachfront, plus forests, and a great area for snorkeling.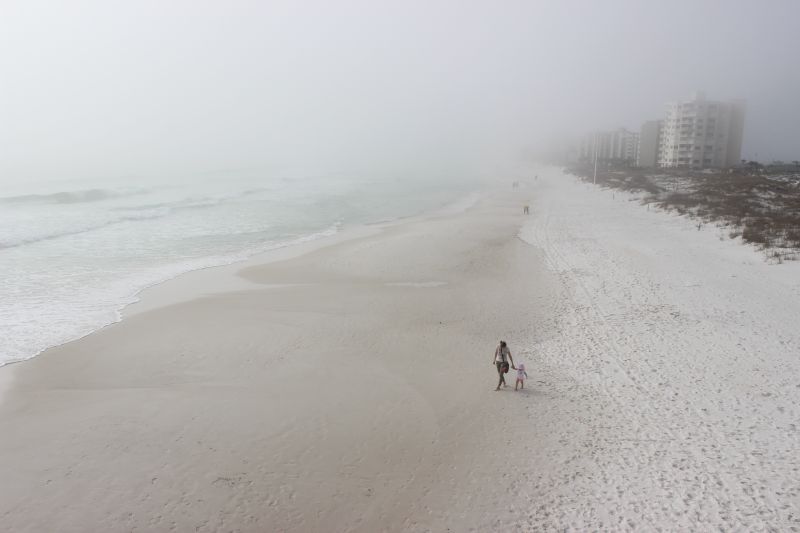 I took this picture from the Tiller Pier in St. Andrews State Park, looking west away from the park grounds, toward the Grand Lagoon neighborhood of Panama City Beach. A mother was taking her toddler down to the water's edge. The fog creates a cool effect.