Locals like to say that you haven't really seen Panama City Beach until you've seen it from the water. There's a lot of truth to that, and fortunately, there are also a lot of ways for you to get out and explore the wetter side of Panama City Beach during your vacation!
Options range from inexpensive water shuttles to luxurious overnight cruises, with all stops in between. Pontoon boat and Jet Ski or WaveRunner rentals allow you to be the captain of your own cruise, but even then there are options - You can choose to take a Jet Ski straight off the beach, or you can arrange a guided tour of the bay and Gulf by Jet Ski for your entire group.
Some tours focus on dolphin encounters (one of the largest populations of bottlenose dolphins in the world make their home in the waters around Panama City Beach), while many other trips combine their cruises with snorkeling, adventure on the water, or a relaxing sunset cruise and usually still encounter dolphins during the trip!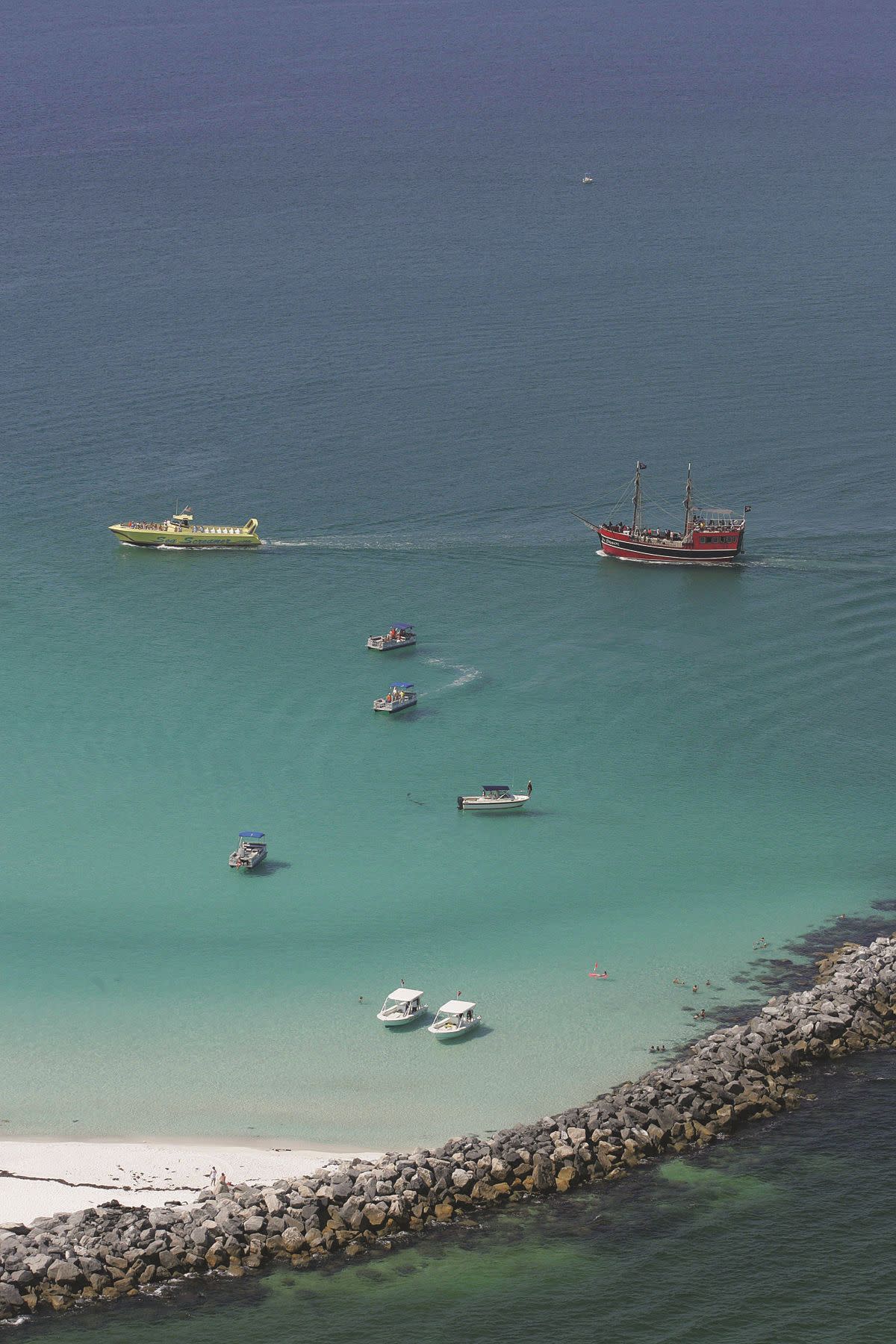 Popular trips on larger boats usually last 2 to 3 hours, and you can choose from eco-encounter trips that feature local marine life, exciting powerboat rides, fun for the kids on a Pirate Ship, or trips that include stops on Shell Island for exploring. Speaking of Shell Island, if you're not interested in captaining your own boat or going on a tour, it's easy to take a shuttle to Shell Island from St. Andrews State Park - during the summer season the shuttle runs every half hour between 9 a.m. and 5 p.m. For a unique twist on dining, you can take in the natural beauty of the area without getting sand in your shoes - just hop aboard an evening dinner cruise, which redefines "dinner with a view!"
Sailing trips offer relaxing cruises and (depending on the trip you choose) might include an exciting stop to play on water toys ranging from floating slides to paddleboards, include snorkeling equipment for underwater exploration, or feature breathtaking sunset views. Overnight sailing trips, custom chartered trips, and sailing lessons are also all available.
To really get in touch with nature, there are numerous opportunities to rent a kayak, canoe, paddleboard (SUP) or even surfboard. Some local businesses offer guided trips and lessons, and you can even have the equipment delivered to you!
Panama City Beach is heaven for SCUBA divers, with dive charters taking clients to famous local shipwrecks and dozens of artificial reefs that mainly range from between 3 and 9 miles off the beach.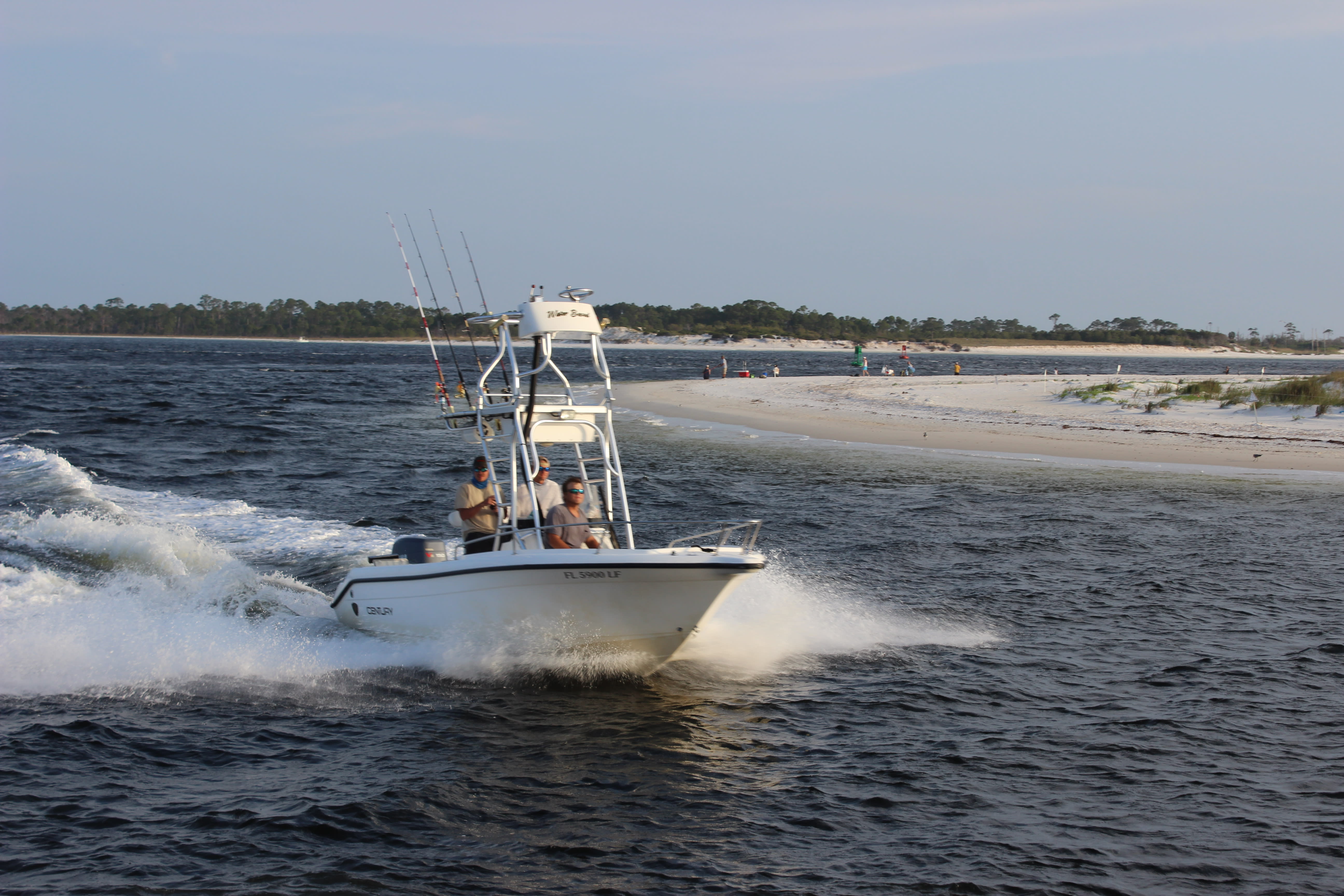 There are many options for the fisherman, as well. Depending on what you're after you can hire a private charter, where a good captain will "put you on the bite." You might be interested in fishing for a specific type of fish, but an experienced captain can help you find what's biting at any time of year, and take you straight to the best spots. A less expensive option for a single fisherman is to book a spot on what's known as a "head boat" or "party boat." On these trips the fisherman buys a spot along the rail of a larger boat for a day (or more) of offshore fishing.
And while visitors naturally think of the Gulf of Mexico or the St. Andrew Bay when they think of Panama City Beach, there are even more options to explore if you'd like to hop aboard an airboat for an exciting ride to explore the backwaters, rivers, and marshes north of the beach - you might even spot an alligator!
Whew! With so many options available, you're bound to find the perfect way for you and your friends and family to experience Panama City Beach from the water. Check through our listings, and you'll find exactly what you're looking for.