On December 29th, 2013 the Biggest Loser RunWalk series is returning to Panama City Beach - Run or Walk, everyone is welcome in this health-focused event. Hosted by Dan and Jackie Evans, the mother/son team from season 5 of NBC's "The Biggest Loser," this event is something participants look forward to all year, using it as a way to stay motivated and on the path to good health. Since it's never too early to start getting prepared, we talked with Dan and Jackie and the race, life, Panama City Beach, and The Biggest Loser.
1. What is the Biggest Loser RunWalk - How did it get started?
Dan: Well after the show, my mom and I were back to reality and struggled to keep our weight on track. We didn't have Bob or Jillian in our face for 8+ hours a day anymore. It was up to us. My mom and I were invited to run a race in 2010. Our experience there forever changed our lives. We couldn't believe the support and motivation others provided us. We surrounded ourselves with positive influences. I ended up running 14 half marathons in 2011, and all my mom and I heard from others was that "I wouldn't have been here today without The Biggest Loser." It is history from there. We are the National Spokespeople and help organize everything for The Biggest Loser RunWalk events. I also perform at the post-race concert.
2. What's your favorite part about the races?
Jackie: It is all about hearing others' stories - how far people have come to have run (or walked) their first half marathon or 5K. These races have such positive energy that is contagious. The Panama City Beach race is one of my favorite destinations. How can you top run-walking next to the beautiful beaches?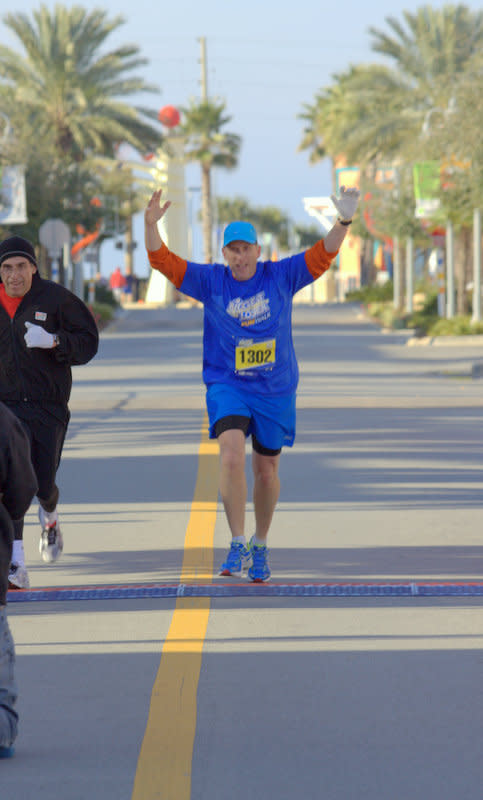 3. A lot of people are intimidated by doing a race. Any tips for first-timers?
Jackie: I was over 50 when I finished my first half marathon. My biggest tip is to believe in yourself because anything is possible if you put your mind to it. Another tip is to become involved in the fitness community. Read blogs, tips, and articles to educate and motivate yourself. Lastly, grab a workout buddy. I am lucky to have Dan to make sure I get up in the morning to go to the gym.
4. Any predictions for the Season 15 of The Biggest Loser? What are you most excited by?
Dan: I'm just excited that the show is back on. It motivates me seeing the contestants do so well. Jillian is back. Go, Bob! He was my trainer so I'm always rooting for him.
5. What else has been new for you since being on the show?
Dan: My life has changed dramatically since the show. I've gone on to pursue my passion for music and hit #7 on the charts of the Country Music Billboards. Honestly, I got my life back. My whole relationship has changed with food and I'm just a lot happier.
6. What's your No. 1 weight-loss tip?
Dan: Just one is hard. Cut the breakfast sodas (and all soda for that matter) and replace it with water. Pay attention to your portion sizes and stay motivated by running races!
7. What's a typical week of workouts and eats like for you?
Jackie: I try to plan my meals and snacks out - lots of veggies, fruits, nuts, chicken... I try to eat more whole foods, less processed foods. I usually run-walk outside if it is nice out or I'm at the gym doing cardio and weight training.
8. Anything else you'd like to add or share?
Dan and Jackie: We hope to see you at a Biggest Loser RunWalk in Panama City Beach on December 29th! This is going to be our RunWalk end-of-the-year finale race and we can't wait to share the inspiration with you!