Smoked tuna dip is one of my all-time favorite snacks - and living in Panama City Beach, I've been able to become something of an expert. Now I'm not talking about some canned tuna, cream cheese and mayo concoction. I'm talking fresh Yellow Fin tuna, a mix of yummy spices and wait for it -- liquid smoke. (Liquid smoke gives it that extra amazing flavor that exceeds taste buds satisfaction.) Most seafood restaurants carry smoked tuna dip on their menu, but every recipe differs to their own unique style. Looking for the best? Here are some of my favorite places to go:
Local Seafood Markets
Want to just pick up some smoked tuna dip, bring it back to your condo and snack on it with a bottle of wine on the balcony watching the sunset? Cardenas Seafood Market on the east side of Panama City Beach, and Buddy's Seafood Market on the west end are both great spots that will have you taking home loads of tuna dip. Be warned, though, Buddy's own disclaimer is on his website: Buddy's is not responsible for "tuna dip addiction". Prepared daily with fresh Yellow Fin tuna, and less mayonnaise for a thicker, tastier dip.
Cardenas Seafood Market is another spot where you can get some amazing smoked tuna dip (I bought 2 containers of it this past weekend.) Cardenas tuna dip can be found in many local restaurants-so you know it's tasty! Pick up some tortilla chips, too, and you'll have the perfect evening hors d'oeuvres while watching the sunset. For more information visit buddysseafoodmarket.com or Cardenas Seafood Market 
Schooners
If you are in the mood to sit by the beach and enjoy a casual lunch, Schooners is the place for you. Get your smoked tuna dip here topped with spices and paired with tortilla chips and jalapeños. Their tuna dip is rich and full of smoky flavor. For more information visit schooners.com. Shirts and shoes are not required!
Dee's Smoked Tuna Dip

Dee's Hang Out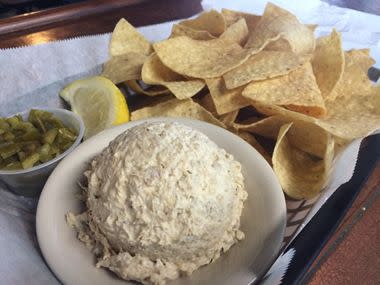 Chef Dee is credited for spreading the tuna dip love to customers for over 20 years. You can now order Dee's tuna dip online, and it is smoked to perfection, vacuumed sealed and cold shipped to your door! Now you can use this popular smoked tuna dip for sandwiches, snacks and salads at home. To order online, visit smokedtunadip.com.
Patches Pub and Grill
Looking for pub style food to satisfy your hunger? Patches Pub and grill is a fun place to grab your favorite beer, listen to live bands and feast on some smoked tuna dip. This appetizer is smoked on the patio bar with hickory chips for that extra earthy flavor. Served with flash fried tortilla chips, jalapeños and pico, it's guaranteed to not make it to the to-go box. For more information visit patchespub.com.
Salty Sue's
If you're bringing the family out for dinner and want more than just seafood options, Salty Sue's offers barbeque, burgers, and steak as well. Start your family off with their "crowd pleasing favorite" smoked tuna dip. This appetizer is enough for the whole family to share, and is joined by crispy corn tortilla chips and jalapeños on the side. For more information visit saltysues.com.
These are just a few among the many restaurants in PCB that can satisfy your smoked tuna dip craving! Where is your favorite place to feast on some delicious tuna dip?