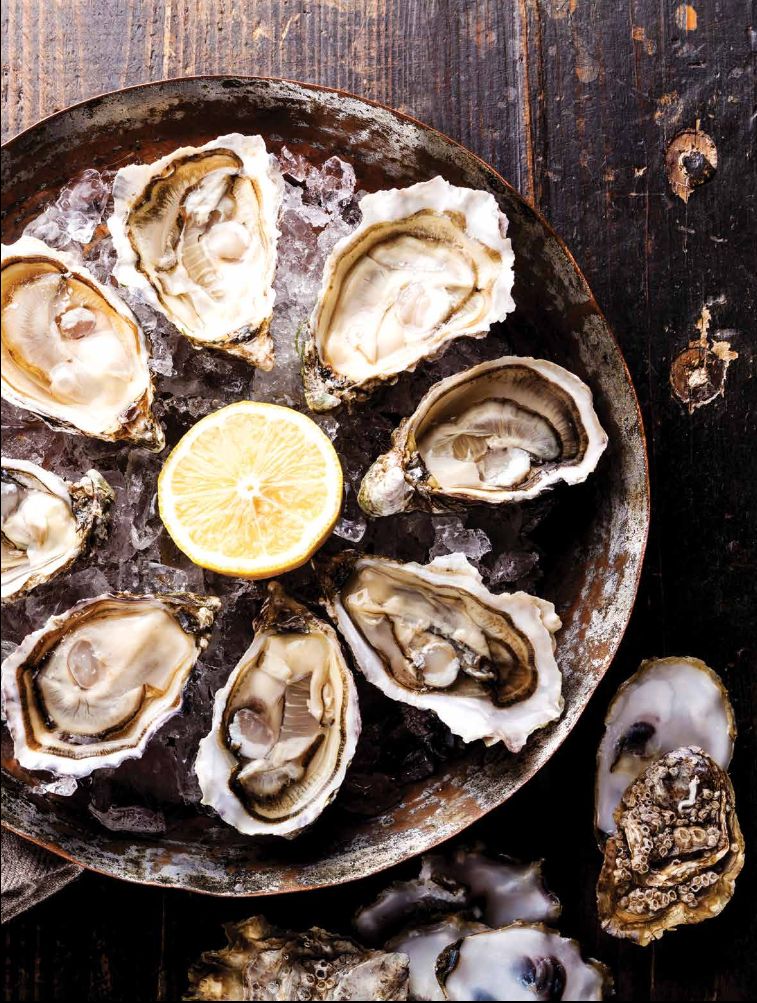 In the right environment, oyster larvae take root and grow into the tabletop appetizer known the world over. They're also useful in keeping coastal areas and ecosystems happy and healthy. What's not to love?
And for PCB restaurants, oysters are essential.
Scott Mandeville is an assistant chef at the Montego Bay Seafood House and Oyster Bar where he has worked for 10 years. Asked about the importance of oysters to the business, he replies, simply, "They're vital."
He estimates that fully half of Montego Bay's tourist-season customers arrive with oysters on their mind. The restaurant often goes through six bushels (600-900 oysters) in a day - baked, jalapeño baked, steamed, raw and Oysters Montego. The latter, a house specialty is a steamed oyster doctored with garlic butter, char (salt, pepper, and garlic), crab meat, bacon, and jalapeño cheese.
Oyster sellers place a premium on freshness. "I know where my oysters come from and when they come out of the water, says Mack Carter, owner of Shuckums Oyster Pub.
The emphasis is on fresh flavor at Bayou on the Beach Cafe, as well, where oyster consumption can range to 15 bushels a day, according to Maria Buxton, who owns the business along with her husband, Jordan.
Here, oysters are prepared in more ways than Forest Gump ever thought about fixin' shrimp. Rockefeller, Butter, and Garlic, Four Cheese, Pepper Jack, and Bacon, Chargrilled - the list goes on. Buxton favors recipes developed by her mother-in-law, Donna Buxton, who hailed from Lafayette, Louisiana.
You'll find Tabasco, Crystal, and other commercially produced hot sauces at Bayou on the Beach, but many diners favor the Buxtons' own sauce, made on site and sold in unlabeled canning jars for $10 a jar. Just don't expect to come by the manifest of ingredients it contains.
"That's a secret," Buxton says and adds, "We go through about 10 gallons a week."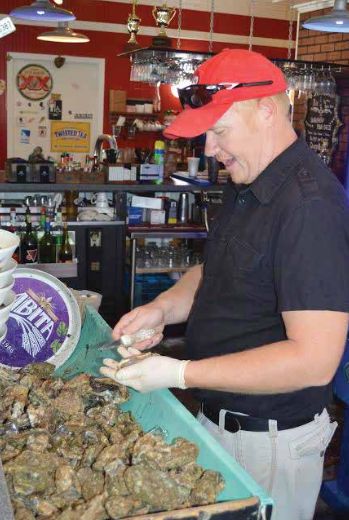 "I like it because it has lots of flavor and it's not too mild and not too hot," says Bayou on the Beach employee Randall Hines, who introduces himself as the finest shucker ever to come out of the Amish country of Mount Vernon, Ohio.
The best shuckers, he says, are less concerned about speed than presentation. Oysters shouldn't be butchered or even stabbed and shells should be free of grit. Occasionally that care is rewarded with a little something extra.
Behind him at the shucking station is a small, but growing collection of pearls.
"We're working on a necklace," Buxton says, "but we've got a ways to go."
_____________________
Baked Oysters Recipe: Spicy Jalapeño Bacon and Cheese
Serves 6
Ingredients:
36 oysters, shucked, on the half shell
rock salt
12 ounces mozzarella cheese, grated
1/2 cup cooked bacon, crumbled
4 jalapeño peppers, chopped
Directions:
Arrange oysters on rock salt in a baking dish.
Top each oyster with 1/2 teaspoon of the cheese, crumbled bacon and chopped jalapeño to taste.
Bake in a preheated oven at 350 degrees F for 10 minutes or until edges of oysters begin to curl.
Source: Florida Department of Agriculture and Consumer Services