Once you've decided to visit Panama City Beach on your next beach vacation - whether you've planned your trip months in advance or are deciding at the last minute - you'll need to find a place to stay while you're here. Our accommodation partners have helped make that easy by posting their rooms, contact info, and special deals to www.visitpanamacitybeach.com , but if you're not familiar with the area, or the website, you may need a few pointers...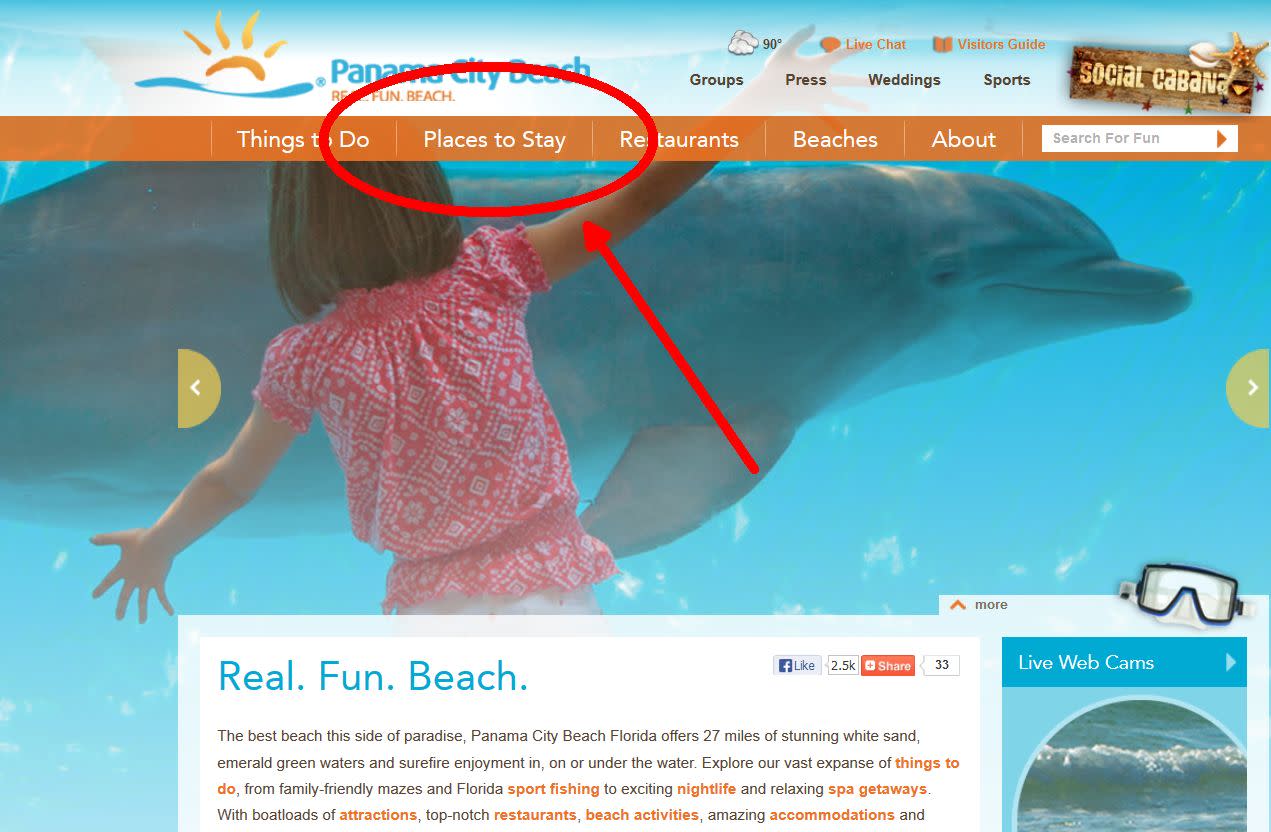 First off, at the top of any page on our website, you'll see a tab that says "Places to Stay." Click on that! It'll take you to a page that explains a little bit about the different options available to you... from luxury accommodations to campsites nestled between pine trees. Whatever you're looking for!

Scrolling down a little, you can find a list of everything (Over 300 listings!) in alphabetical order. But it's easy to narrow that down a little bit. Using the dropdown boxes, you can select a specific category (like beach houses, condos, group rentals, hotels, etc.). The next dropdown box lets you choose which part of Panama City Beach you want to stay on (East End, West End, near Pier Park, etc.). You can enter a keyword to make sure it's included in the description, or if you're looking for a specific amenity click on "Amenities" and choose from a range of options like "pet-friendly," "full kitchen," "hot tub," or "3 bedroom."

So, say you want to stay in a pet-friendly beach house on the East End with a pool. Just select the categories for "Beach Houses" and "East End," type in "pool," select "pet-friendly" from the amenities list, and hit "Search." BAM! A list of places that exactly match your search criteria, in alphabetical order. There's a map of the location, and you can click "what's nearby" for a map listing of nearby attractions, restaurants, etc. Just select what you're interested in from the features on the left side of the screen. The accommodation listings also include contact info, and even links to YouTube videos, Twitter pages, or the website of the rental property (whatever they've provided).

Searching for a place to stay just got FUN. As you go navigate through the options, you can select the "Compare" button on the ones that interest you, then choose "Click to Compare" to see up to 3 of them, side by side. If you're building your trip itinerary, you can add the accommodation of your choice to the itinerary and have all your trip info in once place. It's easy, because it should be, because you're on vacation (or you're going on one soon, anyway)!

And even if you're not already planning a vacation, be sure to check the Special Offers page often - with golf packages, multi-room discounts, discounts and more, it might just make an unplanned vacation possible!