Weekly Rates

Redeemable:

Thursday, Nov 1, 2018 - Saturday, Feb 23, 2019
Weekly rates are back just in time for the off Season:

1 Bedrooms - $600
2 Bedrooms - $700
3 Bedrooms - $800

Quantities limited so hurry before they are gone.
Available starting November 2018 thru February 2019.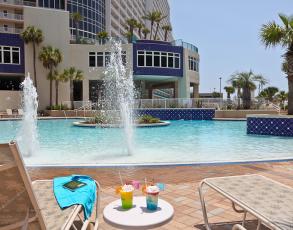 Onsite management at this property provided by: Emerald View Resorts Parent
Other Companies that rent units at this property: Royal American Beach Getaways
With its nightly light-and-water show and flexible outdoor meeting spaces, Laketown Wharf makes a big and lasting impression. A soaring collection of oversized floor plans and far-reaching views of the Gulf, Laketown Wharf is also home to Panama City Beach's most comprehensive set of amenities. Five pools include one zero-entry pool overlooking the Gulf of Mexico, a tenth floor rooftop pool, and an island pool secluded at the middle of a private lake.

 
Learn More
Visit Website