Discover Panama City Beach! Landing Page
Plan Your Spring Travel
Whether you're looking for a laid-back spring escape, a family vacation packed with FUN or a getaway for you and your friends, Panama City Beach has just what you need this season. Let us help you plan your trip now.
Plan Now
What's Happening in Panama City Beach?
Ironman Florida
Thanks to a beautiful seashore and perfect temperatures, IRONMAN Florida is a magnet for triathletes and their families. One of the most storied North American races, IRONMAN Florida began in November, 1999. It takes place in Panama City...
View All
Emerald Coast Cruzin'
Emerald Coast Cruizin - The South's Best Blast from the Past family fun event. Thousands of classic cars, hot rods, custom cars and trucks make way to beautiful Panama City Beach. This year's event will be held at Aaron Bessant Park next to...
View All
New Year's Eve Beach Ball Drop
Celebrate New Year's Even on the beach! A family-friendly countdown at 8pm culminates with fireworks, live music and 10,000 beach balls being dropped over the crowd. As the seconds tick down to midnight, thousands watch the Celebration...
View All
Live Views of PCB
Even if you can't be here in person, you can catch a glimpse of Panama City Beach from anywhere in the world! Check out the white sand, emerald green water or last night's sunset!
Watch Live
REGIONAL MAP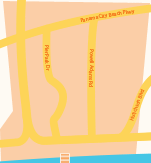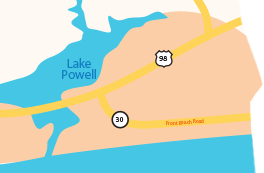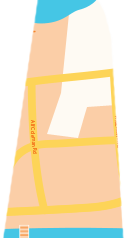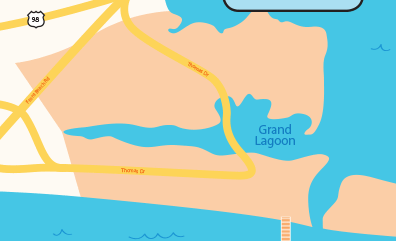 Regions
With 27-miles of beaches, two state parks, miles of hiking and biking trails, and 100 public beach access points, it goes without saying that there's a lot to see and do in Panama City Beach. As you explore, you'll find that each area has its own unique flavor and character. Click areas of the map above to learn more about the different areas to discover in Panama City Beach!
LEARN MORE