UNwineD
June 4 & 5, 2021
Don't miss out on one of the top foodie events of the season. Enjoy two days of extraordinary food, drinks, and music to help you relax and unwind. The event kicks-off Friday, June 4th, at 6:00 pm with a party presented by Southern Living where you will be able to taste bites prepared by Top Chef Kelsey Barnard Clark. The party continues on Saturday, June 5th, from 1-4:30 pm where you can gather at Aaron Bessant Park to whet your appetite with craft beer, spirits, and wine tasting and follow-up with food pairings from favorite local eateries. Tickets are limited so make sure you get yours today!
This year, a portion of the proceeds will go towards the United Way of Northwest Florida and World Central Kitchen charities.
Friday Night Kickoff Party hosted by Southern Living
Friday, June 4, 2021 at 6:00pm
Visit Panama City Beach has partnered with Southern Living magazine to add extra prestige to the festival, with Southern Living hosting an exclusive event on Friday to kickoff the weekend event. This one-of-a-kind night offers "Top Chef" winner Kelsey Barnard Clark, custom cocktails, live music by country artist Lindsay Ell and more! Only 250 tickets are sold to the Kickoff Party and include admission to the entire weekend of events.
SOLD OUT
Entry to the Preview Party on June 4th
Entry to the Grand Afternoon Tasting on June 5th
Gift bag with commemorative UNwineD tasting glasses
You must be 21 or older to attend the Friday night event.
Price: $175
Grand Afternoon Tasting
Saturday, June 5, 2021 at 1:00pm
UNwineD officially gets underway with The Grand Afternoon Tasting. Wander from booth to booth while tasting the best craft beers, wine and spirits from around the world, and sampling delectable creations from leading chefs in the Northwest Florida area. Browse through Art & Vendor Row filled with local shops and boutiques, and be sure to also stop by the Southern Living tent for home decor, cook books and more! Tickets are limited to this event.
Ticket Includes:
Entry to the Grand Afternoon Tasting on June 5th
Gift bag with commemorative UNwineD tasting glasses
You must be 21 or older to attend. Kids 12 and under are permitted (at no charge) but must be accompanied by an adult.
Price: $75
Concert in the Park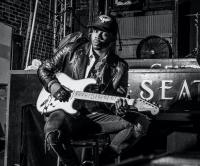 Saturday, June 5, 2021 at 3:00pm
Bring your lawn chair and blankets! During the Grand Afternoon Tasting, there will be live entertainment by headliner Ayron Jones. Guitar rocker Ayron Jones is the new sound of Seattle in 2020. The gritty, genre-blending artist is an amalgam of the incredibly rich history of the city, from Jimi Hendrix to Nirvana to Sir Mix-A-Lot who produced Jones' first independent record.
The Venue: Aaron Bessant Park
Aaron Bessant Park is one of the newest parks in Panama City Beach. The park boasts a state of the art amphitheater conveniently situated in the center of the park. The location is perfect for festivals and concerts as it is just steps from the beach. The 70 acre park's expansive green space is ideal for watching live music performances. The venue is festival seating, so make sure to bring your own lawn chairs or blankets.