PANAMA CITY BEACH, Fla., August 8, 2018 – Home to 27 miles of sugar-white sand beaches and emerald-green waters, the beautiful scenery of Panama City Beach isn't the only reason the destination is Instagram-worthy. Food lovers shouldn't miss some of Panama City Beach's most Instagram-worthy eats spanning the gamut from sweet to savory to everything in between. See below for 10 of our favorites and don't forget to tag @Visit_PCB in all your tasty travel posts on Facebook, Instagram, and Twitter.
Sweet Crepes at Gypsea Crepes:
A go-to spot for unique sweet and savory crepes, Gypsea Crepes has something for everyone, any time of day. Those seeking a sugar rush shouldn't miss their Sweet Crepe filled with strawberries, bananas, blueberries, and raspberries, and topped with choice of chocolate sauce, Nutella or peanut butter. If feeling extra indulgent, diners can top their Crepe with a slice of cheesecake. Yes, you heard right! @GypseaCrepes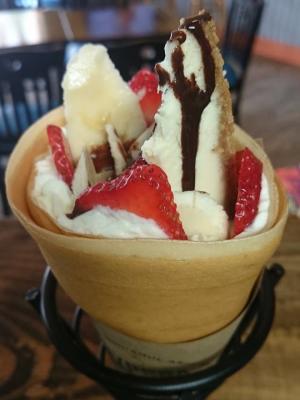 NitroFreeze Liquid Nitrogen Ice Cream:
This NitroFeeze Liquid Nitrogen Ice Cream stand in Pier Park serves up a frozen treat commonly referred to as "Dragon's Breath," - the definition of Instagram friendly. This hyper-frozen cereal is available in a variety of flavors from fruit to chocolate and when eaten and exhaled, the smoking dessert releases a thick fog mimicking dragon's breath. Kids have a blast eating this one-of-a-kind treat! @NitroFreezePCB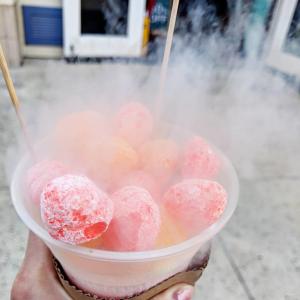 Cat5 Milkshakes at Gulf Coast Burger Co.
Gulf Coast Burger Co.'s Cat5 Milkshakes are available in five crazy flavors including Celebration (birthday cake, sprinkles), Sugar Rush (fruity pebbles, lollipop, cotton candy), Peanut Butter (mini Reese's cups, peanut butter chips, caramel popcorn), Chocolate Supreme (M&M's, chocolate sauce, brownies) and Cookies and Cream (Oreos, Chips Ahoy). @GulfCoastBurgerCompany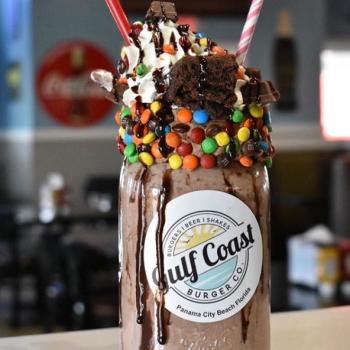 Loaded Shrimp & Bacon Bloody Mary at Schooners
Home to breathtaking ocean views and live music seven days a week, Schooners is paradise for brunchers looking to make the most of their Sunday Funday. Those seeking a mid-day buzz or a little hair of the dog will love Schooner's Loaded Shrimp & Bacon Bloody Mary, topped with pickled vegetables, jalapeño bacon, and juicy shrimp, grilled to perfection. Imbibers shouldn't miss the Third Annual Bloody Mary & Music Festival taking place on Oct. 20 at Schooners. @SchoonersPCB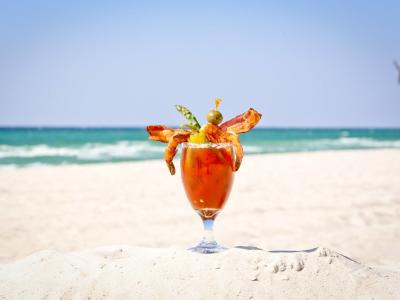 Chicken & Bacon-Filled Waffles at Liza's Kitchen
A tiny, gourmet sandwich shop serving lunch and weekend brunch, Liza's Kitchen is known for making everything from scratch, including their Focaccia bread, soups, and salad dressings. Diners go crazy for their brunch special - Chicken & Bacon-Filled Waffles. Topped with fresh fruit and powdered sugar, there's no better way to fuel up for a day at the beach. @LizasKitchen1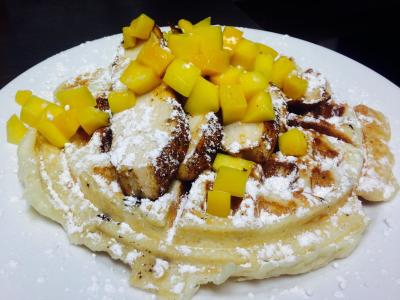 The Hurricane Roll at Firefly
Casual fine dining at its best, Firefly specializes in seafood, steaks and a world-class sushi bar. Offering over 28 unique rolls, the Hurricane Roll is a guest favorite and almost too beautiful to eat. Stuffed with tuna, crab salad, spicy mango mayo, jalapeños, cucumbers, and scallions and topped with avocado, spicy tuna, spicy mayo, and sweet soy, this roll marks high on taste as well as presentation. @FireflyPCB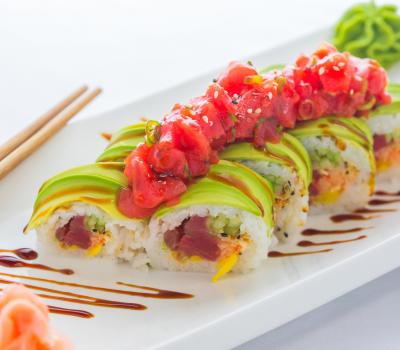 The Cookie Monster at The Yard Milkshake Bar
Serving up specialty milkshakes with every topping under the sun from glazed donuts to "Mermaid Bark", The Yard Milkshake Bar has grown quite the social media following since it opened its first location in May 2017. Kids and Instagrammers go crazy for The Cookie Monster - cookie dough ice cream in a chocolate iced jar topped with Cookie Crisp cereal, whipped cream, cookie dough, fudge, and a blue marshmallow cream drizzle. @TheYardMilkshakeBar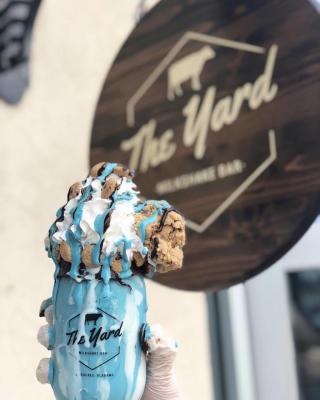 Shrimp & Grits at The Grand Marlin
With sunsets overlooking the Grand Lagoon, The Grand Marlin offers a relaxed atmosphere paired with some of the area's best selection of fresh seafood prepared by award-winning Chef Greg McCarthy. The Grand Marlin's Shrimp & Grits on the brunch menu is a must-try, made with chipotle seared shrimp, Logan Turnpike grits and tomato andouille sausage stew topped with a perfectly poached egg. @TheGrandMarlinPCB (Facebook)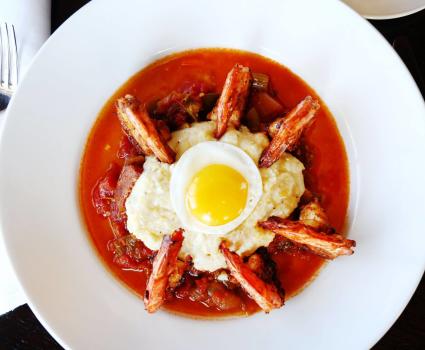 Sesame Seared Ahi Tuna at Saltwater Grill
Known for its 25,000-gallon tropical saltwater aquarium, nightly piano bar, and Gulf-fresh seafood, the recently remodeled Saltwater Grill serves a Sesame Seared Ahi Tuna entrée that is truly Insta-worthy. Sliced and plated atop a jasmine rice cake with vegetable slaw, ginger dressing, and a sweet soy glaze, this dish deserves a close-up. @SaltwaterGrillPCB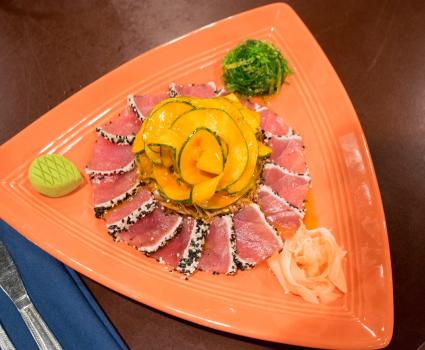 Pina Colada at Coco Locos
A beachside tiki hut located at the entrance of Pier Park, Coco Locos serves frozen, tropical drinks in fresh coconuts and pineapples. Beachgoers looking to get a taste of the tropics shouldn't miss this adorable beachside stand for some of the most refreshing and Instagrammable drinks around. Other favorites are the Mango Sunrise and Pineapple Whip, available in painted Coconuts. @CocoLocosPCB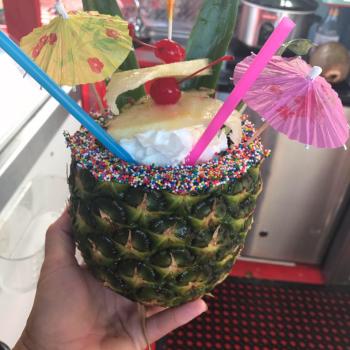 For a complete list of dining options in Panama City Beach, please visit www.visitpanamacitybeach.com/restaurants/.
For high res. images of the above, or other images of Panama City Beach, please see below:
https://www.dropbox.com/sh/2rw0m6jo29jq9df/AAB_5eIeHAAMbQLVvRSUONHXa?dl=0