Plan Your Trip to the West End Region
Panama City Beach's West End is the quieter side of the area where you'll find quaint communities dotting the beaches and less high-rise condominiums. Still packed with fun things to do, planning your trip here lets you pick from natural wonders and at-your-pace attractions.
Hotels With You in Mind
If you're bringing the family, you'll find plenty of suitable accommodations. Splash! Resort is  designed to be the most kid-friendly lodging in the area and lives up to its goal with amenities that include a mini water park featuring slides and a giant splash bucket for kids and a splash pad for toddlers. There's also a lazy river, several pools and an arcade that the little ones will love. A skywalk stretches across the street to the parking garage and lobby so you don't have to worry about hauling your kids and luggage through traffic. You can also easily access Alvin's Island, a tropical department store, by using the skywalk and shop for any beach supplies you might need or load up on souvenirs.
 
Add a touch of elegance to your vacation with a stay at Carillon Beach Resort Inn. Located within a village by the sea community, the hotel reflects the surrounding coastal architecture. The pet-friendly boutique condominium entitles visitors to use of all Carillon Beach amenities which include multiple pools and two tennis courts; however the real perks are a sense of belonging to this charming community with paved walkways and parks interspersed throughout.
 
Directly outside the hotel is Carillon Market Street where you can stop at the Our Little Beach Café for coffee, breakfast, or lunch; take in dinner and live entertainment at The Lake House at Carillon Beach; or relax and rejuvenate at Salon Baliage & Spa with any of their full-body treatments featuring tropical ingredients like coconut, sea salt and papaya.
Natural Adventures
While you're in the West End of Panama City Beach, be sure to visit the nearby Camp Helen State Park. Bordered by the Gulf of Mexico and Lake Powell, this 183-acre park is the perfect place to spend the day. Visitors can start off by fishing for both saltwater and freshwater fish in the lake, spend time on the beach and perhaps catch sight of dolphins or sea turtles, then go birding for a chance to see bald eagles and kingfishers, and end the day kayaking.
 
Continue reveling in the beauty of nature with a visit to Conservation Park. It's only a five-minute drive from the beach, but visitors are immediately immersed in a completely different habitat of protected wetlands, wildlife and cypress forests. You can walk, hike or cycle through 12 different trails as you traverse boardwalks that keep you a safe distance from the water-covered forest floor where you might see a turtle, snake, alligator or water bird peeking back up at you.
 
Another must-see attraction in the West End is the Man in the Sea Museum. Dedicated to preserving the history of diving, this 5,000-square-foot museum has an extensive collection of past and present diving equipment. Visitors can climb through an actual submarine and view treasures from sunken ships dating back to the 1500s.
More Than Seafood
For an unfussy, but satisfying meal, head to Back Beach Barbecue. A newer addition to the area, the restaurant serves up meats slow cooked for 12 hours and offers an alternative to the ubiquitous seafood menu. The two wood-fired pits outside let you know you're in for a treat before you even come inside.
 
Discover the charm of the West End in Panama City Beach, start planning your trip today.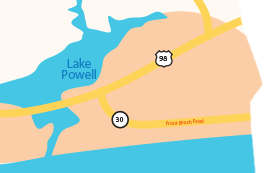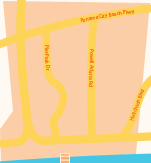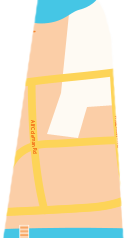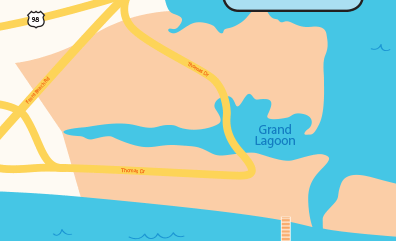 Places To Stay - West End