Wedding Stories & Testimonials
Brittney and Robyn 
Wedding date: October 2006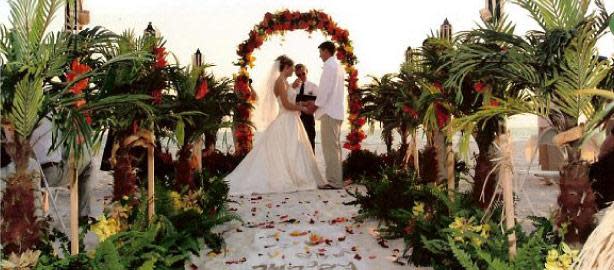 My husband and I were married on Panama City Beach on October 20, 2006. That day would have been my grandparent's 50th wedding anniversary. We had always wanted a beach wedding; however, I didn't want a small affair! We are from North Alabama and had almost 100 guests travel down for our amazing wedding! My husband is Native American and during the ceremony we released 100 butterflies onto the beach and read a Native American wedding wish to the guests.
I have to say it was beautiful and everything I have ever wanted! The weather was more than perfect. Panama City Beach was the perfect location for our wedding. My favorite thing was when everyone on the beach stopped what they were doing when I walked down the deck at The Sterling Reef and watched me. They were all so polite and let us have our time during the wedding. Kids stopped playing, adults quit talking, and everyone watched. The politeness and consideration of the people was amazing! If I had it to do over I would definitely choose to have another Panama City Beach Wedding. We celebrated our 1st, 3rd and 4th anniversaries back in PCB!
Caroline & Simon
Wedding Date: May 2011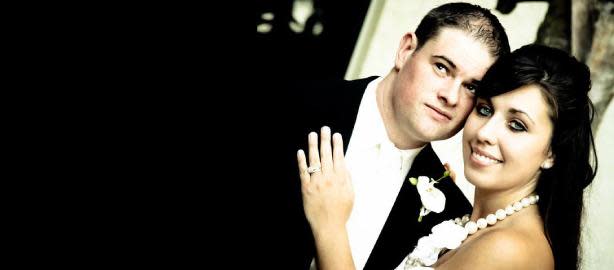 Warm sunshine, soft sand, and a gentle breeze blowing set the stage for a fabulous wedding day on May 21, 2011. My husband and I had a gorgeous Florida wedding and reception in Panama City Beach. Here are a few details about our big day.
My husband and I have had an international courtship and decided since I would be moving to Ireland after the wedding that the wedding would take place in my hometown in Florida. With my family all from the southern United States and my husband and his family and friends travelling over from Dublin, Ireland, we felt that Panama City Beach would be a fabulous canvas of something different for our May wedding. We knew we wanted something that would be completely different for all of our Irish friends and family and a breath of fresh air for those travelling from closer to home.
As part of the pre-wedding festivities and as a welcome to the wedding weekend, we hosted a wine tasting at Something's Cooking in Panama City. It was a relaxed evening in which we tasted various wines and snacked on fruit and cheese. This set the tone and vibe and was a great way for our friends and families to meet and mingle and enjoy the evening. Well worth the extra planning to add another dimension to the wedding celebrations!
Our wedding ceremony took place at the local Kingdom Hall on North Lagoon Drive by two officiates, one from Alabama and one from Dublin, giving our ceremony an international flare. We had a reception immediately following at the Shores of Panama along the pool area. It was perfect! With palms and starfish decorating the tables, reggae music dancing through the air and a sunset in the background, the Beach was a perfect setting. Along with the wonderful atmosphere and vibes of being steps from the beach, we dined on exquisite pepper steak port-au-prince, Jamaican jerk style chicken, roasted vegetables, coleslaw and tropical fruit. We went on to dance the evening away under the gazebo along the lagoon style pool deck. To top off the evening with a sweet treat we snacked on 2 different wedding cakes, a traditional wedding cake then a strawberry flavored groom's cake in the shape and decoration of a wood grain fishing tackle box. How appropriate! To finish off a lovely wedding day we began our honeymoon in a bay view room at the Bay Point Marriott and went on to cruise the Caribbean.
It was a memorable affair with fabulous friends, wonderful weather, and a serene backdrop of beauty that we were able to start our journey as a married couple. Panama City Beach is an ideal place for any couple planning a wedding and can be sure it will be an unforgettable day of wonderful memories!
Kimberly & Michael
Wedding date: 9/10/11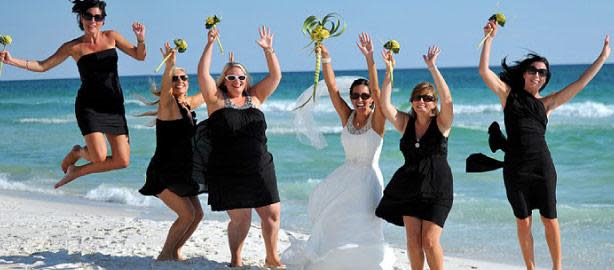 Our special day began on the white sugar sand beaches at sunset on 9/10/11. Kim was dressed in a stunning traditional full length jeweled white wedding dress while Michael wore a khaki destination tuxedo. The wedding party and 90 guests were we "all dressed up", and "comfortably barefoot" at the same time. Before gathering the guests on the beach, the wedding party held hands, and said a prayer to start the event - as is customary, the groom (Michael) was blindfolded as to not see the bride before the ceremony. White chairs decorated with starfish lined the beach behind our honeymoon penthouse condo, and just by the shoreline was a white floral arbor. This picturesque setting was beyond anything we had envisioned.
The ceremony began with the entrance of our family, friends, and twin flower girls, followed by our ring bearer Daniel, and the bridesmaids. The well groomed path onto the beach led to the arbor which had a heart shaped sand castle with rose peddles lining the sides. Kim looked absolutely stunning as she was led down onto the beach by her two brothers to Cannon in D, and finally meeting Michael at the arbor.
Panama City Beach had all the right businesses for coordinating our wedding, making it very easy and stress-free. Arrangements for the condo, catering, tuxes, wedding location, beach setup, and coordinating the event were a breeze. Even after we knocked the wedding cake over, the baker was immediately over to help save the day.
Our good friend's 9 year old daughter told us that "When I get married, I want a princess beach wedding like this one." We are pretty sure she will be back to Panama City Beach when that happens!
Tracey & Michael
Married: July 2006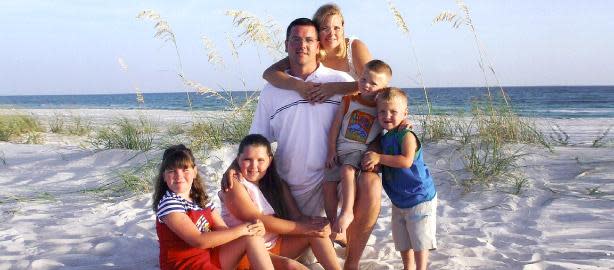 We traveled 11 hours from northeast Ohio with all four of our kids for our wedding in Panama City Beach and were joined by family from Tennessee and Florida. We were very worried about getting our license since we were from out of state and this was only our second time to PCB. The staff at the courthouse were very friendly on the phone and made sure we knew exactly what we needed to bring with us. We arrived and in under 10 minutes were walking out with a wedding license! With the July heat and lots of kids to entertain we rented an inflatable waterslide to cool off and relieve the stress of preparing for a wedding - money WELL spent!
The night before the wedding the entire family met on the beach for pictures, you really can't get a more beautiful backdrop than PCB regardless of the time of day! The beach (as always) was so clean, we shot pictures across a wide strip of sand not needing to edit one thing out of the pictures. Our wedding preparations were just as effortless since there are so many choices when getting your hair cut, clothes dry cleaned, flowers, restaurants, party rentals, DJs, inflatables, etc. On our wedding day it was sunny and 105 degrees when a rain storm blew through and then it stopped raining the second the wedding march started playing - cooled everything down for an awesome night we'll never forget. We finished our trip to Florida by visiting St. Andrews State Park where we got to see a couple alligators up close and went swimming/snorkeling and saw the Pirate Ship shoot its cannon. We come back every year that we can now and truly enjoy every day we get in PCB.