Panama City Beach Parks
Panama City Beach has some of the best parks and recreation areas for tourists and locals alike. Whether you love music festivals or outdoor adventure in "The Undiscovered Florida Coast", Panama City Beach has something for everyone.
Northwest Florida has several parks where you can get away from it all while reveling in a variety of outdoor activities. Situated three miles east of Panama City Beach, St. Andrews State Park boasts 1200 acres of beautiful beachside landscapes, abundant wildlife and adventure for the whole family. 
For the water sports enthusiast, guests can enjoy scuba diving, snorkeling, kayaking and canoeing. Don't forget, you can also take a leisurely swim in the ocean or just sunbathe on the soft, white sand. 
If fishing is what you love, St. Andrews State Park has some of the best options on the Gulf Coast. With two fishing piers, a jetty and a boat ramp, angling opportunities abound. 
The park also has two hiking trails. Explore the flatwood pine forest and Turpentine Still on the Heron Pond Trail, and enjoy beautiful lake views on the Gator Lake Trail. While hiking the Gator Lake Trail, you can spot several kinds of wildlife, including alligators and a variety of waterfowl and wading birds. If you continue to Button Bush Marsh Overlook, you can do some serious bird watching, where you can encounter Herons and Ibis feeding along the edge of the marsh.

For even more exquisite scenery and relaxation, Camp Helen State Park should be on your itinerary. Recognized as a Historical Site in 2012, this hidden gem is located west of Panama City Beach and is flanked by the Gulf of Mexico and Powell Lake, the largest coastal dune lake in Florida. 
Hiking enthusiasts can explore the Oak Canopy Trail. The trail winds through stately oak trees and mossy maritime canopy. The park is home to several species of wildlife, so you may see wild tail deer, squirrels, possums and even a black bear. Camp Helen is also well known for incredible birdwatching. You can observe bald eagle, osprey, kingfisher and Cooper's hawk. 
After a half mile walk, you can access the beach where you can swim, play and just relax. 
The fishing at Camp Helen is some of the best in the state. The Gulf of Mexico provides ample saltwater fishing and Lake Powell boasts freshwater and saltwater fishing since it intermittently exchanges water with the Gulf of Mexico. 
While in Panama City Beach, make sure to visit Conservation Park, where you can hike, bike and enjoy nature of all kinds. The park spans 2900 acres and has 24 miles of trails where you can explore northwest Florida's lush environment under dense awnings of cypress trees. The park's boardwalks allow visitors to observe wetlands and several kinds birds and wildlife in their natural environment.
For concerts and festivals, Frank Brown Park and Aaron Bessant Park have become the premier venue for events in Panama City Beach. 
If you love country music, you should not miss the Pepsi Gulf Coast Jam held at Frank Brown Park. This three day festival is the perfect place to kick up your boots, play in the sun and sand, and enjoy the hottest country music from over 30 artists. The 22 acre festival site can host up to 10,000 people.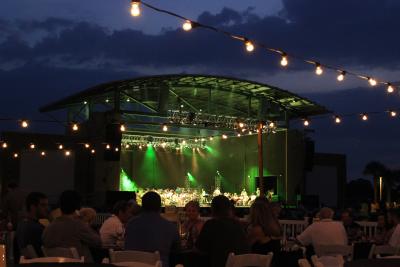 At Aaron Bessant Park, The Seabreeze Jazz Festival held in April every year is not to be missed. Dubbed "the ultimate weekend of smooth jazz," the festival brings the best jazz musicians together to perform for close to 7,000 people each year. The amphitheater at Aaron Bessant park can seat 7500 people and also has 10 acres of festival lawn. 
The possibilities for outdoor fun are endless at  Panama City Beach's many parks. Gorgeous beaches plus beautiful natural landscapes plus a variety of concerts and events equals dream vacation. What more could you ask for? Panama City Beach has it all.