Panama City Beach Parks
From lapping waves and glittering white sand beaches to pine forests and lakes brimming with wildlife, local and state parks in Panama City Beach not only feature natural wonders but tons of fun activities for everyone in the family.
Popular Spots
No matter how you'd like to spend your day outdoors, St. Andrews State Park, wedged between the Gulf of Mexico and St. Andrews Bay, is an activity-filled spot perfect for making unforgettable memories with your family. During your visit, enjoy over a mile of beach nestled by idyllic waters, and take advantage of the numerous hiking trails, campsites, fishing locations, and picnic pavilions there. The park offers bike rentals and water activities like surfing and snorkeling too. You can also take a shuttle to and from Shell Island for a fun day trip. 
Anglers of all skill levels adore Camp Helen State Park. Here, the Gulf of Mexico provides ample saltwater fishing, while the unique location of the park's Powell Lake is home to both salt and freshwater fish. Besides fishing, Camp Helen is a popular spot for swimming, beachcombing, and birdwatching.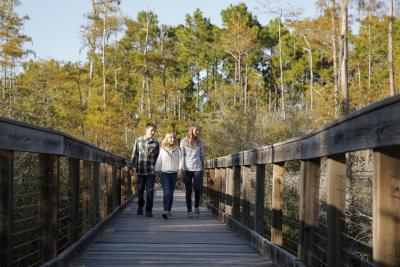 Speaking of birdwatchers, you won't want to miss Conservation Park. The 2,900-acre park includes over 24 miles of unpaved trails and boardwalks winding through wetlands under a canopy of rich Cypress trees. It's an ideal spot for observing birds and other wildlife in their natural environment. This PCB park is also a great spot for biking and hiking. 
Special Events
Every year, Frank Brown Park in Panama City Beach hosts the annual Pepsi Gulf Coast Jam — three days of country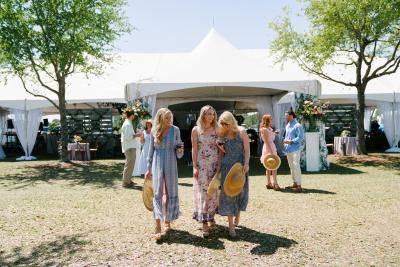 music from the genre's hottest artists. The over 200-acre park is also home to a dog park, sports fields, and the Panama City Beach Aquatic Center featuring a 50-meter Olympic pool.
For four days each spring, Aaron Bessant Park, near Frank Brown, holds the Seabreeze Jazz Festival at its state-of-the-art amphitheater. Another popular annual event hosted in the spring is UNwined, a weekend-long elegant garden party featuring delicious cuisine from top PCB chefs and restaurants, as well as craft beer, wine, and so much more. Besides offering events throughout the year, the park has 70 acres of green space perfect for picnicking and playing a game of frisbee. While you're here, check out the veteran's memorial and dog-friendly hiking trails near Pier Park.
Planning Ahead
If you plan on visiting one of the state parks, here are a few things you should know. 
Parks are generally open from 8 a.m. to sunset unless you're camping, but please review each park's website before visiting for more details. Each state park has an entrance fee, and prices vary if you're bringing a boat or camping (reserve a spot ahead of time). You can also purchase an annual pass if you plan on frequenting Florida state parks often. 
Start your adventure today by planning your next visit to Panama City Beach. Whether you want to attend a music or food event, build a giant sandcastle, fish in the Gulf of Mexico, or finish your beach read, the parks of Panama City Beach have everything you and your family want in a vacation.