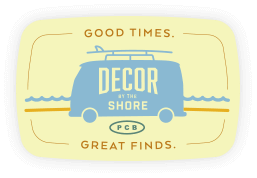 Decor by the Shore
As if you needed another reason to visit Panama City Beach Florida, not only are the sugar white beaches to die for, and tons of fun activities, but now you can shop for the cutest shabby chic decor and coastal furnishings. Visit the Coastal Design Emporium Trail to bring the laid back Panama City Beach vibe to your own home.
We've lined up some of the most charming locally loved shops in Panama City Beach, the kind you can spend the whole day discovering tempting treasures with that irresistible beach vibe. 
Grab your Decor by the Shore passport (available at participating stores and the Visitor Center) and set out for a unique shopping adventure you won't find anywhere else in the world. 
Get your passport stamped at each stop, then drop by the Visitor Center for a special souvenir.
This shop provides all the variety a flea market has to offer, without the hassle. While browsing through the shop's 22 vendor booths, you'll find a uniquely curated combination of home décor, furnishings, glassware and jewelry. This extensive display of wares encompasses styles from shabby-chic to coastal-class, but don't be afraid to mix-n-match!   
With its conglomeration of enchanting shells, alabaster driftwood and antique goods from 22 talented vendors, Pieces on the Beach is the epitome of coastal-chic. As you wander through the stylish labyrinth of this 5,500-square foot shop, you'll eventually come across the onsite paint studio. Sign up for an art class with Pieces, and you'll learn all about furniture restoration using the serene, seaside hues of Maison Blanche paint.
Here at the Treasure Box they mix shabby, chic, coastal, seasonal, whimsical and vintage. You will find their products are one of a kind. The pieces are each hand made ,one at a time. There are no two pieces alike. Every item is created with you, the client in mind, keeping only the best products available. The items available come in a variety of colors and sizes. We also do custom orders. Here, our utmost goal is to keep coastal, trendy, and genuine products available. 
A trove of local art, artisan-crafted curiosities and collectibles, Turtle Girls Market features masterpieces inspired by our emerald-green waters. Though you'll find an impressive selection of both classic and contemporary furniture for your beach home, the Turtle Girls also treat you to a gorgeous array of mermaid-worthy accessories fashioned from shells and dazzling jewels.
The alabaster exterior of 13 Hub Lane gives way to vibrant splashes of aqua, coral and sea-glass green décor as visitors step inside. Beach meets Boho at this specialty shop, where furnishings range from bold, modern statement pieces to subdued, nautical neutrals. The shop offers textured art, metallic glassware and extravagant lighting fixtures that will uniquely accent your space without disrupting a beach home vibe. Take home a sea-inspired scent from the hub's selection of Barr-Co.'s soaps, lotions and candles, and you'll experience a whole new dimension of coastal living. 
A lifestyle and clothing store that exudes the beach life, Salty Mermaid offers an abundance of home décor and unique clothing options. Alongside beach apparel and shirts that celebrates the mermaid lifestyle, Salty Mermaid has a bevy of baubles available, including necklaces, earrings, pendants and more that will inject saltwater into your veins. From local artwork to hammocks, you'll definitely leave with something to hang on to.
Located in a renovated filling station on the west end of Panama City Beach, The Salt Shed has everything you need to refurbish your home or garden. Outdoors, the garden center has a range of pots and plants to decorate your home or yard, including seeds, ferns, small trees, succulents and ornamental plants. Inside, The Salt Shed also offers home décor, from furniture to locally produced art. Gifts also range from soaps and pottery to apparel and jewelry.
Southern Living Store features SL lifestyle products in Fashion, Food, Home, Garden, & Travel. The Southern Living Store is for Southerners by Southerners, reflecting an environment where the customer always looks forward to coming back. We host entertaining food-tasting events, and offer friendly, insightful service that encourages the customer to evolve and personalize traditions in the Modern South. It's an engaging blend of inspiration, humor, and practicality.
This chic home and garden store features a large selection of custom modern and European pottery designs. Browse the gorgeous selection of coastal chic furniture and industrial farmhouse design furniture inside the showroom or the beautiful outdoor section.
This local gem is owned by a mother and daughter, what makes Hip. Sea in PCB so special? The duo reclaims discarded items and makes them useful and beautiful again! This creative technique benefits the environment and creates one of kind pieces for your home! Their goal: to educate and provide vintage pieces that will help you achieve your dream home!
You'll love exploring this local grocery store that has been open since 1967. Loved by visitors and locals alike, this spot features a premier wine cellar and funky gift shop with unique, fun finds.
Shabby meets chic in this charming shop filled with coastal-style furniture, repurposed items and custom furniture.
Plan Your Coastal Design Adventure Now 
When planning a trip to Panama City Beach, make sure you spend at least a day perusing unique coastal style furniture and home decor at Coastal Design Emporium Trail. It will feel like you've struck gold once you've found that perfect item to add to a beach house, condo or even a beach-themed room. You can even pick up gifts for friends and family so they can have a piece of PCB as well. The Decor by the Shore Trail makes it easy and fun to indulge in shabby chic style.