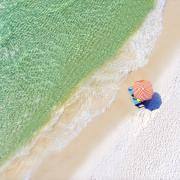 Stay Updated
Sign up for our newsletter and stay updated on what's happening in Panama City Beach.
Sign Up
Beach Houses & Townhomes in Panama City Beach
For a shoes-optional getaway, rent a beach house, and never leave the Gulf's side while vacationing in Panama City Beach.
Beyond the Gulf views and stunning sunrises and sunsets, beach houses provide the space, peace, and privacy you seek, while also being accessible to beachfront restaurants and attractions.
Whether you're celebrating a special occasion or on your annual family trip, PCB has endless options for your dream beachfront retreat. 
Types of Beach Houses
There's a beach house for every type of vacation. 
If you're planning a couples getaway, choose between a cozy beachside cottage or townhouse with one or two bedrooms and enough space for two. For large groups or families, opt for a two-story house with plenty of rooms and indoor and outdoor space for entertaining. 
Beach houses come fully furnished and often feature private patios and balconies. Read a book or tan in the privacy of your backyard. Other beach house amenities include a washer and dryer, a full kitchen or kitchenette, and a grill. 
If you plan on bringing along a pet, look for beach houses that welcome four-legged guests. Panama City Beach has plenty of pet-friendly attractions along the 27-mile stretch of coastline.
How to Choose Your Dream Beach House
With so many beach houses available to rent in Panama City Beach, you may find it difficult to choose just one. Luckily, local vacation rental companies are ready to assist you in finding your ideal beach house.
Venture Out Vacations & Property Management caters to those who want it all. Choose between a one, two, or three-bedroom beach house in the gated community and enjoy resort-style amenities, including a clubhouse and pools. Some rentals come with golf carts. St. Andrews State Park is next door and offers a world of activities, from hiking to snorkeling.
If you want the flexibility of locale, let Panhandle Getaways Vacation Rentals choose the right house, townhouse, or condo for you, available across PCB.
You can also rent a beach house through online vacation rental companies that feature vacation homes across the country, including Panama City Beach. 
It's All About Location
When choosing a beach house, location is often top-of-mind. But wherever you stay along the shore in Panama City Beach, there's always something to see and do. 
In your backyard alone, you've got access to miles upon miles of stunning beaches, where you can sunbathe, play a round of volleyball, and go parasailing over the Gulf. For a more secluded beach day, visit area state parks, such as St. Andrews and Camp Helen. Multiple piers, such as Russell-Fields, offer top-notch fishing and dolphin watching opportunities. Nearby marinas make it easy to venture on a fishing charter or Jet Ski excursion. 
Getting around is easy. You're never more than a walk or bike ride away from a beachfront restaurant or a local park full of fun activities for everyone.
Wherever you stay along the PCB coastline, fun and relaxation awaits in your private beach house.