If you've traveled here with family, chances are you're on vacation and ready to make good memories. What better way to do that than a family fishing trip? Nothing puts a smile on a face faster than a bend in a fishing pole and a tugging at the end of the line.
Fishing trips create anticipation, adventure and excitement. Fishing sparks a child's creative thinking and peaks their imagination. It's educational and encourages interaction without distraction. Reeling in a fish can be much like opening a gift. You may have an idea what you're getting, but you're not sure until you finally put eyes on it. It is a great form of family entertainment and can be one of the most exciting group activities in Panama City Beach.
Have you ever looked out across the Gulf of Mexico, watched as sport fishing vessels pass or strolled along the docks at Capt. Anderson's as charter and head boats return to unload their customer's catches? Maybe you visited one of the public fishing piers and observed someone landing a fish. You're in town and want to go fishing – there is no reason you can't. Panama City Beach is the land of plenty — plenty of fishing for the whole family.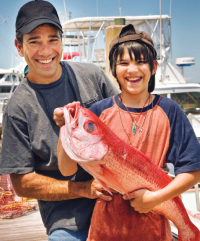 Due to its location, Panama City Beach is surrounded by diverse saltwater fisheries and numerous recreational fishing opportunities. Some captains dock at marinas, and some trailer their boats. Capt. Anderson's Marina is a homeport to 20-plus private charter fishing operators. Generally, most privately owned fishing charters accommodate between one and six people, but a few do accommodate more. It's always wise to ask your captain about his services beforehand, to find out your best options and let him know your expectations. Head boats can carry a number of people and are an affordable way to get one person or the whole family on the water fishing—possibly catching supper. Bait, tackle and fishing licenses are covered in the cost of these trips.
Fishing charter services in the area can be found on VisitPanamaCityBeach.com. If you don't have sea legs, or prefer to keep your feet planted on land, the beaches, public fishing piers, bridges, sea walls and bays offer plenty of access for great fishing by foot. There's a fishing trip for any person and every family, so grab a pole and start making memories!