If you're looking for things to do in Panama City Beach for families, look no further! Whether you want to get up close to wildlife, play a round (or two!) of miniature golf, or spend the day at a waterpark, there's plenty of amusement to experience while on vacation. The best part is you don't have to be a kid to enjoy these Panama City Beach attractions!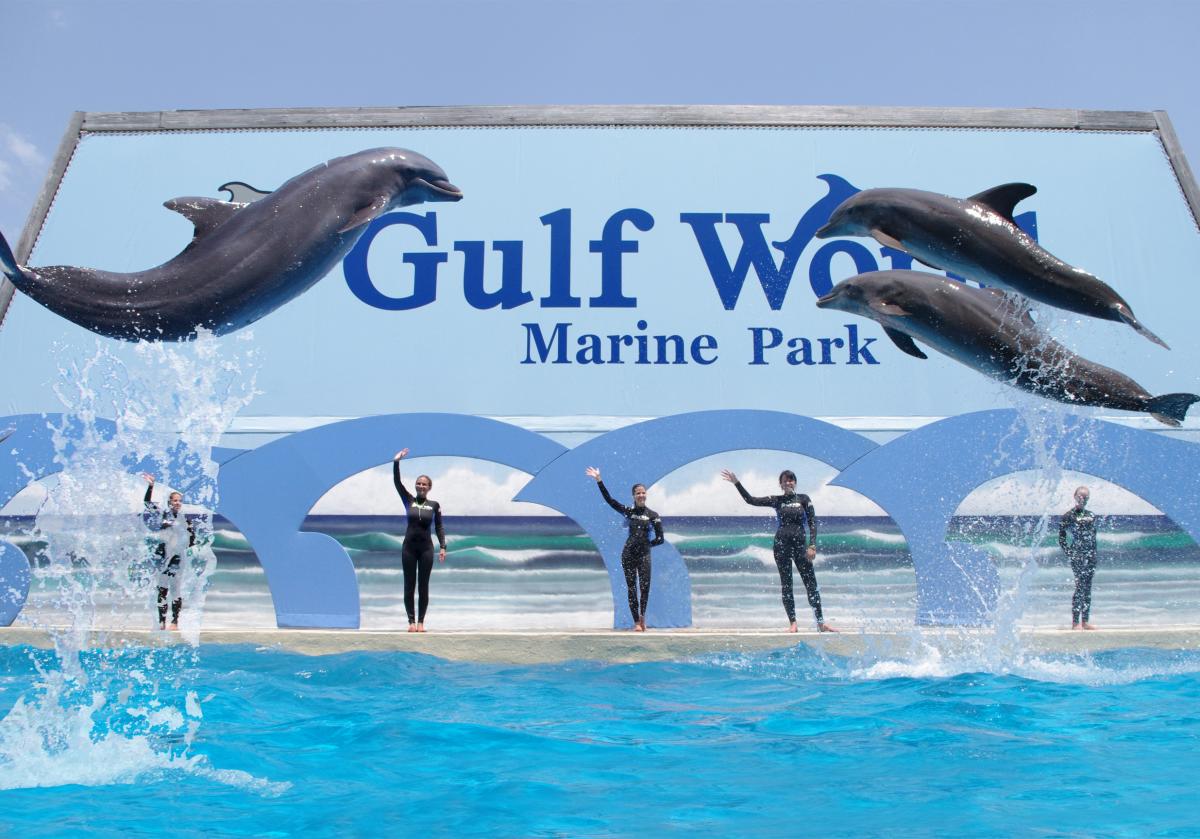 Become a dolphin trainer for a day, watch an entertaining sea lion show, and feed stingrays at Gulf World. The park is home to diverse marine life, including sting rays, sharks, penguins, sea turtles, and even a few feathered and furry friends, like the sea otter. The daily dolphin shows will take your breath away as you observe the talented and beloved sea mammals interact with their human trainers. 
Encounter wildlife from across the globe as you stroll lush tropical gardens at ZooWorld! Observe majestic lions from a distance, feed giraffes, and walk through a beautiful bird aviary. Get up close and personal with animals, like baby kangaroos, sloths, lemurs, and more. And, of course, no visit to Florida would be complete without seeing an alligator. You can safely observe and feed one or the whole family, keeping a safe distance.
Get ready to shake, rattle, and roll at Rock'it Lanes! Slip into your skates and hit the rink, win tickets in the mega arcade, and bowl the high score all in one place! For adults, the Sports Bar features all the major sporting events, bowling specials, and a full menu to pair your cold brews with hot wings for a fantastic night out.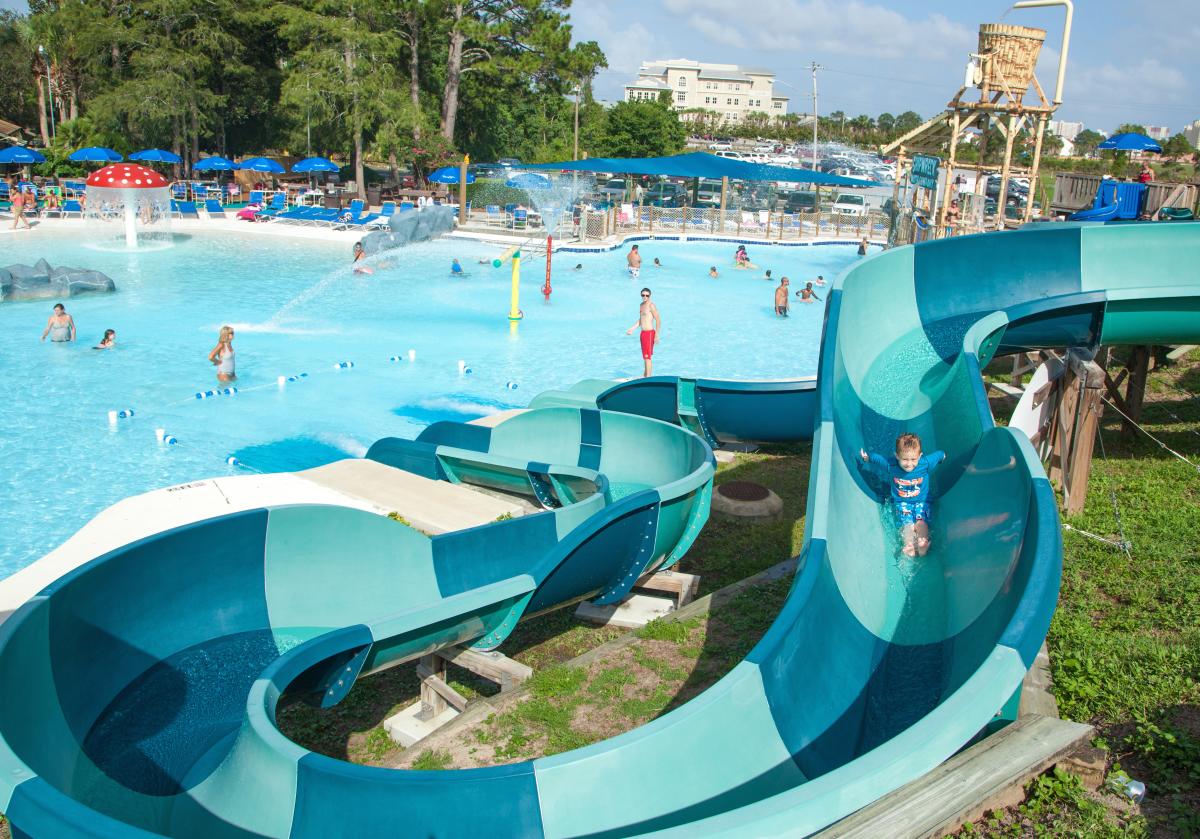 Cool off on those PCB summer days at Shipwreck Island Waterpark! Float down the lazy river, take the Pirate's Plunge, and hold tight on the White Knuckle River. Kiddos love the tipping bucket, which dumps 750 gallons of water on those below. The Tadpole Hole provides a safe place for young children to have a fun day at the park. 
If you want to sneak in an educational experience disguised as fun, head to WonderWorks–aka the upside-down building! Filled with interactive and educational exhibits, this attraction also has laser tag, a sky-high ropes course, and rides for the whole family to enjoy. 
Featuring hundreds of rare and unusual artifacts, a 7-D movie theater, a mirror maze, and so much more, this Titanic-sized attraction features oddities and enjoyment for the whole family. You'll see over 600 wonders, interactive pop art, plus 2,000 square feet of authentic Titanic artifacts. 
Grab your no-slip socks (or purchase some at the park), and prepare to bounce the day away! Just Jump Trampoline Park is the perfect sunny or rainy day activity, and adults often can't help but join in the fun! Shoot some hoops, play a round of dodgeball, and see if you have what it takes to complete the Ninja Course. A separate Kiddie Area features small-scale trampolines, slides, foam pits, and more for little ones to enjoy safely. 
Featuring two 18-hole mini golf courses and the giant-size Gran Maze, Coconut Creek Family Fun Park is the ultimate family hangout spot! Enjoy mini golfing through cascading waterfalls and rocky caves at the park's tropical-themed courses. Navigate your way through the football field-sized Gran Maze with four observation towers. Play as individuals or teams to see who can finish in the fastest time! 
Goofy Golf has been providing mini-golf entertainment since 1959. This family-owned and operated destination features two 18-hole courses that showcase delightful characters such as a dinosaur, volcano, monkey, and rocket ship.
The fun turns up at Swampy Jack's Wongo Adventure as the sun goes down! Get ready for Swamp Ape sightings and epic Kraken battles, and explore the jungles of Angkor Wat, all in one place! This family-friendly amusement park has something for everyone to enjoy, including thrilling carnival rides, mini golf, go-karts, bumper cars, and midway games with prizes. 
When you've worked up an appetite, head to Swampy's Cantina for street tacos, fried pickles, funnel cakes, Hawaiian shaved ice, and more! Pair your snack or meal with an ice-cold fountain drink, craft beer, seltzer, or wine. 
Panama City Beach Pier Park Attractions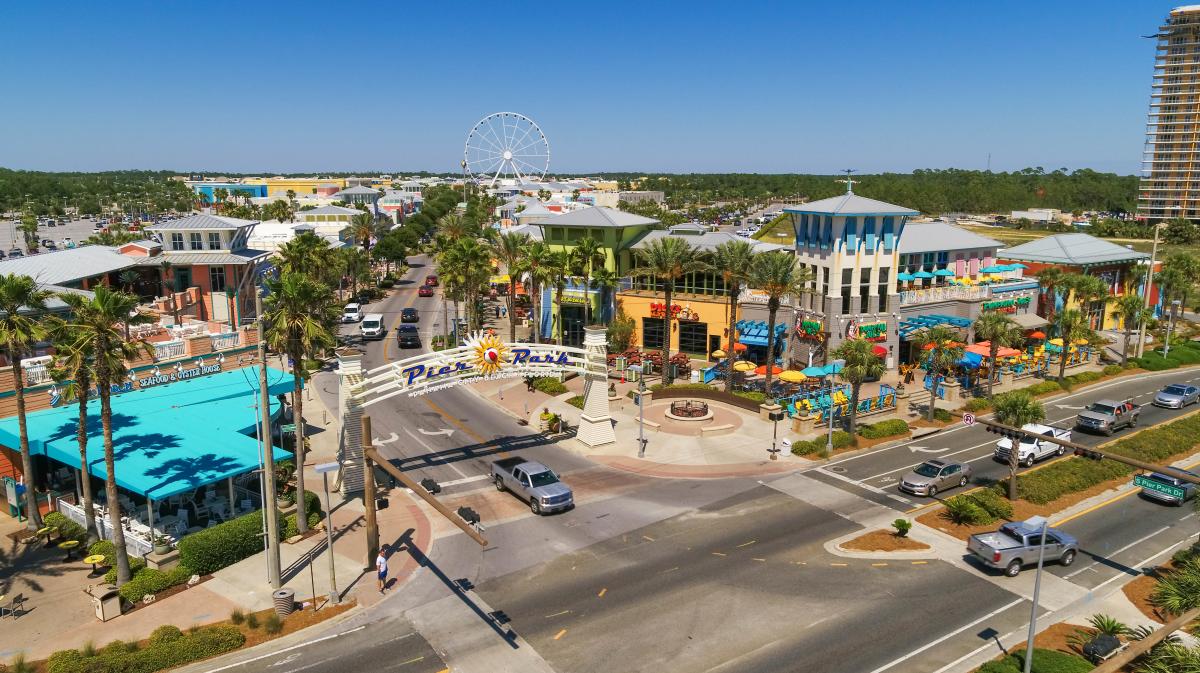 Enjoy panoramic views of the Gulf, play a round of mini golf, and go into stealth mode at laser tag, all at Pier Park! 
SkyWheel features climate-controlled, private gondolas and breathtaking water views from a 200-foot vantage point. Down below, a mini golf course featuring 18 holes is challenging enough for seasoned pros yet still accessible and fun for all ages and abilities. 
Pier Park's Emerald Coast Mirror Maze and Laser Craze attraction features a glow-in-the-dark maze and a 1,600-square-foot laser tag arena! Grab the whole family, and play as teams or individuals. (High score gets bragging rights at Thanksgiving!)
You may have come for the white sugar sands and clear waters– and we don't blame you! – but with so many Panama City Beach attractions, you can have a truly unforgettable vacation that the whole family will cherish!