Expedia partnered with Visit Panama City Beach to help you build an epic weekend itinerary
It's time for a vacation, and Panama City Beach is your destination. Whether you like spending your getaway creating your own adventures or basking on the beach with a good book in your hand, we've got your Florida weekend covered.
Here at Expedia.com we love a beach vacation so we are bringing you the local vibes, from the best hotels to favorite eateries. Go on, put your work aside and get into your vacation mindset for a weekend trip to Panama City Beach.
Lock Down Your Lodging
Now this is beach living! Round up the kids and head to Holiday Inn Resort where there's something for the whole family to enjoy. Mom can head to the on-site spa, while your kiddos burn off some energy at the Kids' Activities Center. Between the gulf-front pool and the Polynesian Fire Show, you'll have to force yourself to explore outside the property.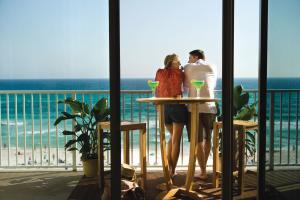 Do you smell that? It's the smell of the salty ocean air as you step outside onto your private balcony overlooking the Gulf. At Boardwalk Beach Resort Condominium, you'll feel right at home. With 1- to 3-bedroom units featuring Gulf-front views and luxury amenities, it's easy to start your day off on the right foot and prepare for a day of aquatic adventures, whether it's spent enjoying the beach or relaxing in the outdoor pool.
If luxury is your main priority, consider booking a stay at the newly renovated Sheraton Bay Point Resort. With multiple restaurants and pools on site, along with easy access to a private beach and a shuttle to a beautiful barrier island, you'll want for nothing. Lounge pool-side, play a round of golf or treat yourself to a day of pampering at the rejuvenating Serenity Spa.
Explore above and below
Below the sparkly, emerald surface, there's a world waiting to be discovered. Take a scuba diving charter and venture down under, where sea turtles lead the way to artificial reefs created by historical shipwrecks. The 441-foot World War II Liberty Ship sits at the bottom of the sea, alongside natural limestone reefs that attract an impressive array of marine life. Flap your flippers and explore the hovercrafts and barges purposefully placed on the seafloor, and keep your eyes peeled for a bottlenose dolphin, which are very common in local waters. Beginners and advanced scuba divers can enjoy the calm waters of the Gulf of Mexico.
Prefer to simply skim the surface during your Florida adventures? Then St. Andrews State Park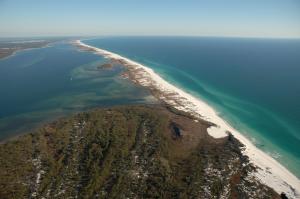 is the place for you. This stretch of coastline is the ideal spot for taking a kayak out for a spin or snorkeling around the jetties close to shore. The park has two fishing piers, where you're welcome to cast a line, as well as plenty of beach space for you to spread out a blanket and spend the afternoon under the Florida sunshine.
Don't worry, landlubbers, there's something for you here, too. You don't need flip flops or a swimsuit to enjoy the history tours at Camp Helen State Park. The often-overlooked park, which is on the National Register of Historic Places, includes several areas of interest, including the historic log-cabin lodge built by the Hicks family. Learn about the region's past and then follow a nature hike that will showcase the park's ecological diversity, from oak forests to coastal sand dunes.
Eat like a king
The water activities and scenery aren't the only things you'll find yourself bragging about here. You just may end up having more meals than one at Bayou on the Beach Cafe and Oyster Bar. This eatery uprooted from Louisiana, bringing with it its Cajun-style cuisine to the Florida coast.
If it's seafood you're after, find your way over to Schooners Last Local Beach Club located right on the beach, where the fish is so fresh it's practically still flopping. Between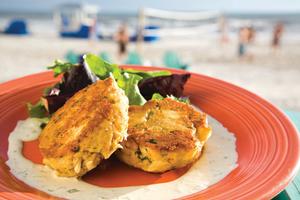 southern oven oysters and the baked flounder, your plate is bound to be piled high. Grab some tartar sauce and a cold brew, and then settle in for the nightly sunset countdown, while overlooking the Gulf of Mexico.
Meanwhile, for some fancy dining, the locals make reservations at Firefly. This classy, high-end restaurant is just the kind of place to pair your favorite bottle of wine with some masterfully crafted sushi. With a seat under the artificial tree draped in twinkly lights and an order of the homemade cheesecake on your plate, you'll find yourself already dreaming up your next visit.
Start planning your weekend on the Florida coast today, and don't worry, we won't judge you if you decide to extend your stay.