While you are out discovering all that Panama City Beach has to offer, you can also catch your favorite Pokemon! Looking for a Pokestop or a Pokemon Gym on your vacation? No worries! They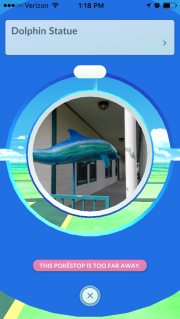 are plentiful here and we have found some of the best places to add to your Pokedex, obtain Great Balls, or battle for a Gym.
The Visitor Information Center in Panama City Beach is a great place to start your Pokemon adventure. On your way into town, you can find a Pokestop (at the dolphin statue) and a Pokemon Gym (at the welcome sign). Here you can also find great information on events, restaurants, attractions, parks and more.
Pier Park
While you're shopping, eating at one of the many restaurants or seeing a movie, you can find poke-places at these spots:
Attractions
Find Pokestops and Gyms while you are finding your way through a maze, enjoying an afternoon of put-put, getting on a pirate ship or watching a dolphin show:
Restaurants
Can't decide on a place to eat dinner? These places who have stops & gyms might sway your decision:
Resorts & Hotels
Your vacation home may be a Poke-place:
Have fun and go catch them all!