Whether you are looking for an action-packed adventure or a relaxing deep sea excursion, charting your course to fun in the sun and on the water is easy in Panama City Beach.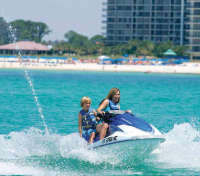 For the leisure boater looking to dock for the day, you can moor at a half dozen marinas such as Treasure Island, Bay Point, Bayside, Lighthouse Marina and Pirates Cove. These one-stop water stops offer snacks, supplies and a full roster of boating, fishing and sailing excursions — even banana boat rides — sure to suit all of the water lovers in your group.
If you did not come by your own vessel but want to spend time on the water, there are nearly as many options as there are fish in the sea. Choose from a 16-foot skiff to fish the shallows, a 35- to 45-foot mid-sized boat to go out into the Gulf with several friends or a top-of-the-line, large sport fishing yacht to enjoy the lap of luxury while you watch the setting sun slip over the horizon. Decide whether you want to venture out for a half day or full day, and be sure to make reservations in advance to ensure the best selection.
If you like to be pampered and prefer someone else captain your ship while you try to spy dolphins, you have your pick. Custom Yacht Charters, Island Time Sailing Cruises and Capt. Anderson's Marina are some of the many outfits that have all the comforts and attentive crew necessary to spoil you and yours as you sail the open waters of the Gulf of Mexico.
It's easy to party on the water with Paradise Adventures' 52-foot Privateer. This 49-passenger catamaran features a spacious deck with plenty of seating, sunning nets, a slide off the back of the boat, a fully stocked bar and two onboard restrooms.
A cruise aboard the 73-foot Sea Screamer offers a smooth yet thrilling ride that allows you to take in breathtaking scenery while learning the area's history during a 10-mile ride alongside the world's most beautiful beaches and resorts. Don't forget your camera for a once-in-a-lifetime picture or video of playful dolphins as they splash and surf in the boat's wake.
A dinner cruise during sunset is memorable aboard the Betsy Ann, a beautiful old-fashioned style paddleboat that will have you expecting Mark Twain to step up at any moment. Kids especially love the tradition of the cannon blasting off and a chance to mug for the camera while steering the boat as an honorary captain.
Experience "real" Florida, like you've never imagined, with a tour of the backwaters of West Bay, rivers, creeks and marshlands in search of native Florida wildlife. On this tour by Airboat Adventures you just may spy American bald eagles, ospreys, heron, dolphins, alligators and more.
No matter what floats your fun boat, in Panama City Beach all you have to do for a day of fun is … just add water!
For a full roster of watersport rental and charter boat companies, visit our website.