So, you are stranded on a deserted island. What three things do you take? If you are lucky enough to spend the day on Shell Island in Panama City Beach, the three most important things to bring are your family, a camera and... your sense of adventure!

There is still an amazingly pristine, uninhabited island just waiting to be explored. Shell Island is a barrier island, a 7-mile stretch of undeveloped land nestled between the Gulf of Mexico and St. Andrews Bay. If you are seeking a beach experience that will help you reconnect with Mother Nature, this is the place for you. Here the Sunshine State is at its best - and most natural.

Shell Island has something to offer everyone in the family. When my family of four ventured out for our first visit, it definitely offered some- thing for all of us.

I was in heaven doing my best impression of a sun-seeking, lounge-chair lizard and communing with nature. I tuned my ear in to the call of the seagulls and the crash of the waves, while my husband, son and daughter found their own personal adventures.

"Fantastic fishing" was all that my husband had needed to hear to clear his schedule for the trip. He spent the day wading in and out of the surf trying to lure the likes of red fish and whiting to his line.
My son didn't spend much time on land. He grabbed his snorkel gear, jumped in the surf and headed for the jetties. He bobbed along just below the surface, pausing only long enough to take a deep breath before diving back down to explore the sandy depths. He spotted rockfish, hogfish hiding under rocks, hermit crabs scuttling on the sandy floor, and found nestled in a weed line a very special first-time discovery - a baby seahorse.

As for my daughter, she was content with a day of shelling and returned with sandy pockets loaded with free tokens from the sea and a sun-kissed nose. The highlight of her day? The impromptu dolphin show just offshore.

In this fast-paced world, it's nice to know there is a place where time does seem to stand still ... if you let it. We loved being "stranded" on Shell Island. In losing ourselves to the day, we found lasting memories that are true treasures.

What You'll Find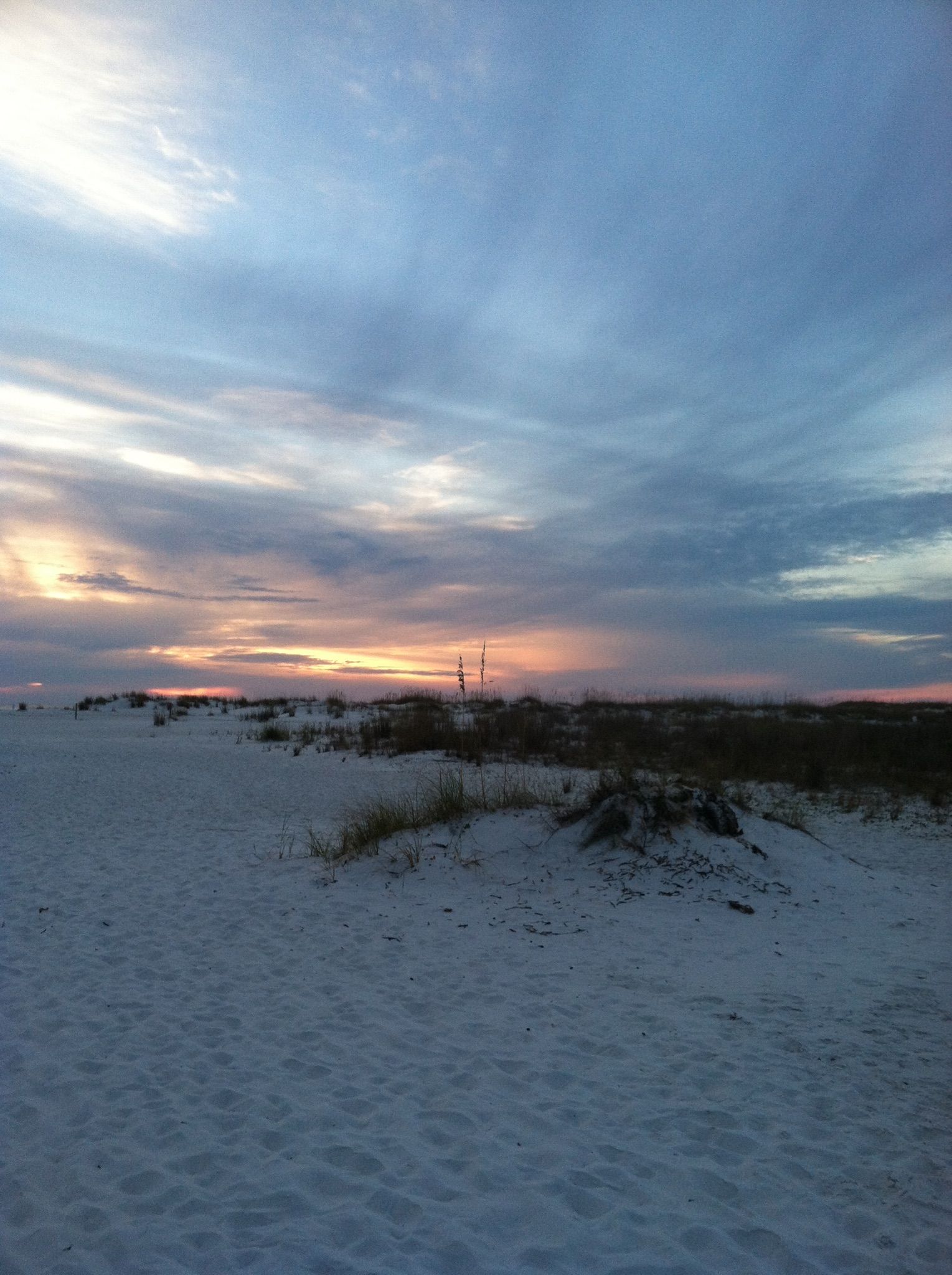 Shell Island lives up to its name. Sand dollars, moon snails, conch shells, pin shells, periwinkles, whelk and olive shells are just a few of the indigenous seashells found here. And, as long as there are no creatures living in them, there is no limit to how many of these one-of-a-kind souvenirs you can take home with you.

This unassuming island is only about three-quarters of a mile at its widest point and stretches seven miles from east to west. The western end is part of St. Andrews State Park and the eastern portion is the property of Tyndall Air Force Base.

In its history, the island has been home to Native American settlements, seen the arrival of Spanish explorers and, very likely, hosted a few pirates! It even had a cameo appearance on the Silver Screen. Tim McCanlies' 2003 coming-of-age film "Secondhand Lions," starring Michael Cane and Robert Duvall, features a scene with two horses racing along the Shell Island beach, although in the film the beach is supposed to represent the shores of the Mediterranean Sea.

From shore, the island can look like a mirage, but Shell Island's abundant natural bounty is very real. Here, miles of undulating sugar-white sand dunes dotted with swaying sea oats, scrappy scrubs, towering pine hammocks and a serene coastal lake are a haven for hundreds of species of plants and wildlife. All kinds of critters - from docile deer, nesting shorebirds and elusive ghost crabs to a host of endangered coastal creatures such as Choctawhatchee beach mice - call Shell Island home.

Sea turtles, however, are probably the most special inhabitants. There are two kinds, both endangered. The majestic loggerhead can grow up to 1,000 pounds. The gracious green turtle is not named for its shell, which is normally brown or olive, but for the greenish color of its skin.

Turtle nesting season is May to October, but it's important to be mindful of markers noting nesting sites throughout the year. During nesting season, these magnificent animals emerge from the surf at night to lay their eggs in nests dug into the dry sand, then return to the sea. The hatchlings are on their own to scuttle their way to the safety of the surf.

HOW TO GET THERE

Getting to Shell Island is part of the adventure, and there are several fun options to choose from.
If you have a boat, or a rented one, you can simply  motor over, drop anchor just offshore, and come and go to the island as you please.

The Shell Island Shuttle, operated out of St. Andrews State Park, is the most convenient and affordable way to go. In spring and summer the shuttle runs daily on the half hour from 9 a.m. to 5 p.m., and on the hour in the fall. There is no shuttle in the late fall and winter. Adults fares are $16.95, children 12 and under are cost $8.95 (infants ride free). Though you should plan on bringing what you need with you, if you visit between Memorial Day and Labor Day, the shuttle offers beach accessories and snacks for sale when you buy your tickets.

If you want to make a party of it, you can pile up to 10 members of your family and friends into a pontoon boat and enjoy the island at your leisure. Just be sure the boat driver is at least 21 years old. There are several excursion outfits that offer rentals, but the most convenient is in St. Andrews State Park. If you want to ramp up your adventure by snorkeling or kayaking around the island, sign up for a tour package, which can take out the hassle by including all the equipment you need, not to mention convenient round-trip ferry service.

As luck will have it, Panama City Beach has some of the best fishing along the entire Gulf Coast. You can cast a line from the shore or right from the back of your charter or pontoon boat.

Getting a fishing license is easy. You can purchase it from sporting goods stores or online (myfwc.com/license) and by phone (888-FISH-FLORIDA). An annual saltwater fishing license is only $17. If you reserve a fishing charter, the license fee is typically included in the price.

Shell Island is big on nature and low on commercial trappings - you won't find concession stands, restroom facilities, picnic pavilions or trash receptacles. So, when you come, be prepared and plan to bring containers or bags so that you can take out everything you brought in.
What to Know Before You Go
You must be 21+ to rent a pontoon boat
You can bring a paddle- board to paddle around the island, but it's not recommended to try to paddle board to the island
No facilities available on the island
Anglers, a Florida fishing license is required
Please plan to leave the island the way you found it, pristine
Fun in the Sun Forget Me Nots
Towels
Cooler or picnic basket
Snorkel gear
Fishing gear
Camera Sunscreen
Beach chairs and umbrella