Along Panama City Beach's 27-mile-long Gulf front, there are nearly 100 public access points that tend to attract crowds reflective of a particular stage of life. On PCB, the aging process generally advances from east to west. Consider three examples:
A PLACE TO BE SEEN
Were a person to have a dollar for each of the bicep curls and sit-ups represented by the flat stomachs and bulging arms that gather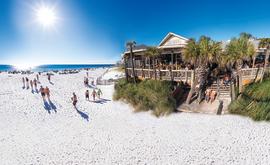 each summer behind Schooners at the beach's east end, he might comfortably retire … early. Here gathers a crowd, dominated by 20-somethings, for whom halcyon days can wait. Older folks, too, may frequent the place, but are likely to be equipped with mirror shades, metal detectors or both. Versus points west, the vibe here is active, young and more about "being seen."
A PLACE TO BE SERENE
The atmosphere along the beach at the west end opposite Lahan's Carousel Grocery — which offers both frozen fish bait and an extensive wine selection — feels like a Cheers bar. Expect here to find inveterate sun worshippers people who are no more fearful of melanoma than they are of meteor strikes. Most will have picked up their beach supplies — a magazine, perhaps, a bunch of green grapes, libations and a bag of ice — at the Carousel before hitting the sand. The vibe is as soft as the sugary shore itself, and the conversation relaxed. Nobody here is bent on impressing anybody else.
A PLACE THAT'S IN BETWEEN
The middle-beach beach
at the County Pier is a family affair. Dads, some more mechanically inclined than others, all somehow manage to erect canopies that shade the fair-skinned family members. Many unselfconsciously display burnished bellies as if they were prized collectibles or the products of a lot of work. Boys with dreams of one day playing in Athens or Tuscaloosa toss around footballs, the sunscreen lotion on their hands serving as anti-stickum. Girls of a like age already feel a little too old to be seen hanging with their parents and sit slightly apart, returning to the group for a lunch time snack. Indeed, Panama City Beach tourism promoters might well adopt the stance line, "Find Your Beach at Panama City Beach." It's here somewhere.