Want to do something a little different during your trip to Panama City Beach? Head up Highway 79. There, just a few minutes from the beach, you'll find yourself in what feels like another world, where time slows down, the winds brush the tops of the tall grass and eagles float overhead. You've discovered the slow-moving saltwater marsh ecosystem known as West Bay, one of the most beautiful secrets of Panama City Beach.
You might say West Bay is PCB's own little piece of the Everglades. And since it's so close to the beach, visitors have an opportunity to experience the best of both worlds: Spend the morning sipping orange juice at a luxurious beachfront condo, then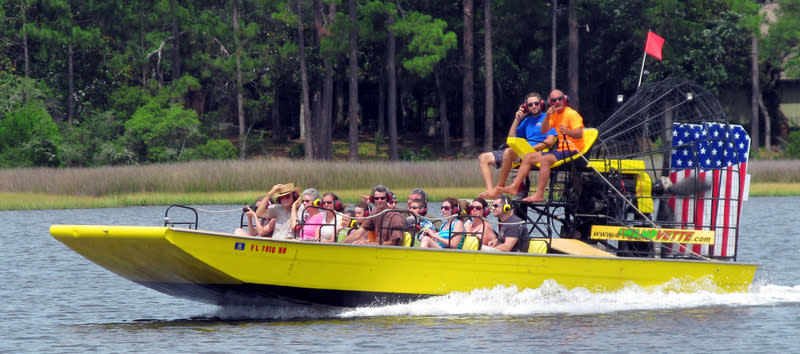 pop over for an afternoon of airboat rides and alligator watching. Getting there is easy. Take either Front or Back Beach Road about a half-mile west from Pier Park, then turn north on Highway 79, as if you're headed to the airport. Drive a little less than six miles and stop before the bridge. That puts you right on the Gulf Intracoastal Waterway and right in the middle of the West Bay community.
What's there to do? "It's absolutely one of the best places in North Florida for ecotourism," says Rick Ackerman, owner of Airboat Adventures in West Bay. West Bay is where the salt water of the Gulf of Mexico meets the sweet water flowing in from small creeks and streams north of Panama City Beach. The area is mostly marshy flats cut by intertwining waterways. The wildlife is a mix of birds and small animals that have adapted to the brackish environment. Ackerman says it's common to see osprey, eagles, herons, egrets, alligators, wild pigs, dolphins and the occasional deer.
Airboat rides are probably the biggest draw for West Bay, with companies like Airboat Adventures and Wild Thang Airboat Tours offering eco-tours of the area. Ackerman said his scheduled tours begin with a live alligator show, then move on to the airboats for a ride through the bay, creeks and marshes. The water gets very shallow — just four inches deep in some spots — so airboats are perfect for making the rounds, he says. "We can get places with the airboats that no other boats can go." The whole tour, alligator show included, takes about two hours. Ackerman's best advice for visitors planning an airboat adventure: Bring sunscreen and bug spray, dress comfortably — and come with a good attitude and a clean change of underwear because it's going to be a wild ride!
Don't fret if you aren't up for an airboat ride. There are more sedate tours of West Bay offered by outfitters like Into the Blue Surf Shop, which provides stand-up paddleboard rentals and guided tours of West Bay, Econfina and other popular spots near Panama City Beach.
Visitors can also try their hand at fishing in West Bay. The shallow water is home to redfish and speckled seatrout, both good-sized, tasty sport fish that can be caught all year long. "West Bay is pristine and it holds a lot of fish," says Todd Jones, a fishing guide with Panama City Inshore. "Those grass flats just provide a plethora of food out there." If you want to do some fishing, you can cast a line from the pier over the Intracoastal at the county's B.V. Buchanan Park Boat Ramp, or for a better chance at catching your limit, hire a fishing guide and head out into the bay. The guides also take care of fishing licenses. "It doesn't matter if you're an amateur or a professional fisherman, we can cater to whatever needs you have and whatever skill level you have," Jones says.