Whether you're in a different city or your favorite Panama City Beach restaurant is closed, we know the struggle of craving your favorite dessert but not being able to have it. But lucky for you, we've made it so you can make some of your favorite PCB desserts without having to leave the house!

Beau's Chocolate Cream Cheese Skillet Biscuit
This skillet biscuit uses bitter sweet chocolate and cream cheese to make a fantastic after dinner summer delight that can also be a superb breakfast the next morning, assuming there are leftovers! Best garnished with whipped cream or vanilla bean ice cream & chocolate syrup.
Recipe:
2 sticks Unsalted Butter at Room Temp
1 ½ cups AP Flour
1 ½ cups Cake Flour 
8oz Softened Cream Cheese 
½ teaspoon Kosher Salt
1 tablespoon Baking Powder
2 cups Powdered Sugar 
3 Large Eggs 
2 tablespoons Vanilla Extract 
2 cups Bittersweet Chocolate Chips 
Step 1: Preheat oven to 350 degrees. Using 1 tablespoon of cold butter grease a 9 inch cast iron skillet.
Step 2: In a large mixing bowl whisk together both flours, baking powder, and salt. 
Step 3: In a stand mixer with paddle attachment, cream butter and cream cheese with powdered sugar. Once creamed and smooth add eggs 1 at a time on low speed until incorporated. Add in vanilla extract and beat until combined well, about 1 min on medium speed.
Step 4: Turn mixer to low speed and add in flour just until the dough comes together.  then beat in chocolate chips until combined.
Step 5: Scrap the dough into the buttered skillet.
Step 6: Bake for 25 mins at 350.
Step 7: Remove from over and allow to rest for 15 minutes. 
Step 8: The biscuit should be done enough to cut into triangles similar to cake!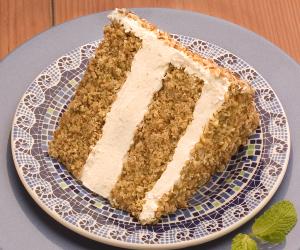 This famous cake was first served around 40 years ago when the Patronis brothers operated the Seven Seas restaurant in Downtown Panama City. Since then, this cake has been a staple for people visiting Panama City Beach to grab while at Captain Anderson's after enjoying a great dinner.
Recipe:
3 cups Fine Ground Pecans
6 Eggs, Separated
1 ½ cups Granulated Sugar
2 ½ tablespoons Plain Flour
1 teaspoon Baking Powder
1 pint Whip Cream
Vanilla Extract
Step 1: Preheat oven to 350 degrees.
Step 2: Beat egg yolks by hand for fifteen minutes adding sugar gradually.
Step 3: Add flour and baking powder, sifted.
Step 4: Add the pecan meal.
Step 5: Beat egg whites until stiff, fold in.
Step 6: Bake in two layers in oven for 30 minutes.
Step 7: Put layers together with 1 pint of whipped cream, sweetened and flavored with vanilla extract. Sprinkle with ground pecans.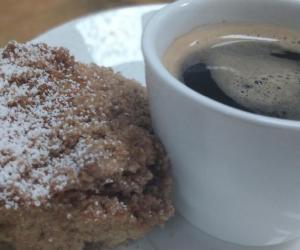 Firefly Cinnamon Crumb Coffee Cake
This cake recipe is simple but sweet. Best topped with powdered sugar to finish it off and served with a cup of coffee but a great breakfast or after-dinner treat.
Cake Recipe:
½ cup Vegetable Oil
¼ cup Packed Light Brown Sugar
⅓ cup Granulated Sugar
2 Whole Eggs
1 teaspoon Vanilla Extract
1 Cup AP Flour
1 Cup Whole Wheat Flour
1 teaspoon Baking Soda
1 teaspoon Baking Powder
¼ teaspoon Salt
1 ½ Cup Buttermilk
Crumb Recipe:
6 oz Cold Butter (cut into pea sized pieces)
1 ½ cups AP Flour
1 Cup Packed Light Brown Sugar
5 tablespoon Ground Cinnamon
1 tablespoon Granulated Sugar
Step 1: Preheat oven to 350 Degrees. 
Step 2: Butter and flour a 9x9 baking dish.
Step 3: Add all wet ingredients and sugar for cake in mixing bowl and mix until smooth.
Step 4: Combine all dry ingredients for cake and add wet mixture to dry and fold until smooth.
Step 5: Mix dry ingredients for crumb topping thoroughly.
Step 6: Cut butter into mix until just incorporated (do not over mix).
Step 7: Pour cake batter into buttered dish, top with crumb mixture.
Step 8: Bake at 350 degrees for 25-30 minutes.
Grand Marlin Macadamia Nut Crust Key Lime Pie
This light and creamy key lime pie has a toasted macadamia nut and coconut graham cracker crust for the perfect bite of smooth and crunchy. A dash of raspberry coulis pairs perfectly with this tangy dessert. Garnish with a slice of lime and fresh raspberries.        
Crust Recipe:
3 cups Graham Cracker Crumbs
1 ½ cups Whole Macadamia Nuts
2 cups Granulated Sugar
4oz. Toasted Coconut
Pinch Salt
4oz. Butter, melted
Filling Recipe:
½ cup plus 2 Tablespoons  Key Lime Juice
6 oz. Granulated Sugar
1 ½ teaspoons Powdered Gelatin
16 oz. Sweetened Condensed Milk
12 oz. Heavy Whipping Cream
Step 1: Preheat oven to 325 degrees
Step 2: Finely grind the macadamia nuts in a food processor. 
Step 3: In a stainless steel bowl add the nuts, the graham crumbs, the sugar, coconut, and salt. Mix well. 
Step 4: Add the melted butter, and mix well. 
Step 5: Press into a 10'' pie pan. 
Step 6: Place in the oven and bake for approximately 10 minutes, until it turns a light brown. 
Step 7: Remove and cool to room temperature.
Step 8: In a small bowl, place the 2 tablespoons of key lime juice and the gelatin, stir and let the gelatin soften. Set aside. 
Step 9: In a small saucepan place the rest of the key lime juice, and sugar. Place on medium heat and bring the mixture to a light simmer, stir well, until the sugar is dissolved. 
Step 10: Remove from the heat and combine with the gelatin mixture and mix well. 
Step 11: Add the condensed milk, mix well, and cool in the refrigerator.
Step 12: In a mixer, whip the cream to stiff peaks, fold the whipped cream into the key lime mix, and fold gently until well combined.
Step 13: Fill the crust to the top with the key lime mix, cover lightly and place in the freezer. Freeze overnight. 
Step 14: To serve, remove the pie 1 hour before serving, cut into 8 slices and return to the refrigerator. Serve at any time.