As her nickname suggests, Sonora "Sonnie" Spivey, likes to look on the bright side. And living in what she calls "a perfect paradise," it's pretty easy to do, especially when spending a day at the beach has become a snap. Since relocating from Cypress Inn, Tennessee, to Panama City Beach seven years ago, a day at the beach is still an exciting adventure this family of five looks forward to. But as this 39-year-old mother of three tells, it didn't start out that way … "Initially we carried so much stuff — tons of toys — and it was tiring to trek it all out there. But since then we've learned less is more," Spivey says. "Let the beach do the work for you. One mat, a bucket and shovel and you're set."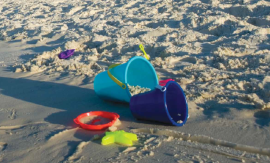 Though her husband, Will, grew up in Panama City Beach and this Bay Point clan frequently hits the beach as many as three or four days a week, Spivey's sugar-sand savvy took some trial and error. Now this mom has it down to a science and is happy to share her helpful hints with anyone looking to make their trip to the beach a breeze. "Raising my kids here has been so much fun. There's always something to do. The Gulf is endless fun. There is so much to explore. You never know what you'll see. The landscape constantly changes, so it brings you back for more," she says. And if you venture to the stretch of beach in front of the Panama City Beach Pier or the serene beach scene in St. Andrews State Park, you might just run into the Spiveys. Now that baby Hawk has turned one, (Vivian is 14 and Betty is 5) this fun-loving local family plans to visit their favorite beaches even more this summer. "I sometimes drive down Front Beach Road and remind myself of how lucky I am to live here," Spivey says. Unlike her streamlined beach bag, we'd say Sonnie Spivey's glass is definitely more than half full.
Sonnie's Helpful Tips:
>> Apply sunscreen before you leave the house. Avoid wasteful sprays. Consider a brand that is skin sensitive for babies.
>> An SPF of 40 is fine as long as you reapply it often.
>> Instead of bulky blankets and chairs, bring a synthetic roll-up mat. These are inexpensive, lightweight, easy to wash and carry.
>> The only toys you need are a bucket and shovel.
>> Munch on disposable snacks like fruits and veggies; instead of bottles, cans and cartons of sodas and juice, bring a jug or thermos of water.
>> Bring towels, but don't use them until the end of the day.
>> Tuck in a change of clothes for the little ones so they aren't wearing a wet suit in the car ride home.
>> A small inflatable baby pool placed under the shade of an umbrella and filled with a couple of toys will occupy wee ones for a long time.
>> Carry along a zip-lock plastic bag to keep your phone/camera and keys dry and sand free.
>> Keep cooler by heading to the beach before 1 p.m. or after 3 p.m.
>> Keep a beach bag in the car stocked with sunscreen, mat, bucket and shovel so all you have to do is just add fresh towels.
>> Rinse and repeat often!