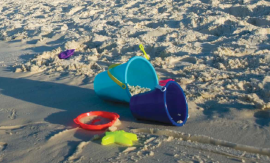 Everyone loves a trip to the beach, and here at Visit Panama City Beach, we like to make your beach trip as easy-breezy as possible. Whether you're going for a week, or just a day, these tips will help you have a fun, relaxing beach day!
Real. FUN. Beach. Tips:
Apply sunscreen before you leave the house. If you have kids, consider a brand that is skin sensitive for babies.
An SPF of 40 is fine as long as you reapply it often.
Instead of bulky blankets and chairs, bring a synthetic roll-up mat. These are inexpensive, lightweight, easy to wash and carry.
The only toys you need are a bucket and shovel.
Munch on disposable snacks like fruits and veggies; instead of bottles, cans and cartons of sodas and juice, bring a jug or thermos of water.
Bring an umbrella or small canopy tent to keep yourself from getting too much sun.
Bring towels, but save them for the end of the day when you're salty and sandy.
Tuck in a change of clothes for the little ones so they aren't wearing a wet suit in the car ride home.
A small inflatable baby pool placed under the shade of an umbrella and filled with a couple of toys will occupy wee ones for a long time.
Carry along a zip-lock plastic bag to keep your phone/camera and keys dry and sand free.
Keep cooler by heading to the beach before 1 p.m. or after 3 p.m.
Keep a beach bag in the car stocked with sunscreen, mat, bucket and shovel so all you have to do is just add fresh towels.
And don't forget, leave only your footprints behind!