Come on Barbie, let's go party! Step into a world of pink enchantment as you embark on a Barbie-themed adventure in Panama City Beach. Get ready to embrace all things pink as you explore things to do in PCB that will turn your Barbie beach dreams into a reality!
Pink Beach Picnic
Imagine a picturesque beach setting adorned in shades of pink, where every detail exudes Barbie's timeless charm. A pink-themed beach picnic is sure to transport you to a world of wonder. Create a cozy seating area with pink beach towels, pastel cushions and vibrant beach umbrellas, all reflecting Barbie's signature color. Tie in a Barbie-inspired picnic spread with pink lemonade, strawberry shortcake cupcakes with edible pink pearls, macarons, and watermelon slices arranged on pink plates. Let's not forget a bottle of Rosé to top it all off! Check out Palm Beach Picnics for a unique, hassle-free beach picnic experience.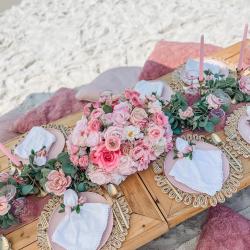 Sip Pretty in Pink
While you're embracing the whimsical spirit of Barbie, why not indulge in a delightful pink-themed cocktail? Whether you're lounging by the water or hosting a Barbie-inspired beach party, here are a few spots you can grab a delectable pink drink: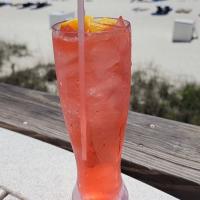 Shop at Pink Narcissus
Head over to Pink Narcissus in Pier Park to step into Lily Pulitzer's wonderland, where Barbie's fashion dreams come alive. The brand's signature pink shades, combined with vibrant patterns, create a kaleidoscope of color reminiscent of Barbie's glamorous wardrobe!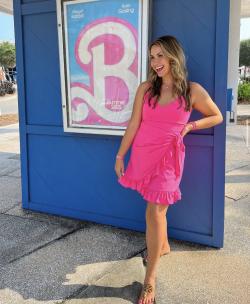 Pink Sunsets & Beach Bonfires
As the sun starts to dip low on the horizon, head to the beach for a mesmerizing pink sunset gathering. Thanks to Endless Beach Rentals, your evening will be elevated with a perfectly curated beach bonfire setup. Picture this: Pink beach balls, pink beach chairs, and fairy lights adorning the bonfire pit. As the sky lights up in vibrant, glowing pink hues over the water, you'll share laughter, stories, and marshmallows toasting Barbie-style.
Thomas Donut & Snack Shop
A trip to Panama City Beach wouldn't be complete without a visit to the iconic Thomas Donut & Snack Shop. Established in 1971, this family-owned beachfront haven is famous for its mouth-watering donuts, served up in their iconic pink box! The hot pink sprinkled donut makes for the perfect Barbie moment for your insta-feed.
Pink Pelican Ice Cream Bar
Feel the need to beat the heat? Head straight to Pink Pelican Ice Cream Bar, a pink paradise for ice cream lovers. With over 40 fun and delicious flavors, indulge in scoops of pink perfection.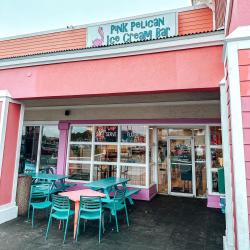 Barbie Beach Day
Grab your fellow Barbie girls, jump on the Shell Island Shuttle or a private catamaran & head over to Shell Island for the ultimate Barbie Beach Day! Dress in your finest pink beachwear, set up your Barbie-themed beach towels and umbrellas, and float around on a pink float! Shell Island's natural beauty makes for the perfect photo backdrop!

Visit a Pink Beach Home
The Rainbow Houses: where vibrant colors and Barbie-inspired dreams come to life! These charming beach homes provide the perfect photo opportunity with a touch of Barbie-inspired charm. Embrace your inner fashionista as you pose against the backdrop of these adorable houses. Curate your Barbie-inspired look with chic sunglasses, glittering accessories, and of course a signature Barbie pose or two!