Fall in Panama City Beach offers a fantastic blend of activities to enjoy. You can soak up the beautiful outdoors by exploring the parks and trails, hop on a boat cruise for some coastal charm, and savor delicious meals while dining alfresco. Don't forget to keep an eye out for local events happening around town to make the most of your fall visit!
Attend Fall Events
We know how to celebrate fall in style, especially when it comes to our one-of-a-kind events. Take the Pirates of the High Seas and Renaissance Fest, for example. Held each October, this celebration of pirate history includes a treasure hunt, live music, fireworks, parades, and much more. It's family-friendly fun with countless photo opportunities. 
Panama City Beach Oktoberfest is another beloved annual event. Join us in Aaron Bessant Park for three days of authentic German food, beer, live music, and games for the little ones. It's just another example of the many fun things to do in Panama City Beach for families.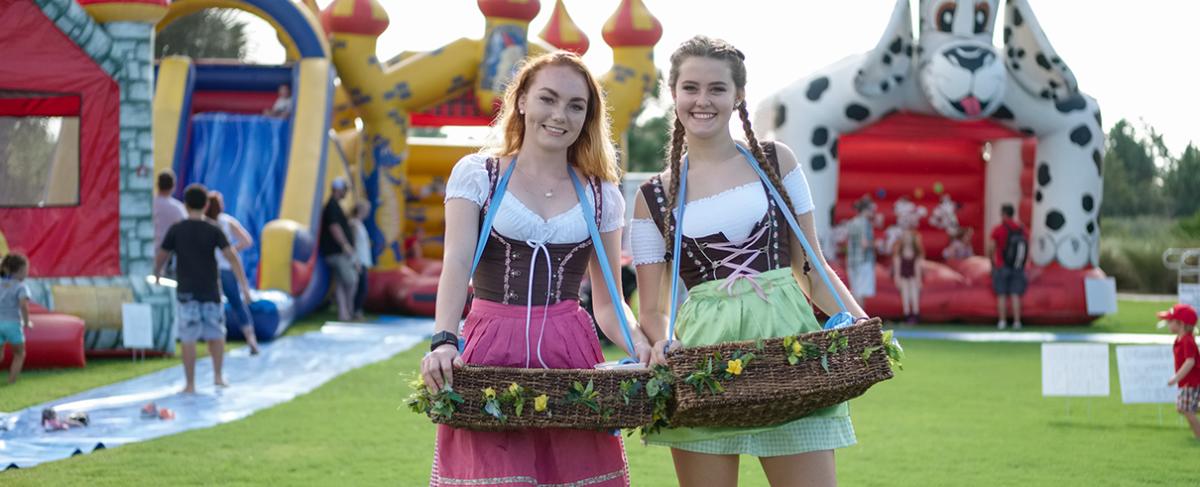 Bloody Mary Music Festival on Nov. 19 at Bluegreen's Bayside Resort & Spa is also not to be missed. At this fall event, the area's finest restaurants compete to see who can make the very best Bloody Mary. You must try the innovative cocktails mixed up at this happening get-together, complete with live music and plenty to eat. 
Explore Parks & Trails
Make the most of the mild weather and lower humidity by exploring Panama City Beach's many parks and trails. Local natural areas like St. Andrews State Park and Conservation Park provide plenty for the whole family to do for free or low cost. Visit to enjoy hiking, biking, camping, bird watching, or a beachside picnic.
But that's just what you'll find on shore! You may also go swimming, snorkeling, scuba diving, kayaking, and canoeing. If there's a summer activity you never got around to this year, fall in PCB gives you a second chance. 
Cruise the Waterways 
Exploring the waterways is an excellent choice if you want to extend the summer vibes into fall. The options for cruises in Panama City Beach are plentiful, allowing you to make the most of our coastal destination.
Don't miss the chance to visit Shell Island, an unspoiled gem famous for its bottlenose dolphin sightings. While the Shell Island Shuttle runs hourly, calling ahead for specifics is advisable. Alternatively, you can elevate your experience with a dolphin tour tailored to your group, offered by outfitters like Dolphin and Snorkel Tours and Blue Dolphin Tours.
For those seeking a custom fishing adventure, charter a boat and enjoy your favorite pastime without driving the vessel. You can also rent boats, including pontoons and banana boats, or jet skis for a thrilling and easy way to discover the coastline from a fresh perspective. There's no shortage of ways to make the most of your Panama City Beach getaway!
Dine Al Fresco 
When it comes to fun things to do in Panama City Beach, al fresco dining is at the top of our list. Take advantage of the sunshine and cool evening breeze at any of our outdoor eateries. 
For a lively atmosphere and complimentary entertainment, don't miss out on Sharky's Beachfront Restaurant & Tiki Bar, known for its tropical drinks and beach volleyball. Nearby Runaway Island Beach Bar and Grill offers unobstructed sunset views from its outdoor deck. Enjoy a seafood dish paired with your favorite cocktail while listening to live music. 
In Pier Park, diners adore the patio at The Back Porch. A local favorite since 1979, it's known for its smoked tuna dip and raw oyster bar. Those are just some of the many beachfront restaurants and bars with outdoor seating.
Enjoy a Beach Day
Looking for things to do in Panama City Beach in October or November? Yes, that can include the beach! Slip off your boots for the joy of flip-flops on our sugary white sand beaches. There are nearly 100 public access points to explore along our 27 miles of shoreline. 
Camp Helen State Park is just one option for a glorious beach day. Expect pristine beaches, scrub oak-lined hiking trails, and a rare dune lake. If you're traveling with a furry friend, head to the Dog Beach across Pier Park, where dogs on leashes are welcome. 
Go Fishing
Fall is the perfect season for fishing in Panama City Beach. As the waters cool down and the fish become more active, it's the ideal time to catch species like Spanish mackerel, pompano, redfish, and flounder. 
For a shared fishing experience, head to Russell-Fields Pier, where you can test your skills alongside fellow anglers. And if you land a great catch, remember that our seafood markets are there to assist you with expertly cleaning and preparing your prize.
Holiday Shopping
Make your holiday shopping a breeze this year at Pier Park, where you'll discover all your favorite stores conveniently gathered in one place. For one-of-a-kind gifts, don't forget to explore the unique souvenirs from attractions around town that you won't find anywhere else. If you're searching for PCB-style home decor, clothing, and more, check out our Decor by the Shore guide. This collection of charming local shops offers a delightful array of cute gifts, making it easy to bring a touch of beach living home with you or share it with a friend.
As the seasons change and Panama City Beach transitions into its fall splendor, there's no shortage of activities to enjoy. Whether you're casting your line during a fishing adventure, discovering unique gifts for the holiday season, or simply savoring the coastal charm, this vibrant destination has something for everyone.