Thrill Seekers' Delights
Are you game enough to complete our Top 10 list?
For those looking for something a little more exciting than a lazy day at the beach, Panama City Beach has attractions to get your adrenaline pumping. Lovers of speed, spins, drops, and dives will get their kicks from rides built for children of all ages to enjoy. With both the daredevil and the slightly less adventuresome rider in mind, we offer you our Top 10 list of amusements.
10. The Giant Euro Slide — Pier Park Amusements
Nestled in the heart of Pier Park is a year-round collection of amusement rides. There's a wide variety, but perhaps most eye-catching is the Euro Slide. This multi-lane attraction extends 50 feet into the air, offering an expansive view of the park. Grab your riding mats and line up with your friends and family at the top for a race to the bottom! After the sun goes down, the slide is illuminated with neon lights, perfect for a funky race beneath the stars.
9. Hurricane Roller Coaster — Race City Amusement Park
Coaster enthusiasts need look no farther than Race City Amusement Park on Front Beach Road. Opened in 2015, the Hurricane is among the newer thrill rides along the beach. It's a steel coaster that lives up to its name, employing multiple winding turns over 1,400 feet of track at 35 miles per hour. Dizzy yet? This ride will have you coming back for more — once you catch your breath.
8. Wonder Coaster — WonderWorks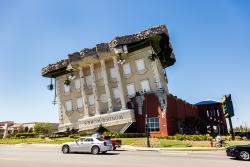 Afraid of heights? Not to worry, WonderWorks hosts the Wonder Coaster, an indoor, virtual coaster that provides all the excitement of the real thing. Guests are strapped into a capsule in front of a screen and then pick a cyber-ride to fit your thrill level. Though you remain on the ground, the capsule is anything but stationary. As you watch the track ahead of you plummet and loop on the screen, you'll dip and spin, too, as the container follows every twist and turn.
7. Banana Boat Rides — Various locations
As an exhilarating way to beat the heart, banana boat rides offer a unique experience on the water. These banana-shaped rafts seat multiple people and are pulled through the waves by a Jet Ski. Children especially love this bouncy ride, provided by various services along the beach. What better way to experience Panama City Beach's crystal clear water than to get out in it yourself? Strap on your lifejackets and hold on tight for a wet and wild glide ride!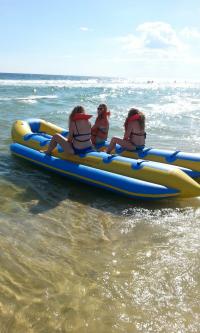 6. Treetop Drop — Shipwreck Island Waterpark
Craving more wet fun? Shipwreck Island Waterpark is home to slides, rapids, a lazy river and even a wave pool, but the Treetop Drop alone is enough to make the entire visit worthwhile. These two slides are the tallest in the park, standing 65 feet high. One is enclosed from top to bottom and coils in circles in a gradual, but speedy descent. The second slide is partially enclosed the opens up for a plummeting, jaw-dropping finish. Either way you choose, you're guaranteed to be climbing to the top of the tower again for more.
5.  Space Fury 360 — WonderWorks
There's a new ride at WonderWorks that's taking Panama City Beach by cosmic storm. Board your fully controlled orbiter and make it spin, twist, roll, and move as you bump along with other participants. The fun doesn't stop there. In this one-of-a-kind attraction, riders are equipped with their very own laser gun. As they navigate through this galactic game, riders take aim at targets on other players' vehicles.
4. Hidden Lagoon Racetrack
If your idea of a thrill involves good old-fashioned go-karting, you should know that Hidden Lagoon Racetrack offers the longest track available in the area — not to mention the fastest. Zip around a nearly mile long course, featuring plenty of curves and speed-granting straight-aways. While Hidden Lagoon is family friendly, it is important to note that drivers are required to be at least 56 inches tall to operate a go-kart unassisted. Children under this height must ride with an adult to ensure a swift — and safe — adventure.
3. Beachfront Adventures Zip Line
Enjoy an adrenaline rush with a view at Beachfront Adventures, where guests can choose between two zip line courses. Climbing up the 60-foot tall towers, you'll take in the emerald green expanse of the Gulf of Mexico before propelling yourself from a platform. Soar through the summer sky, gaining a breathtaking view of the rope courses, mini-golf course, and dune buggies the park also has to offer.
2. Slingshot PCB — Indy Speedway
The name says it all. Buckle up with a friend and prepare to be launched 300 feet straight up into the clouds at a heart-pumping 100 miles per hour. This, by no means, is for the faint of heart. The Slingshot beckons the bravest among us. Those who have the courage — or who yield to highly persuasive friends — will experience a brief, gorgeous view of Panama City Beach at the top of their trajectory (that is, if they manage to keep their eyes open), before falling back toward earth. Children must be 44 inches tall to participate.
And the No. 1 gonzo, hold-on-to-your-heart amusement on Panama City Beach is … 
1. Sky Coaster — Race City Amusement Park
It's a bird. It's a plane, No, it's you! Race City offers the thrill ride of your life – it's the rise and fall of a rollercoaster experience sans cart and track. Up to three people share a hang gliding harness and are hauled up 130 feet in the air. When people on the ground below you start to look like ants, your tether is released and you'll drop into a giant swinging arc. Get as close to flying as you'll ever get as you cut through the air. Smaller family members need be only 42 inches tall to experience an unforgettable thrill!