Imagine dolphins leaping from the shimmering Gulf waters as you enjoy dinner on a cruise. Picture yourself on an exhilarating airboat ride, zipping through the marshes and wetlands around Panama City Beach. It's easy to see why Panama City Beach cruises are the best way to experience the area's beautiful scenery and wildlife.
Dinner and Drinks
Enjoy a romantic sunset cruise or a celebratory brunch with friends aboard the 78-foot-long Champagne Lady. Various themed cruises are available on select holidays, and there's a weekly buffet-style brunch cruise with complimentary breakfast cocktails. 
Island Time Sailing offers some of the most memorable cruises in Panama City Beach aboard its sleek 50-foot-long sailing catamaran. Sip on their famous Rum Punch as you enjoy a two-hour sunset sailing cruise that heads out into the tranquil waters of Grand Lagoon, past the marinas, state park, and gorgeous homes to the Gulf of Mexico, if the water is calm enough. Beer, wine, non-alcoholic beverages, and snacks are available on-board. Opt for the three-hour tour for a snorkeling adventure around Shell Island.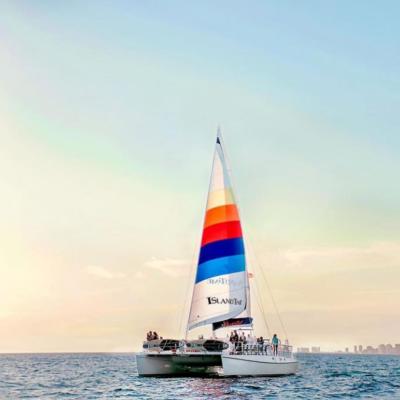 Speedy & Themed Boat Rides
If an adrenaline rush is what you're after, you'll find various outfitters with speedy boats. 
The iconic, bright-yellow Sea Screamer takes passengers on a thrilling journey down the coastline during the day or at sunset, depending on the experience you choose. The friendly captain and crew will narrate your two-hour cruise, which–if you're lucky–will include an appearance from dolphins. Kids and adults can take turns steering the boat, and in the summer, there are exciting boat-versus-boat water-gun battles– always a hit with the younger guests. 
For a different side of our area, venture out on a thrilling eco-adventure with Wild Thang Airboat Tour or Airboat Adventures. Alligators, American bald eagles, great blue herons, and ospreys might appear as you wind through the backwaters of West Bay, rivers, creeks, and marshlands. 
Your family will love the friendly swashbucklers and spirited pirates aboard the Sea Dragon Pirate Cruise. These two-hour cruises offer guests a front-row seat to PCB's gorgeous scenery and Gulf wildlife on an unforgettable 85-foot-long pirate ship.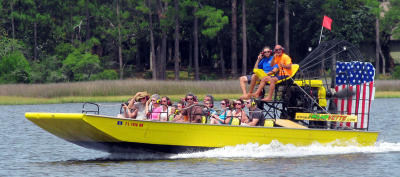 Dolphin Cruises 
While every cruise may feature a dolphin or two, hop on a Panama City Beach dolphin cruise if your primary mission is to spot these friendly creatures. Blue Dolphin Tours is one of PCB's many outfitters that provide travelers with a unique dolphin-watching experience. The outfitter's boats carry just six passengers, ensuring a more authentic, intimate experience. They also have a large family boat for up to 15 passengers.
In addition to dolphin cruises, Dolphin Tours and More offers snorkeling adventures, spearfishing, and trips to Shell Island. Want to jet ski with dolphins? Consider a guided tour with Flippers Dolphin Tours.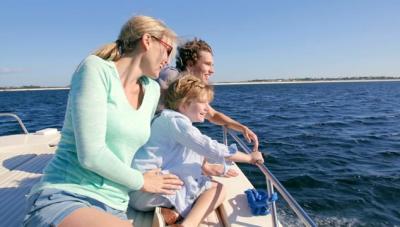 Snorkeling & SCUBA Cruises
While sunset cruises and dolphin tours illuminate life on the water's surface, Panama City Beach snorkeling tours will take you below the waves to explore local sea life. 
Join Paradise Adventures for a 25-minute relaxing cruise to the snorkel area near Shell Island. The friendly and professional guide and crew of the 52-foot-long, Coast Guard-certified Privateer will sort out your snorkeling gear and perfectly position you for a glimpse of the underwater world. You'll also have time to wade in Shell Island's shallow waters and hunt for shells. 
Go further into the watery depths on a dive charter cruise. Just off the panhandle of Florida on the Gulf of Mexico, Panama City Beach offers excellent SCUBA diving opportunities. The team at The Dive Locker can take you out to famous shipwrecks, including Black Bart and more than 50 artificial reefs and the Jetties at St. Andrews State Park. DownTime Dive Charters offers a variety of customizable experiences in expertly selected locations for families, couples, and solo divers. 
Panama City Beach cruises offer a memorable journey through its breathtaking coastal landscapes. From the enchanting sight of dolphins leaping alongside your boat to the heart-pounding adventure of airboat rides through the marshes, every cruise promises a unique and exhilarating experience.