Reopened Beaches. Renewed Hope.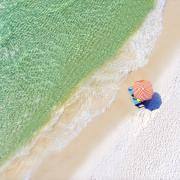 X
Stay Updated
Sign up for our newsletter and stay updated on what's happening in Panama City Beach.
Sign Up
Beaches & Lodging:
The health and safety of our Panama City Beach community is our top priority. 
Public beaches fully reopened on May 1, lifting all restrictions on beach access and beach commerce. Currently, beachgoers should maintain group size to under 10 individuals and have a six-foot separation between different groups. Social distancing guidelines will be enforced by city and county officials. 
Short Term Rentals are now open and are welcoming guest bookings, following the approval of the Bay County safety plan by the Florida Department of Business and Professional Regulations.
Hotels are now open and welcoming guests. Please refer to individual hotel websites for COVID-19 special practices and updated cleaning protocol. 
Face Masks are not required but suggested.
While it is important for your health physically and mentally to continue physical activity, it is also important to continue to take precautions against COVID-19. 

Social distancing protocols will be enforced, including maintaining group size to under 10 and having a six-foot separation between groups and individuals of differing parties.
Additional social distance protocols are recommended which include 20 feet of separation between walking and jogging groups.
People who are 65 and over or living with underlying health conditions should continue to follow the safer at home public health advisory.
Pack hand sanitizer when you go with at least 60% alcohol since you will likely not be close to soap and water. 
Avoid touching your eyes, nose, and mouth.
Masks are recommended but not required.
For more information about protecting yourself and others from COVID-19 while visiting beaches, visit here.

Visit Panama City Beach is working to deliver the sights and sounds of our white-sand beaches and emerald-green waves to you from the comfort and safety of your homes via webcams and daily videos posted to our Instagram, Facebook and Twitter. Be sure to follow along for daily inspiration during this difficult time. 
Restaurants, Bars & Retail Stores:
Restaurants are now permitted to offer outdoor dining with six feet between tables and indoor seating at 50 percent capacity. Additionally, many restaurants continue to offer takeout, curbside pickup and delivery.
Bars and Clubs statewide are suspended from serving alcohol effective immediately. 
Retail stores now operating at 50 percent of indoor capacity. Customers must maintain social distancing.
Movie theaters and bowling alleys will be allowed to reopen at 50% capacity on June 5th. 
Museums and Libraries are now open at 50 percent capacity.
The CDC is recommending no gathering larger than 10 people.
 Events & Public Spaces: 
All special events scheduled prior to May 1st have been canceled or postponed. This includes UNwineD, Seabreeze Jazz Festival, SandJam and Thunder Beach Motorcycle Rally. 
Sports teams can practice and train at facilities.
Gyms and personal services such as hair and nail salons are now open. Amusement parks and attractions must submit safety plans and receive endorsement from local officials.  
Bring the Beach To You.
If you start to miss our turquoise waters and the sound of waves coming in, click below to feel like you're with us now, relaxing in the sunshine with family and friends.
Beach Backgrounds
Click here to download a beach photo for your phone or computer wallpaper.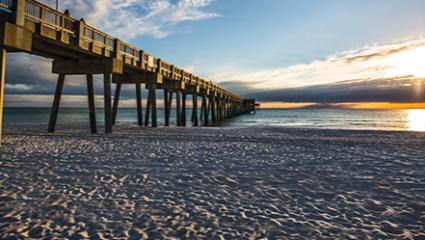 Sounds of the Gulf
Have a virtual beach day and sit back, relax & watch the waves roll in.
Live Beach Views
Watch our live beach cams around Panama City Beach.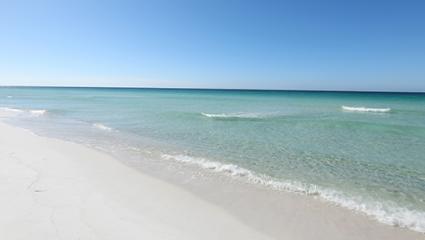 PCB Pandora Station
Relax with the tunes of our Real. Fun. Beach. station.
FAQs