Reopened Beaches. Renewed Hope.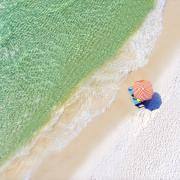 Stay Updated
Sign up for our newsletter and stay updated on what's happening in Panama City Beach.
Sign Up
Frequently Asked Questions
Q:
Are restaurants now offering indoor and outdoor dining?
Back to Top
A:
Restaurants and bars can now operate at full capacity indoors and outdoors.
View All
Q:
Are the stores at PCB open?
A:
Yes, retail stores are no open and operating at 50% indoor capacity. Customers must maintain social distancing.
Learn More
A:
To help prevent the spread of COVID-19, as well as protect our locals & visitors, individuals over the age of six must wear a mask while inside all indoor businesses, bars, restaurants and retail stores within the city limits of Panama City Beach effective Monday, July 27 at 5pm. Gyms are exempt.
Q:
Are short-term rentals available to rent?
A:
Yes, visitors may now occupy vacation rentals following guidelines set by the bay county safety plan.
View All
Beaches & Lodging:
Effective Friday, September 25, Governor Ron DeSantis has signed an order moving Florida into Phase 3 of re-opening.
Effective September 8, Panama City Beach's mandatory mask mandate expired; however, businesses may still require patrons to wear a mask while on their property.
Public beaches fully reopened on May 1, lifting all restrictions on beach access and beach commerce. Currently, beachgoers should maintain group size to under 10 individuals and have a six-foot separation between different groups. Social distancing guidelines will be enforced by city and county officials. 
Short Term Rentals are now open and are welcoming guest bookings, following the approval of the Bay County safety plan by the Florida Department of Business and Professional Regulations. Vacation rentals reservations and stays will be allowed from all U.S. states with a COVID-19 Case Rate less than:500 Active cases/100,000 residents, (Source), or 750 Total cases/100,000 residents, (Source)
Hotels are now open and welcoming guests. Please refer to individual hotel websites for COVID-19 special practices and updated cleaning protocol. 
While it is important for your health physically and mentally to continue physical activity, it is also important to continue to take precautions against COVID-19. 

Social distancing protocols will be enforced, including maintaining group size to under 10 and having a six-foot separation between groups and individuals of differing parties.
Additional social distance protocols are recommended which include 20 feet of separation between walking and jogging groups.
People who are 65 and over or living with underlying health conditions should continue to follow the safer at home public health advisory.
Pack hand sanitizer when you go with at least 60% alcohol since you will likely not be close to soap and water. 
Avoid touching your eyes, nose, and mouth.
For more information about protecting yourself and others from COVID-19 while visiting beaches, visit here.
Restaurants, Bars & Retail Stores:
Some businesses are requiring that you wear a mask while inside indoor businesses.  Exemptions include:

Children under the age of 6
Individuals with a disability described under ADA
Inside a gym while social distancing
Inside a restaurant while eating

Restaurants and bars can now operate at full capacity indoors and outdoors. At a minimum, they must operate at 50% capacity, and local governments are prohibited from requiring a lower capacity.

DeSantis suspended "all outstanding fines and penalties that have been applied against individuals" associated with pandemic-related mandates, such as mask requirements.

Museums and Libraries are now open at 50 percent capacity.
The CDC is recommending no gathering larger than 10 people.
Events & Public Spaces:
Gyms, fitness centers, theme parks and retails businesses may operate at full and normal capacity.
Bring the Beach To You.
If you start to miss our turquoise waters and the sound of waves coming in, click below to feel like you're with us now, relaxing in the sunshine with family and friends.
Beach Backgrounds
Click here to download a beach photo for your phone or computer wallpaper.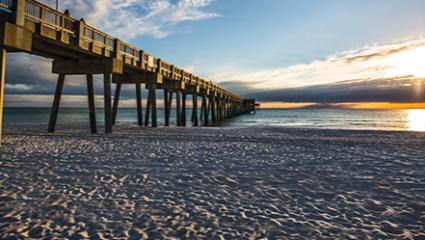 Sounds of the Gulf
Have a virtual beach day and sit back, relax & watch the waves roll in.
Live Beach Views
Watch our live beach cams around Panama City Beach.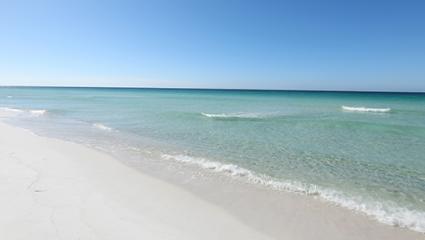 PCB Pandora Station
Relax with the tunes of our Real. Fun. Beach. station.