"Insiders' Tips" from the locals
We've gathered the best local advice to help you get the most out of your Panama City Beach vacation.
1. Local fishing guides can teach you how to fish from a kayak or stand up paddleboard. They promise fish look bigger caught this way! Pier fishing is easy and affordable fun, and a good captain on a chartered trip can "put you on the bite" no matter the season!
2. When renting a boat, ask how to recognize shallow water, and get a few pointers on the rules of the road to avoid running aground. Consider docking your boat at a waterfront restaurant and enjoying a great meal on your way to Shell Island!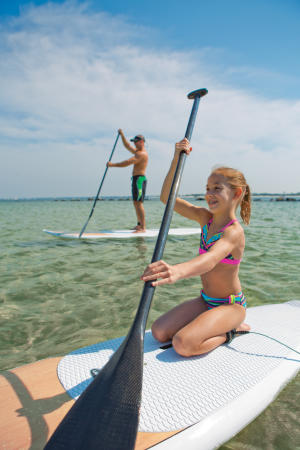 3. Paddleboard lessons are fun for the whole family, and some Panama City Beach outfitters deliver equipment to you, or take you on a guided tour! Snorkeling is best along the jetties in St. Andrews State Park, where a protected area known as the "kiddie pool" is home to many brightly colored fish.
4. When the waves get too big or currents are strong, you don't have to put your swimsuit away. Shipwreck Island Water Park has thrills to spare and offers the Lazy River for a relaxing float (open seasonally). The Frank Brown Park Aquatic Center is a world-class facility where you can swim laps in the Olympic-sized pool, leap off regulation springboards or let the kids play in a 5,000-square-foot splash park complete with slides, water guns and other amusements.
5. Looking for some FREE entertainment? Frank Brown Park hosts all kinds of sporting events, including softball, baseball and soccer. The talent is topnotch, and admission is free. During the summer, locals love the free Summer Concert Series held every Thursday night at the impressive outdoor amphitheater at Aaron Bessant Park, and on Monday nights Carillon Beach hosts musicians in a more intimate outdoor venue.
6. Some local amusement parks and putt-putt golf courses offer all day passes. This great deal allows you to play in the morning, take a break and come back for more fun later that night!
7. St. Andrews State Park is a great family value. Entry is only $8 per carload or $2 each for pedestrians or bicyclists.
8. Rick Seltzer Park off South Thomas Drive offers public beach access with free parking and changing rooms.
9. If you like to cook, you can save money by paying a little more for a condo with a kitchen. Seafood markets sell fresh, local seafood to complement your perfect beach vacation.
10. When you check in at your hotel or condo, ask the front desk or the owner of your unit about coupons for attractions—there are many great deals available!
11. Gulf World by Dolphin Discovery is an amazing way to get up-close to locally-rescued, rough-toothed dolphins, Atlantic bottlenose dolphins and sea turtles. You can also view sea lions, sharks and even penguins! For the opportunity of a lifetime, take part in one of the many interactive programs, including "Trainer for a Day" or "Swim with a Dolphin."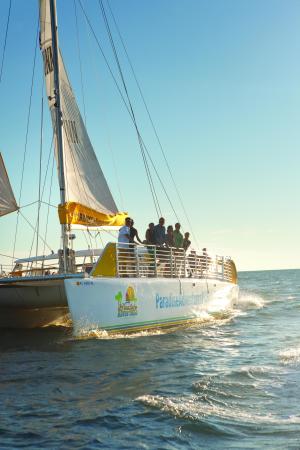 12. Locals love a good sunset sail, because nothing beats letting someone else take the helm while you relax with a cold drink and enjoy the amazing view. For the more adventurous, a helicopter tour of the beach offers a whole new perspective.
13. A day of SCUBA diving will open up new worlds as you explore the area's many shipwrecks and artificial reefs. Local dive shops can arrange multi-day certification classes or a Discover SCUBA program that will have you in the water with an instructor that day!
14. Pier Park offers an unforgettable outdoor shopping and dining experience. From your favorite retail stores and unique boutiques to great restaurants, sweet shops and amusement rides, there's something for everyone here!
15. Locals know the "in and outs" of getting around and enjoying each experience in PCB. If you have questions, just ask!
16. Locals say April and early May have the best weather. Other locals recommend September through early November, when the water is still nice and warm but the air is not as hot.
17. Locals don't spend a lot of time driving on Front Beach Road. To get where you're going faster, take Middle Beach (Hutchinson Blvd) or Back Beach Road (Panama City Beach Parkway) to get close to your destination, then take a connecting road down to the beach!
18. If you're booking a sailing tour or a day-cruise with your family, consider one of the early morning boat trips to beat the heat and the crowds!
19. Call ahead to skip the lines at popular restaurants, or arrive before 6 p.m. or after 8 p.m., when crowds are smaller.
20. Lake Powell and Camp Helen State Park are hidden gems that have somehow stayed off the radar of most tourists, and offer breathtakingly beautiful beaches, wonderful picnic opportunities and trails that wind through rare ecosystems.
21. There's more to PCB than just the beach! Take time to explore or hire a guide who can show you the other natural beauties the area offers, such as conservation areas, lakes, rivers and bayous.
There's many things to do in Panama City Beach, so take our advice and explore!