For antique lovers, some of the most thrilling places to shop are those where you discover a great find from another era, something someone else held and used long ago - an antique wardrobe, a rare coin or an addition to your vintage doll collection. Finding such treasures can make a vacation all the more special. But you don't have to be an antique collector or a history buff to enjoy rummaging through old artifacts to find something that sparks an interest. Downtown Panama City, Historic St. Andrews and Panama City Beach have a dozen or so places to go antiquing for unique treasures. Spending a day browsing the various collectibles, rare finds and vintage items, and taking a break for lunch at one of the locally owned restaurants nearby makes for a memorable day. Pairing old and new is a hot trend, as well as marrying high end with low.
If you love a challenge, or are in the market for the weird, funky and bizarre, head over to Design Salvage in Historic St. Andrews. It would be easy to pass by if you didn't know what to look for. Rather than a store sign, Design Salvage is marked by an eclectic mix of handpicked items from around the country that are as mesmerizing as they are unique - a spiral staircase that leads to the sky, parked alongside an iron gate leaning against a building filled with wondrous items meant only for the adventurous soul. While it's not specifically an antique shop, it does have some antiques that are worth a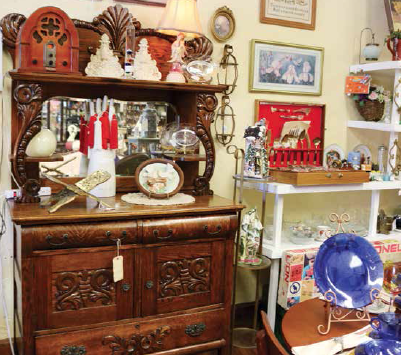 gander. Owner Tina Diaz says her specialty is architectural salvage liquidation with a design concept of doing things on a dime. "People love to come here because you never know what you're going to see. I never know what's coming my way," she says. "We salvage components from lovely homes that are being demolished." Diaz works with dealers and designers during the week but opens her shop during the weekend. You'll see great furnishings and one-of-a-kind pieces. "You get Class-A attention here," she says, noting that she encourages her customers to take their time and enjoy the visual experience. "Everyone who comes in here already has a great personality and is already thinking outside the box," she adds. "Either you're going to love it or you're going to hate it."
But if you're at a loss as of what to do to with an antique that needs more than a little spit shine, head over to Pieces on the Beach in Panama City Beach, where an antique tricycle has been refurbished into a gorgeous plant holder. Here, you'll find that expertly renovated, antique and vintage furniture becomes something new again. You can browse for coastal chic decorations or unique finds for a hard to-shop-for friend! Where is your favorite place in Panama City Beach to go antiquing?