I can't remember the last time we've had a stretch of weather as good as the past few weeks. Abundant sunshine, moderate temperatures, and light winds have given us plenty of great days to enjoy on the water.
The bays are so clear that they look like aquariums – especially with the amount of marine life that can be found in them. Thick, healthy and green seagrass beds provide fantastic habitat for many species of baitfish and predators alike.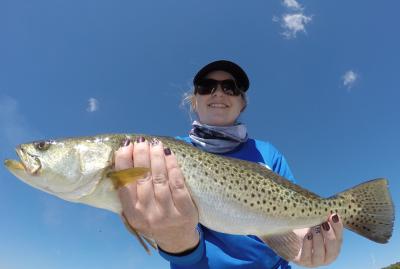 The speckled trout have begun to appear on the flats with thick grass and/or good broken bottom. While the bulk of the fish have been in 3-5 feet of water, the bigger fish seem to be in water less than two feet deep. Early in the morning, topwater baits have been attracting a good amount of interest but, with lots of floating grass on the surface, a weedless jerk bait has been far more effective (and a lot less frustrating). I have been targeting the down current side of points with wind blowing onshore, which tends to congregate the bulk of the fish into one corner where it's easy to target them. I start a good distance from the shoreline and let the wind push me up toward the point. More often than not, when I get to just outside a full cast from shore, I start getting into a mix of bigger trout and redfish that tend to cruise up tight to the hill where a lot of the mullet hang out.
The redfish bite is absolutely ridiculous right now! Half of the docks around town have redfish sitting under them and most of the points throughout the bay system (as well as many of the small ditches, bayou mouths, creeks and other structures) have schools of redfish on them. Some of the biggest schools have been sitting in 6-10 feet of water, just on the outside of the flats over sand bottom. They are easy to see because the water is so clear. I have been using my trolling motor to cruise down the outside of the flats while throwing jigs to the school when I find them.
Good luck!