With gulf temperatures on the rise and spring only a few weeks out, it won't be very long until we start seeing migratory species of fish showing up along our beaches.
St. Andrews Bay has been full of small schooling baitfish, meaning the Spanish Mackerel are not far behind.  Within a month or so, the Kingfish should start to show up as well as the highly sought after Cobia – which are undoubtedly on every pier fisherman's mind.  Fortunately, there are plenty of fish inhabiting our waters in the wintertime to keep us occupied until these species arrive.
In the bays, an abundance of over-slot Redfish are still ready and willing to put a bend in your rod. Look for the biggest fish to be in the deeper, faster moving water in the pass, near the bridges and around many deep points throughout the bay. The majority of the Redfish this time of year will be feeding on the bottom, so heavy jigs and jigging spoons are exceptionally productive. Various forms of crankbaits are also very effective. Most of the time, these fish can be located on your bottom machine and then you need only drop down to them and slowly bounce your lure on the bottom.
On the flats, there are good numbers of Redfish to target. Early mornings will reward anglers with a decent topwater bite, as well as plenty of opportunities to cast to tailing fish or schools of fish waking on shallow flats. Mid-morning to early afternoon has been pretty good for sight-casting to cruising redfish and fish laid up in potholes. If you decide to throw natural baits, I would recommend shrimp. They will catch the widest variety of fish and the pinfish aren't around to chew them off.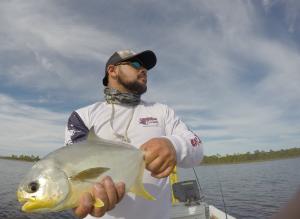 Along the beaches, there have been good reports of Pompano schools cruising in the surf. Pompano are awesome fish to target due to the relative ease of catching them, their diehard fighting strength and their excellence when it comes to table fare. All you need is a decent surf rod, 2 hook Pompano rig, pyramid weight and some sand fleas or fresh shrimp. Lots of anglers also target them with small heavy jigs and a variety of other lures including D.O.A. shrimp soft plastic grubs.