There are no words to describe how phenomenal the fishing around Panama City Beach is right now.  The pristine waters are teeming with all sorts of marine life.  Seagrass beds are healthy, schools of bait fish are inundating the bays and, as a result, predator species are streaming into those same waters in hot pursuit of a summer meal.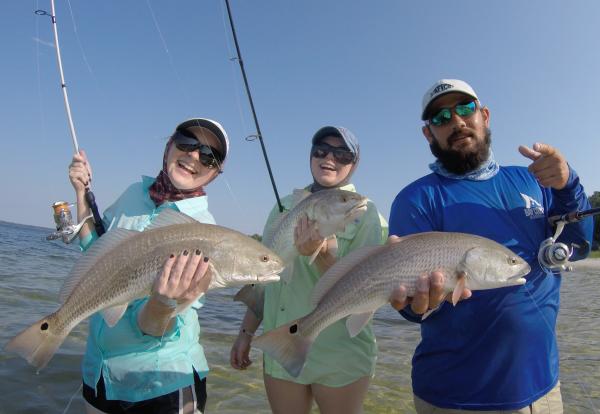 On the flats, there is an abundance of species to target on a daily basis.  Early mornings are great for throwing your favorite topwater plugs to speckled trout and redfish.  As the sun gets up and visibility gets better, sight-fishing is the way to go.
You can encounter a variety of fish while poling the flats – trout, redfish, jack crevalle, Spanish mackerel, bluefish, mangrove snapper, pompano and many others.  When sight fishing in clear water, a light fluorocarbon leader is just as important (if not more so) than the lure that you are using.  I prefer to throw natural colored soft plastics on a light lead head jig but, for very skittish fish, live shrimp on a small circle hook with a split shot is your best choice.  Jacks, macks and bluefish like to chase their prey so something you can work fast is better for them.
In the deeper parts of the bay, there are a TON of big bull redfish holding to slightly deeper structures in 15-30 feet of water.  I've had the best results with a 5½" D.O.A. jerk bait (white or nightglow holographic) on a ¼ ounce heavy duty jig head.  Cast up current and let the bait fall to the bottom as it drifts with the current.  Once it hits bottom, lift the bait back up a few feet and repeat.  Using this technique over structure often leads to a pleasant surprise – it's quite common to land gag grouper as bycatch.
Now that it's red snapper season, a lot of recreational anglers will be out in the Gulf looking for them.  Anglers with smaller boats should consider checking out the many spots in the bays (25'-35' of water) that hold legal sized snapper.  Most of these fish are going to be in the 15"-18" range and 16" is the legal size to keep.  Live shrimp on a Carolina rig will usually get them to eat if they are there.  You can also expect to catch black sea bass and juvenile grouper when bottom fishing the bay with shrimp.
Good luck!