Panama City Beach is one of those places that happens to be blessed with terrific redfish and speckled trout fishing all year long.  But during the warm months, our waters become home to an array of hungry, aggressive, and powerful game fish.
On any given day while cruising along the beaches, you can find yourself running into schools of tarpon, jack crevalle, cobia, kingfish, bonita, Spanish mackerel, or bull redfish. Some are easier to catch than others, but they can all be targeted with artificial lures – which only adds to their appeal.
Inside the bays, up on the grass flats, there is also plenty of action to be had. Early morning topwater baits have led to exciting and action-packed encounters with trout and redfish. Once the temperature gets hot, though, you'll want to start looking at drop-offs and deeper potholes where the fish will start to congregate in cooler water.
Throwing a jig/soft plastic is a great way to target fish in slightly deeper water, but you can also use lipped baits and sinking hard plastics if there isn't too much floating grass. Some of the best days I've ever had were right in the middle of the hottest days of the year, fishing sandy drop offs where redfish tend to pile up and sit in big schools.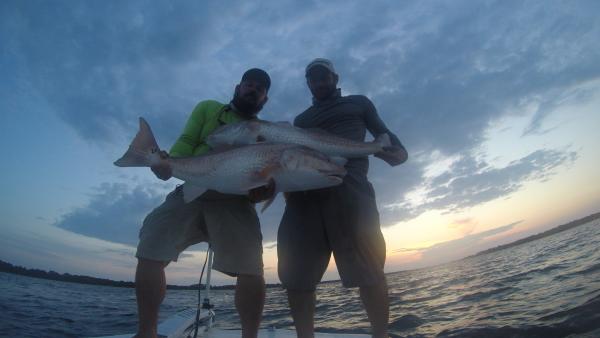 One of my favorite fish to target during the summer is mangrove snapper. They are plentiful throughout the bay and make fantastic table fare.  They can be finicky at times, but once they start eating the action is fast paced. I like to chum them up with chunks of either menhaden, scaled sardines or threadfins. Once they start to get stirred up I'll free-line a live bait on a small #2 circle hook. Make sure you give them a second to eat before pulling on them.
Good luck!