Winter Residents
Winter visitors looking for great weather and a lot of FUN make their home in Panama City Beach when temperatures farther north make dreams of the beach dance in their heads! Sometimes called "snowbirds," guests travel from all over to make their winter "nests" by the white sands of Panama City Beach, where social events, educational classes, arts & crafts, and parties keep everyone focused on fun in the sun. And don't forget about the special deals and discounts!
Friendly staff at Visit Panama City Beach are here to help you find events, attractions and deals during your stay in Panama City Beach. There are so many things to do in Panama City Beach that you'll forget all about the cold weather back home!
Here are just a few:
Winter Resident Appreciation Days
Visit Panama City Beach is celebrating Winter Guests this season. Winter residents are treated to complimentary coffee, donuts and giveaways. Come celebrate with us!
This season's Winter Resident Appreciation Day will be:
Friday, January 18, 2019 (tickets for Homecoming available)
Friday, February 8, 2019 (tickets for Senior Prom available) 
Friday, February 22, 2019 (tickets for Grand Finale available)
Winter Resident Appreciation Days will be held at Laketown Wharf.
Homecoming Dance and Social
Reconnect with your Panama City Beach family at the annual Homecoming Dance and Social. Our Winter Residents love to dance and have fun, so we make sure they have plenty of opportunities!
This year's Homecoming Dance and Social will be at Laketown Wharf on Wednesday, January 23, 2019 from 4-9pm.
Winter Resident Senior Prom
This annual event is one of the biggest winter resident events of the year, and you don't want to miss it! This is the event during which the winter resident prom king and queen are announced. This year's theme is Viva Las Vegas!
This year's Senior Prom will be at Edgewater Beach and Golf Resort on Wednesday, February 13, 2019 from 4-9pm.
Winter Resident Grand Finale
The Winter Residence Grand Finale is a farewell/appreciation event to all of our Winter Residents for choosing Panama City Beach as your home away from home. This will wrap up all the Winter Resident activities with a bang and entertainment you will never forget.
The  Grand Finale will be at Laketown Wharf on Wednesday, February 27, 2019 from 4-9pm.
Mystery Golf Challenges
The Mystery Golf Challenges give our avid winter golfers another reason to hit the links (as if they needed one). It's a chance to win prizes, chime in on what they'd like to do or see at local golf courses, and just enjoy the excitement of a little bit of mystery around the next dogleg!
There is plenty more to do in Panama City Beach this winter, be sure to check out our event calendar for all events.
All Day Thursday Enjoy Pint Day!
Join the crew every Thursday from open to close for Pint Day at The Wicked Wheel! Get a free souvenir pint glass with every draft beer purchase (limit 2 per customer). **Not valid with any other specials** Be sure to follow us on social...
View All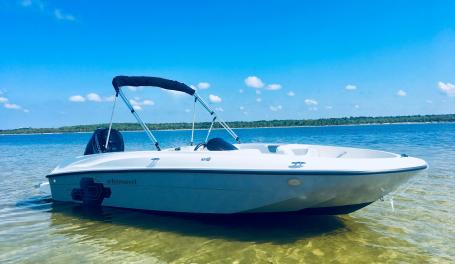 Two Hour Boat Rental for up to 6 Guests
Cruise in style and explore St.Andrews Bay and Shell Island BaySide .Enjoy Dolphin Watching from your boat. Our rentals are a great way to get your group on the water and two hours is perfect if you only want a little bit of sun! Mention...
View All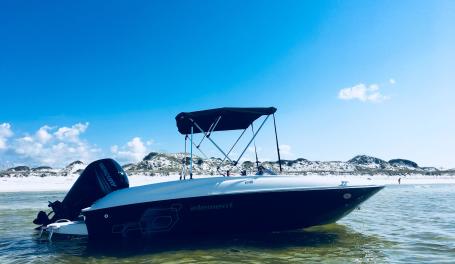 Two Hour Sport Boat Rental for Two!
This rental is the alternative to renting a Jet Ski for two. Our 2019 E_16 Element SportBoat is a quick and agile boat that is fun to drive with all the excitement of a Jet Ski but the safety and comfort features of a boat! Mention this ad...
View All