It has been a beautiful start to the month with great weather, favorable tides, and clear water.
Sight fishing on the flats has been as good as I have seen it in quite some time, with lots of redfish and speckled trout cruising the shallows. On high tides, look for the fish to be right up along the edge of the shoreline. If the high water comes early in the morning while the light is low, then topwater baits can be very productive. When the high tide arrives later in the morning, try slowly drifting within casting range of the shore and look for fish that are laid up. Usually a jig and soft plastic combo will be a great choice but small weedless spoons also work surprisingly well.
On low tides, the dock fishing has been lights out. Big schools of upper-slot redfish have been hanging around docks that have deep water toward the end. You can target these fish with artificials but they will be much easier to catch on live or natural baits. Natural baits will also give you shots at other species of fish that inhabit docks such as mangrove snapper and flounder. Set up on the up-current side of the dock and let your baits drift with the tide to the fish. A medium spinning rod and 15-pound braided line is enough to catch the vast majority of fish while still giving them a sporting chance.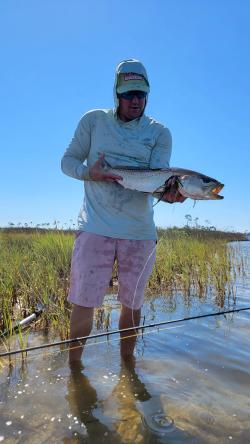 It's getting to be that time of the year when gag groupers start to move into the bays on structures in 15-40 feet of water. Anglers have a number of options to target them in shallower water, including live or natural baits, big jigs and trolling lures. Each technique offers its advantages but all are very effective when used properly. I tend to catch more fish on live bait but the better fish are caught on plugs and jigs.
The red snapper bite inshore is also on fire and Florida anglers can take advantage of several "snapper weekends" throughout the month of October and November. Red snappers are more spread out in the bay than most people realize. I catch a lot of good fish in the 4-8 pound class in water ranging from 15-30 feet. When fishing shallower than 20 feet, I often flat line a live bait or use a jig and soft plastic – similar to what I would throw at a redfish. A half-ounce jig and five-inch soft plastic jerkbait is a killer way to catch shallow water snapper. When fishing depths of 20-40 feet, I like to use a ¾ ounce lead and a live pilchard, pinfish or chunk of cigar minnow. Of course, snappers will also eat all other forms of live and natural baits. 
While fishing around the bay, be on the lookout for schools of big jack crevalle cruising around. They will be easy to spot because they push a huge wake when on the flats and typically destroy all baits or lures that they encounter. Be sure to have enough rod and reel to handle them because they are absolute maniacs when you hook them. Topwaters and other surface lures are the most fun to throw at them and you will usually have several fish fighting over your plug.
If you have questions about what's biting, how to catch them or want to book a trip, give me a call or shoot me an email. Tight lines!